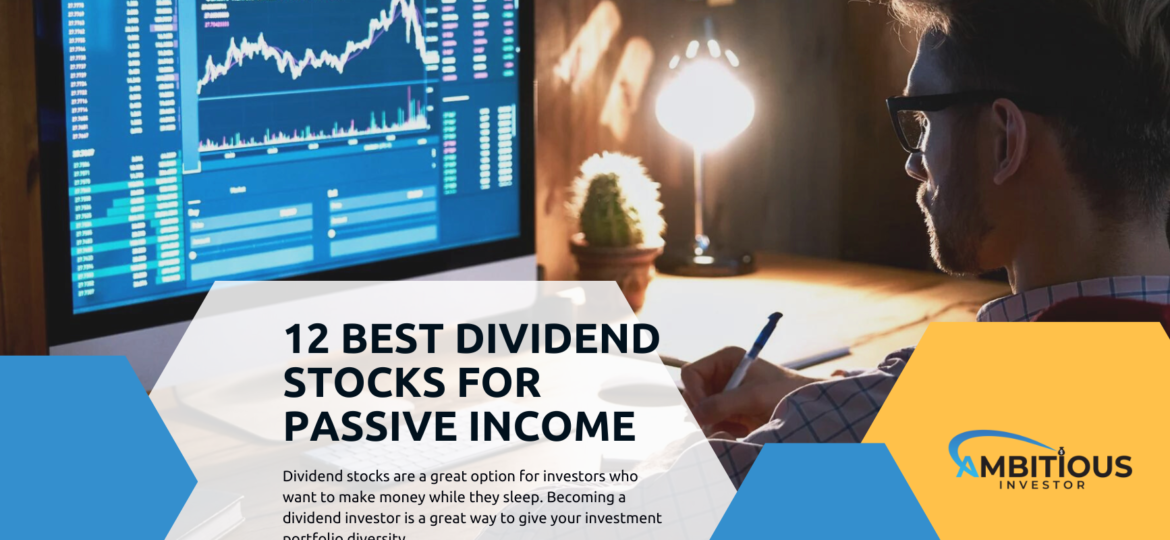 Dividend stocks are a great option for investors who want to make money while they sleep. Becoming a dividend investor is a great way to give your investment portfolio diversity. Investing in stocks that provide capital growth and regular income will boost our income and shelter you from having too much exposure in one investment vehicle.
When you are planning to receive regular dividend payments, you generally have two options: Stocks that pay dividends and funds that hold stocks that pay dividends. Here's how each one works.
In order to invest in a dividend stock you'll need a brokerage account. You can easily be set up via an online broker in order to place a trade. Once your account is set up and funded, you can easily pick what dividend stocks to invest in. You can purchase a limp sum amount of stocks and some online brokerage firms even allow you to set up a direct debit to consistently buy dividend stocks on a recurring cycle.
If you're not sure which dividend stocks to invest in, a dividend fund may be a better solution for you. Mutual funds and exchange traded funds (ETFs) focus on divdends held in a basket of stocks that pay dividends so you mitigate your risk of one stock not performing well. Some of these funds focus on stocks with higher dividend yields, while others look for companies that consistently pay out and have grown their dividends over time.
By choosing a fund, you eliminate having to worry about closely tracking each stock in your portfolio because the fund's diversification provides shelter from having too much exposure in a single stock.
High-Dividend Stocks
Please note all dividend stocks and yield data is as of January 30th 2023.
Realty Income (O)
Realty income (NYSE:O) labels itself as "The Monthly Dividend Company". O has paid a monthly dividend since 1994 and typically raises that payout amount several times each month. Even during recessions and the 2020 pandemic Realty Income paid out. This dividend stock has a great reputation and the current yield being at 4.37% is quite attractive for investors.
V.F.Corporation (VFC)
V.F. Corporation owns popular apparel and footwear brands such as The North Face, Timberland and Vans. The company has struggled recently as revenue has declined for some brands and inventories have spiked, leading to more discounts on their products. The company has paid a regular dividend for more than a decade.
Dividend yield: 6.7 percent
Annual dividend: $2.04
Devon Energy (DVN)
Devon Energy is a producer of oil and natural gas and holds a portfolio of oil and gas properties in the U.S. The Oklahoma City-based company is focused on earning a competitive shareholder return within its peer group.
Dividend yield: 8.4 percent
Annual dividend: $5.40
DOW Inc. (DOW)
Very popular amongst dividend investors is the Dow, which is involved in the production of different chemicals that are used in a variety of industries. Its segments include packaging and specialty plastics, industrial intermediates and infrastructure, as well as performance materials and coatings. Dow is headquartered in Midland, Michigan.
Dividend yield: 4.8 percent
Annual dividend: $2.80
Verizon Communications (VZ)
Verizon is a leader in communication and technology services. Along with AT&T and T-Mobile, they provide the majority of mobile-phone services in the U.S. Verizon generated more than $135 billion in revenue in 2022.
Dividend yield: 6.6 percent
Annual dividend: $2.61 per share
AT&T (T)
AT&T is another telecommunications leader that generates solid cash flow for shareholders. Recently, the company has divested some assets and cut its dividend by nearly half as it focuses on 5G investments and paying down its heavy debt load.
Dividend yield: 5.8 percent
Annual dividend: $1.11 per share
Intel (INTC)
Intel is one of the leading semiconductor companies in the world, and its chips help to power much of the technology we use every day. The company plans to invest billions of dollars in new capacity as it tries to keep pace with rival chip-makers. Intel returned about 90 percent of its free cash flow to shareholders from 2015 to 2019.
Dividend yield: 4.8 percent
Annual dividend: $1.46 per share
Philip Morris International (PM)
Philip Morris sells cigarettes and smoke-free products in more than 180 countries outside the U.S. Though the company still generates significant profits from sales of tobacco-related products, it's moving towards a greater focus on smoke-free products that, while not risk-free, present less of a health risk than cigarettes.
Dividend yield: 5.0 percent
Annual dividend: $5.08 per share
Walgreens Boots Alliance (WBA)
Walgreens Boots Alliance operates retail pharmacies across the U.S., Europe and Asia. Its U.S. pharmacy business administered about 35 million COVID-19 vaccinations in its 2022 fiscal year. The company has a dividend history that dates back to 1989.
Dividend yield: 5.4 percent
Annual dividend: $1.92
3M Company (MMM)
3M manufactures a variety of products that are used by businesses and consumers alike. The St. Paul, Minnesota-based company makes everything from building materials, electronics components and orthodontics to perhaps its best-known product: Scotch tape. 3M has paid a dividend to shareholders without interruption for more than 100 years.
Dividend yield: 4.9 percent
Annual dividend: $5.96
International Business Machines (IBM)
IBM is one of the largest tech companies in the U.S. and earns more than two-thirds of its revenue from software and consulting services. The Armonk, New York-based company has paid a dividend for over 100 consecutive years.
Dividend yield:  4.7 percent
Annual dividend: $6.60
Exxon Mobile
The energy giant has been a mainstay in passive income portfolios for decades, and with good reason. Through decades of war, inflation, booms and busts, Exxon Mobil has kept making money and offering an ever-increasing dividend.
Dividend yield:  3.15% percent
Annual dividend: $3.64
Conclusion
Dividend stocks or funds can be a great way to earn additional income and plan for retirement. Keep in mind that if you own these securities in a taxable brokerage account, you'll need to pay taxes on the income you receive, even if you reinvest those dividends. If you want to avoid taxes, you'll need to own the shares in a tax-advantaged account such as an IRA or 401(k).
Be sure to research any dividend stocks carefully before investing. Some companies with high payouts today may be forced to cut the payments if their business suffers.