April 4, 2023
No Comments
Best Money Saving Apps UK
Do you struggle to keep track of your spending, save money, figure out how much you should save monthly, or meet your savings goals? Using the best AI-powered money management apps can change all that! Check out the best money-saving apps uk list.
Read our in-depth Plum app review to learn how, decide if it's worth it, and compare it to alternatives.
Plum App: Best for Automatic Savings
Plum is an AI-powered personal finance app that helps you understand your spending habits, save money automatically, and invest effortlessly.
Download the Plum app for free!
Monese App: Best for Building Credit
Monese is a mobile banking app that can help you build credit, transfer money overseas, and manage your finances easily.
Emma Budget App: Best as a Budget and Spending Tracker
Emma acts as a personal financial adviser, giving you an overview of your spending habits and flagging unnecessary subscriptions.
Building financial security and independence is about more than just earning six figures. A high income helps (and you should aim for it) but only when combined with sound money management habits.
And technology is making it easier to track expenses, budget, save, and invest to achieve our monetary goals.
Budgeting apps, in particular, are game-changers when you want to take control of your money, and one of the most popular options in the UK is the Plum app.
In this guide, we'll thoroughly review the Plum app and compare it to other popular money-saving apps in the UK—Monese app, Mint, and Emma Finance. Find out if these personal finance apps are worth it for you to keep track and analyze your spending!
What Is Plum App?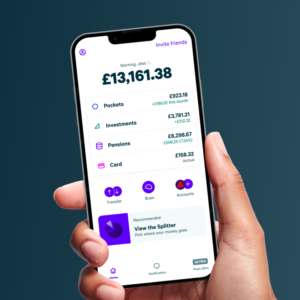 Plum is a reliable money management app that uses AI to help you budget, save, invest, and find cheaper household bills, all in one place. It acts like a brain, automating the aspects of personal finance that most of us struggle with.
Victor Trokoudes and Alex Michael co-founded Plum in 2016 to help people track spending and automate savings using AI.
Since then, Plum has established a reputable brand with over 1 million registered users. That's quite a success! Is it because Plum is actually helping customers stretch their dollars further as advertised?
Let's look at the financial tools and products Plum offers to find out.
Plum Features Overview
What can you do with Plum? Here's an overview of the main Plum money app features:
Savings pots
Investments
Pension
Bill switching
Spending habits insights
Let's look at each feature in detail to help you understand how to utilise them to manage your money wisely.
Savings Pots
While Plum has expanded to offer various financial products and tools, one of the initial goals was automating savings.
If you're saving money for a particular goal or trying to build a regular savings habit, Plum can help you do it without even thinking about it.
All you have to do is link your bank and credit cards, set up your saving strategy (rules), and let Plum handle the rest.
Plum Savings Features
Here are the saving features or rules available with a Plum account:
Automatic: Plum analyses your income and expenses (from your bank statements) to calculate an affordable amount you can save without leaving you short.
Round-ups: Plum rounds up your previous week's transactions to the nearest £1 and saves the spare change.
Payday rule: Decide the amount Plum will automatically save when you get paid.
Weekly depositor: Set a weekly deposit amount, and Plum will take care of the rest.
52-week challenge: Participate in a 52 weeks savings challenge starting with £1 and increasing deposits by £1 each week. (£1,378 a year)
Rainy days: Allow Plum to deposit a certain amount each day it rains in your location.
You can adjust these rules, pause automatic deposits, or withdraw anytime.
Are you saving for multiple goals? Plum allows you to create multiple pockets with savings goals like vacation, an emergency fund, capital to start a business, etc. But the Plum subscription determines the number of savings pots you can create. More on that later!
Where Does Plum Put Your Savings?
Plum offers two main types of pockets for your savings:
Primary pocket: A non-interest-bearing savings pot
Easy Access Interest Pocket: Earn some interest on your savings
The money in the Primary Pocket doesn't earn interest on your savings, isn't protected by the Financial Services Compensation Scheme (FSCS) and is available for withdrawal anytime.
Investec Bank plc offers the Plum Easy Access Interest Pockets. Money in these interest pockets earns interest and is protected by the FSCS. Withdrawals can take up to one full day.
Investments
Plum offers several investment funds that contain a mix of shares from different companies and other assets like bonds. Some funds focus on a certain sector, like Tech Giants, while others mirror the performance of a particular stock index, like the S&P 500 or FTSE 100.
To invest with Plum, you'll need to open one of the following investing accounts:
Stocks & shares ISA (Individual Savings Account)
GIA (General Investment Account)
A stocks and shares ISA allows you to deposit up to a maximum of £20,000 in your ISA per tax year. The major benefit of this account type is your capital gains and dividends are tax-free.
However, you can only pay into one stocks and shares ISA per tax year. If you have started paying into another one, you can't pay into a Plum's investments stocks and shares ISA for the same tax year.
The General Investment Account is a standard investment account without tax benefits. You can have several General Investment Accounts with different providers, but you'll pay tax when your profits exceed a set amount.
One of Plum's best investment features is the ability to invest for as low as £1 per month. You only need to decide how much you want to invest, choose the funds, and let Plum handle the rest. Gaudi Regulated Services Ltd (an FCA-regulated custodian) holds the money you invest in Plum investments.
Unlike a savings account, Plum doesn't guarantee instant withdrawals from the investing accounts. It usually takes 5-7 working days for withdrawals to be completed.
Pension
Check out Plum Self-Invested Personal Pension (SIPP) if you want a tax-efficient retirement account.
Plum SIPP allows you to combine all your existing pensions, invest in risk-managed funds, and start to draw money from age 55 (rising to 57 in 2028). However, seeking independent financial advice is important to ensure your investments suit your retirement goals.
A SIPP is exempt from capital gains tax and allows you to claim additional income tax relief from HMRC.
Plum Self Invested Personal Pension has two associated costs:
Product provider fee: 0.45% per year.
Fund management fee: an average annual fee of 0.25%.
The Plum SIPP is provided by Gaudi Regulated Services Ltd and is covered by the Financial Services Compensation Scheme (FSCS).
Bill Switching
Plum monitors your income and expenses to help you find areas to cut down on and save money.
It compares your household bills with other providers to help you find cheaper rates. Plum notifies you if there's a better bill or financial product, and you can switch in minutes.
The new service provider handles the transfer for you. It's a useful feature to avoid overpayment and save money.
Spending Habits Insights
Want to understand better where your money goes? Plum tracks your expenses by category, week, and month.
This can give you a better understanding of your spending habits and help you stick to your allotted amount for each budget category. Plum shows you how much you have to spend in each category to help you know when to tighten your belt and avoid exceeding your budget.
You can choose between daily or weekly updates to keep track of your spending.
Is Plum Free?
Plum offers free and paid features. Some features like automatic savings and plum SIPP are available in the free plan, but you'll need an upgrade to open an investment account and access other features.
The plan you sign up for determines the services and features you can utilise.
Here's an overview of how much Plum costs and what each subscription plan entails.
Features
Basic (free)
Pro (£2.99/month)
Ultra

(£4.99/month)

Premium (£9.99/ month)

Easy Access Interest Pockets

One

15 pockets

15 pockets

15 pockets

Interest rates

2.20% AER

2.45% AER

2.45% AER

2.90% AER

Automated deposits

✔️

✔️

✔️

✔️

Company stocks trading

1,200+

1,200+

1,200+

Up to 3,000

SIPP

✔️

✔️

✔️

✔️

Compare & switch bills

✔️

✔️

✔️

✔️

Free unlimited withdrawals

✔️

✔️

✔️

✔️

Deposit splitter

✔️

✔️

✔️

✔️

52-week challenge & rainy days rule

❌

✔️

✔️

✔️

Investment funds

❌

9 funds

nine funds

21 funds

Advanced budgeting tools (Maximiser)

❌

❌

✔️

✔️

Free Visa debit card

❌

❌

✔️

✔️

Cashback on purchases

❌

❌

+33%

+33%

1P challenge & naughty rule

❌

❌

✔️

✔️

Automated investment strategy (price alerts)

❌

❌

❌

✔️
Plum Customer Service Review
The easiest way to contact Plum support team is via the chat function within the app. Most users get quicker responses this way.
You can also contact the Plum team by emailing help@withplum.com. However, Plum isn't known for quick responses.
Plum App Security Review
Is Plum safe? Yes, Plum is a safe savings app. The Financial Conduct Authority authorises and regulates Plum as a Registered Account Information Service Provider.
When it comes to investments, Plum outsources to established and FSCS-protected investment firms. In the unlikely situation that an FSCS-protected firm fails, FSCS can repay the funds to you typically up to a maximum of £85,000.
Getting Started With Plum
Ready to manage, save, and invest money with Plum? The sign-up process is quite straightforward.
Here are the steps for creating a Plum account:
Download the Android or iOS Plum app
Submit your details (name, surname, nationality, age and address)
Link your bank account.
Is Plum a Good Money-Saving App?
Yes. Plum is a good, legit, and trusted AI-powered money savings app, especially if you want to boost your savings or struggle to determine how much you should set aside.
Is It Safe to Link My Bank Account to Plum?
Yes. Linking your bank account to plum is safe as it only gives the app read-only access, not your bank login details or credentials.
Since its establishment in 2016, Plum hasn't had any significant security issues.
Do I Earn Interest in Plum App?
Yes. The Plum app pays interest if you put your money in Easy Access Interest Pockets. However, if you leave your money in a primary pocket, you won't earn any interest.
Does It Cost to Have a Plum Account?
No. It doesn't cost to have a Plum account if you use the basic (free) plan. However, if you need additional features like investments and the Plum Card, you must pay subscription fees for pro, ultra, or premium plans.
Can I Withdraw My Money From Plum?
Yes. Plum allows you to withdraw money from your account for free anytime.
What Banks Are Supported by Plum?
Plum supports all major UK banks, including Santander, First Direct, Natwest, Danske Bank, TSB, Barclays, Nationwide, M&S, Lloyds, HSBC, Tesco, Bank of Scotland, Monzo, Halifax, Revolut, RBS, and Starling.
Where Does Plum Put My Money?
Plum, by default, puts your automatic deposits in the Primary Pocket. However, you can open different savings pots and set up a Splitter to divide your deposit into different pockets. You can also split the amount between an interest Pocket and investments.
Where Is Plum Available?
Plum is currently available in the U.K., Ireland, France, and Spain.
Plum App vs Monese App Review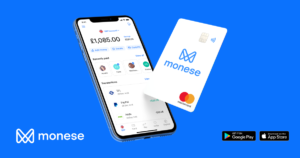 Monese is an alternative mobile banking app that aims to provide accessible banking services to people who may have difficulty accessing traditional banking services, such as those without a credit history or with a poor one.
Its popular feature is the Credit Builder, which offers a 0% interest loan. As you make repayments, Monese reports to credit bureaus to improve your credit score.
Monese also offers money management features like budget tracking, saving pots, and interest accounts.
How Does Monese App Compare to Plum App?
Monese and Plum are some of the best budgeting apps but offer unique features that may appeal to different users.
Monese is best suited for those seeking an alternative banking option and building credit. On the other hand, the Plum app is a good choice if you're looking for an automated money management app.
Plum

Monese

Savings

Automated savings with multiple features

Manual savings plus automatic round-ups on spare change

Investments

✔️

❌

Interest rates

2.20% to 2.90% AER

Determined by the savings products you opt for with Monese's partner Raisin

Expenses tracking & budgeting

✔️

✔️

Subscription plans costs

£0 to 9.99/month

£0 to 14.95/month

Credit Builder loan

❌

✔️

App rating

4.7/5 on App Store

4.6/5 on Google Play

4.7/5 on App Store

4.5/5 on Google Play
Plum App vs Mint UK
Mint is a free mobile and web-based personal finance management tool by Intuit. It's one of the oldest budgeting apps that help people gain better control of their finances and make smarter financial decisions.
Mint works by allowing you to connect your bank accounts, credit cards, and other financial accounts. It uses that information to track and categorise your spending, set and track budgets, and give personalised insights and recommendations to improve your finances.
The negotiate bills feature is particularly helpful in saving money on bills.
However, Mint is currently not available in the UK. The Plum app is a good alternative to Mint in the UK.
Plum App vs Emma Budget App Review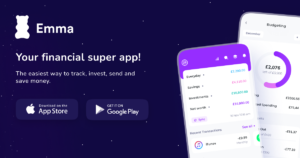 Tracking your spending manually is tedious and makes it difficult to remain consistent. That's what the Emma budget app comes on to help you with. It's best suited for budgeting and tracking your spending to hold yourself accountable.
You can adjust your spending habits and stick to your budget with the insights from the Emma app.
The Plum app also helps with expense tracking, but the Emma app wins. That's because some Plum budgeting features, like Money Maximiser, are not free.
However, if you're looking for a hands-off approach to money management Plum app wins.
Here's a comparison of the Plum app and the Emma budget app.
Plum

Emma

Savings pots

✔️

❌

Investment accounts

✔️

✔️

Interest rates

2.20% to 2.90% AER

0.55% to 1.76% AER

Subscription plans costs

£0 to 9.99/month

£0 to £14.99

Bills comparison

✔️

✔️

Cryptocurrency integration

❌

✔️

Rating

4.7/5 on App Store

4.6/5 on Google Play

4.4/5 on Google Play

4.7/5 on App Store
Conclusion
Looking for the best budgeting apps for couples or individuals? Depending on your financial situation and goals, you can't go wrong with the Plum app, Emma budgeting app, or Monese.
Each app has unique features and emphasis that suit a particular user best.
Plum app is great for automating personal finance tasks like savings, the Emma app is ideal for spend tracking and budget tracking, and Monese is great for credit score building.
Still not sure which app is ideal for you? Part of the best budgeting advice UK you can get is to try the three apps and see which one works best for you. The three money saving apps have a free plan that you can take advantage of now!