March 2, 2023
No Comments
eToro Review 2023: Pros & Cons for Investors
Investing is a crucial part of financial growth and stability, and with the rise of technology, it has become easier than ever to participate in the financial markets. One platform that has gained popularity over the years is eToro, an online trading platform that allows users to invest in a variety of assets, including stocks, cryptocurrencies, and commodities. eToro also has a copy trading feature, which allows users to copy the trades of pros in real time and benefit from their trading experience. In this blog, we will do an etoro review and discuss the pros and cons of using eToro to help you make an informed decision about whether it's the right platform for you.
Advantages of Etoro
User-Friendly Interface
One of the biggest pros of eToro is its user-friendly interface. The platform is designed to be intuitive and easy to navigate, which is perfect for new investors. It's effortless to find the assets you want to invest in, and the trading process is straightforward. Here is a picture of my back office: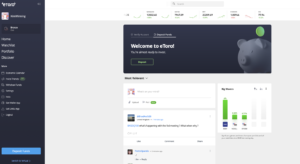 Social Trading
eToro offers a unique feature called social trading, which allows users to follow and copy the trades of other successful investors on the platform. This feature is excellent for new investors who may not have a lot of experience or knowledge of the market, as it allows them to learn from successful traders and potentially make money without having to do extensive research.

Variety of Assets
eToro offers a wide range of assets for investors to choose from, including stocks, ETFs, cryptocurrencies, and commodities. This variety is excellent for investors who want to diversify their portfolios and take advantage of different investment opportunities. There are over 3,000 stocks to choose from, a wide range of ETFs and over 70 cryptocurrencies from: Bitcoin, Ethereum, NEO, Solana, Ripple, Dogecoin and Uniswap.
No Commissions
Another significant advantage of using eToro is that it charges no commission fees on trades. This means that investors can save money on each transaction, which can add up to substantial savings over time.
Disadvantages of ETORO
Withdrawal fees
A flat withdrawal fee applies which eats into your profits. This is something to bear in mind when making transactions on the platform. The flat fee is £3.85 ($5).
Higher Spreads
eToro charges spreads on trades, which means that the buy and sell prices of assets are slightly different. This can lead to higher costs for investors, especially if they trade frequently. However, the platform does not charge any other fees, so this is something to keep in mind when considering using eToro.
Inactivity Fees
Another disadvantage of using eToro is the inactivity fee. After 12 months with no login activity, a £8.25 ($10) monthly inactivity fee will be charged on any remaining available balance. No open positions will be closed to cover the fee.
Limited Availability
Finally, eToro is not available in all countries. This can be a disadvantage for investors who live in countries where the platform is not available or travel frequently to, as they will have to look for alternative trading platforms. Countries such as New Zealand, South Africa and several nations in Africa are blocked from accessing the platform.
eToro Products and Features

Stocks
eToro users can invest in around 3,000 stocks as well as a range of ETFs, investing with as little as £41 ($50). You can choose your own collection of assets, or also choose to invest in a ready-made 'Smart Portfolio'.
Cryptocurrencies
eToro currently supports a range of cryptocurrencies that can be traded on its platform. These include:
Bitcoin (BTC)
Ethereum (ETH)
Bitcoin Cash (BCH)
Ripple (XRP)
Litecoin (LTC)
Cardano (ADA)
IOTA (MIOTA)
Stellar Lumens (XLM)
EOS (EOS)
NEO (NEO)
Ethereum Classic (ETC)
Dash (DASH)
Zcash (ZEC)
Binance Coin (BNB)
Tezos (XTZ)
Tron (TRX)
Chainlink (LINK)
Uniswap (UNI)
Polkadot (DOT)
Dogecoin (DOGE)
Note that the availability of these cryptocurrencies may vary depending on your country of residence and eToro's regulatory compliance requirements in your jurisdiction. It is always recommended to check with eToro's customer support or website for the most up-to-date information.
Smart Portfolios
Smart portfolios are a feature on eToro's platform that allows users to invest in pre-built portfolios created by eToro's investment experts. These portfolios are designed to provide diversified exposure to different asset classes, such as stocks, commodities, and cryptocurrencies, with the goal of achieving a specific investment objective or strategy.
Users can choose from a range of pre-built smart portfolios that are tailored to different investment goals and risk profiles, such as growth, income, or long-term investing. Each smart portfolio is composed of a basket of underlying assets, which are managed by eToro's investment team and regularly rebalanced to maintain the portfolio's target allocation.
Smart portfolios are a convenient and low-maintenance way to invest in a diversified portfolio, as they eliminate the need for users to research and select individual assets themselves. Additionally, eToro's investment experts continuously monitor the market and make adjustments to the portfolios as needed, which can potentially help users to achieve their investment goals more efficiently.
Social Investing Community
eToro has a large and active social investing community that allows users to connect with other investors, share ideas, and collaborate on trades. The social investing features on eToro's platform include:
News Feed: This is a feed of social posts by other eToro users, including trading insights, market analysis, and investment ideas. Users can like and comment on posts, as well as share their own posts to the feed.
Copy Trading: This is a feature that allows users to automatically copy the trades of other eToro users who have a track record of successful trading. Users can search for and follow other traders, and allocate a portion of their portfolio to copy their trades.
Popular Investor Program: This is a program that rewards eToro users who have a large following and a successful trading record with various perks, such as increased commission rates and exposure to more investors.
Discussions: This is a feature that allows users to join or create discussion groups on various topics, such as specific stocks, cryptocurrencies, or investment strategies. Users can share their insights and opinions, ask questions, and learn from others in the community.
Overall, the social investing community on eToro is very active and diverse, with users from all over the world sharing their knowledge and experiences. The platform's social features can be a valuable resource for new and experienced investors alike, as they provide a way to connect with other investors and potentially improve investment outcomes through collaboration and information sharing.
eToro club
The eToro Club is a loyalty program for eToro users that offers various perks and benefits based on their level of membership. The eToro Club has five membership levels, each with its own benefits and requirements:
Silver: This is the basic level of membership, which is automatically granted to all eToro users. Silver members receive access to the eToro Club dashboard, where they can track their progress towards the next level and view their benefits.
Gold: To become a Gold member, users must have a minimum equity balance of $5,000 in their eToro account. Gold members receive additional benefits, such as a dedicated account manager, access to exclusive webinars and events, and a 2% reduction in overnight fees. Perks also include access to free webinars, and access to The Wall Street Journal.
Platinum: To become a Platinum member, users must have a minimum equity balance of $25,000 in their eToro account. Platinum members receive even more benefits, such as a personal trading coach, priority customer service, and a 4% reduction in overnight fees.
Platinum+: To become a Platinum+ member, users must have a minimum equity balance of $250,000 in their eToro account. Platinum+ members receive the same benefits as Platinum members, as well as additional perks, such as a VIP travel package and a 6% reduction in overnight fees.
Diamond: To become a Diamond member, users must have a minimum equity balance of $500,000 in their eToro account. Diamond members receive all of the benefits of Platinum+ members, as well as a range of exclusive perks, such as a personalized trading algorithm and a 10% reduction in overnight fees.
Overall, the eToro Club is designed to reward users for their loyalty and encourage them to continue trading on the platform. The benefits and requirements of each membership level are clearly outlined on the eToro website, and users can track their progress towards the next level in their eToro Club dashboard.
Conclusion
eToro is a great platform for new investors who are looking for an easy-to-use platform with a wide range of investment opportunities. The social trading feature is a significant advantage, as it allows users to learn from successful investors and potentially make money without having to do extensive research. However, the platform does have some drawbacks, such as limited research tools, higher spreads, limited customer support, and limited availability. Overall, it's essential to weigh the pros and cons carefully and determine if eToro is the right platform for your investment needs.
FAQ
Question: Can I use eToro on Mobile?
Answer: Yes, eToro can be used on most smartphone devices on the Android and iOS market via the eToro investing app.
Question: Is eToro secure and is my money protected?
Answer: eToro is regulated by the Financial Conduct Authority in the UK. Users funds are protected in a regulated bank account which is held in trust. In the event eToro went bankrupt, the funds would be returned to customers. Users can secure their access to the platform with two-factor authentication to log in for an additional security layer. This will consist of a verification code being sent to your mobile phone in order to access your account.
Question: What are the eToro commissions and fees?
Answer: There are no commissions or management fees associated with investing in stocks and ETFs. eToro charges a flat withdrawal fee of £3.83 ($5). Investing in cryptocurrencies does incur a fixed fee of 1%, whether you are buying or selling.