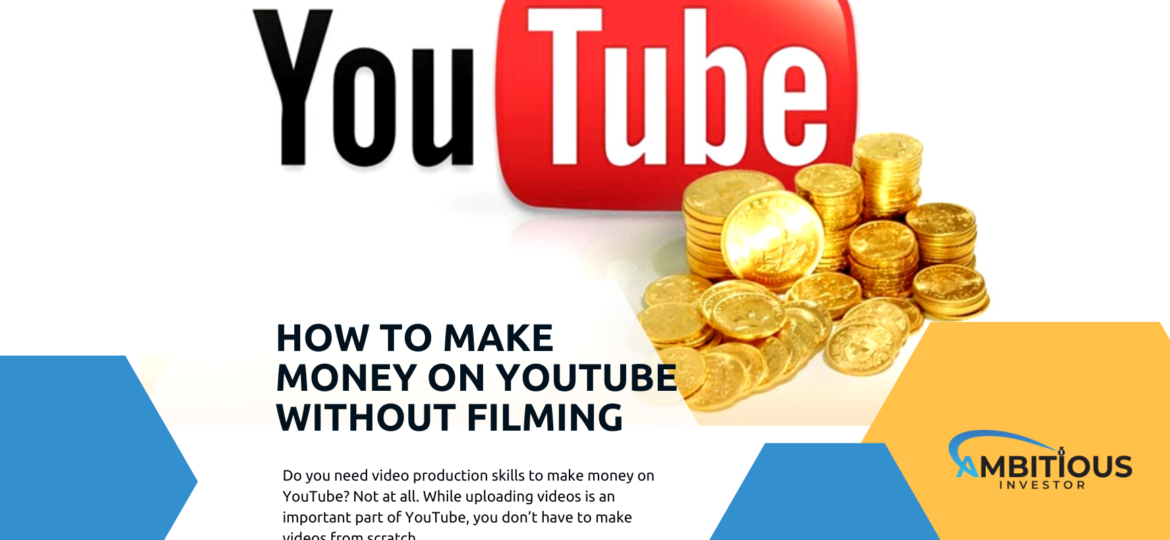 10 Ideas: How To Make Money on YouTube WITHOUT Making Videos [2023]
Do you need video production skills to make money on YouTube? Not at all. While uploading videos is an important part of YouTube, you don't have to make videos from scratch. If you browse through YouTube, you will see that there's also no need for you to show your face, either. You can make money on YouTube without revealing anything about yourself.
So, how to make money on YouTube without making videos? Follow this guide that explores various ideas and gives you tips on making money on the platform. Let's have a look:
Top 10 Ideas To Make Money On Youtube Without Showing Your Face
Not everyone is comfortable about showing their face or their home setup. You might not have space to move or picturesque scenes to capture. All that is fine. There are many other kinds of content you can try without the need to show your face. Here are the top 10 ideas that might work for you:
1. Product Reviews
What do you do when you buy anything online? You first research it to read reviews or even check YouTube videos with unboxing and reviews. That is one of the mainstream methods of generating revenue.
You can easily use affiliate marketing with your product reviews. There are countless products too. It can be household items, camping equipment, travel spots, tech gadgets, or more. Therefore, you will have an endless stream of content.
Moreover, all you need to do is use screen recording or record unboxing a product. If you want, you can use images or animation in the video, as well.
2. Affiliate Marketing
Product reviews give you a great way to add affiliate marketing, but there are many other affiliate programs available as well. You can sign up for different affiliate programs like books, courses, or products. It doesn't require you to show your face, and you can use the same approach as the product reviews for affiliate content.
3. Tutorials And Instruction Videos
People are always looking for a guide on how to do something. You can easily create these guides. For example, it can be, 'How to chop onions,' or 'How to use Adobe Photoshop?' There are endless options for you, from how to do something and more.
People also appreciate DIY posts, so you have that going, as well. Just like the product reviews, you can do this with screen recording or screenshots.
4. Audio Podcasts
If you have audio files that you can use to create a podcast, that's even better. You can add images and other visuals for the YouTube video while you keep the podcast audio intact. This approach is used for other audio files, as well. But remember not to end up with copyright infringement.
5. Stock Footage
This is a massive field. Creating stock footage means recording landscapes, wildlife, nature, the area, etc. You can try time-lapse videos and then upload them. But what's the point? People are continually looking for new footage, visuals, and content to use. After all, even you will be looking for videos, visuals, and images to create a video without revealing your face.
6. Virtual Tours
Have you seen people give you a tour of the places in their video blogs, also known as Vlogs? You can do the same thing. Explore new places, restaurants, tourist spots, etc., and capture them in your videos.
If you want, you can even specialize in the category to become a Food Influencer or something else. You may also choose to keep yourself versatile.
7. Music Video
You might have seen countless independent artists create a music video and then become overnight sensations. Now, becoming viral is a different thing altogether, but you can create music videos as well. You may choose not to reveal your face, either.
8. Voice-Over Work
Voiceover is another big segment on YouTube. This can be simple voice-overs for product reviews and videos. People even use AI-generated voice and speech nowadays, so you don't even have to use your real voice.
More creative individuals tend to find videos like animals or funny videos, and then they give them a voice to make them entertaining. There are many ways for you to approach these ideas.
9. Animated Explainer Videos
Instead of using images and visuals, you can aim to create animated videos. These can have slideshows or animations as you deem fit. Remember, you will have to level up your skills if you want to create great videos. But you can start from ground level.
10. Screen Recordings
As mentioned earlier in Tutorials, and instruction content, you can use screen recordings or screenshots to demonstrate how something works. This works great for video game guides, software guides, website guides, and so on. If you are thinking about how to make money on youtube without making videos this is a great option.

How To Monetize A Youtube Channel
Now, for the big question – How do you generate revenue on your YouTube channel? After all, that's the main reason you're here for. There are plenty of ways to achieve that, but first, you need to understand a few requirements and conditions:
● You need to have at least 1,000 subscribers on your YouTube channel.
● You need to have 4,000+ watch hours on your YouTube Channel in the past 12 months.
● Read and comply with YouTube's monetization policies and guidelines to enroll in YouTube Partner Program.
Next, you will become a member of the YouTube Partner Program, which will open opportunities for you to make multiple revenue streams:
1. Adsense
As you may have seen, almost every YouTube video today plays an ad. This is a YouTube Partner Program. When you join it, you can choose to add advertisements to your videos. It uses Google's Adsense network to help you generate revenue.
This is the first 'go-to' method for almost anyone.
AdSense: This is the most common method of monetizing a YouTube channel. By joining the YouTube Partner Program, you can earn money through ads that play on your videos. The revenue is generated through AdSense, which is Google's ad network. Your adsense account is available online and allows you to make passive income via your videos.
2. Affiliate Marketing
As mentioned earlier, affiliate marketing and programs give you a unique link to share with people. When people buy or subscribe to something with your affiliate link, you generate revenue.
You can do this by selling courses or books or simply putting a link for something.
3. Sponsored Content
Sponsored content is when you partner with a specific brand and promote their product or service on your content. The payment depends on what you discuss with them and the terms for it. Therefore, sponsored content's revenue varies greatly.
4. Selling Products
Just like affiliate marketing, you can have affiliate links to the products. You can use Amazon Affiliate Program, and other platforms also offer their form of an affiliate program. If you have original products, you may choose to sell them, as well.
5. Crowdfunding
Crowdfunding is basically when you ask people to donate money. You can use this way to raise money for something. But there's nothing stopping you from raising money for yourself. Many steamers use this method to generate massive revenue for themselves.
6. Virtual Events
If you're an artist, you may choose to hold a virtual live event on YouTube. You can have Q&A sessions with your followers and other planned events. This can help you generate revenue if you make it exclusive to people who buy your tickets, donate, etc.
7. Promote Your Business
If you have some business, nothing is stopping you from creating and posting YouTube videos to promote it. You can do that as much as you like. This method doesn't even require you to become a YouTube partner. You can start it anytime.
8. Consult Other People
Do you have people asking how you record your videos, make them, publish them, etc.? Maybe you have expertise in a specific field like taxes or commerce, business, etc.
You can choose to provide consultation videos or consultations to the people that you can promote on live YouTube feeds or in your videos. This way, you can generate more revenue, as well.

A Few Things To Note
Before you leave, make sure to keep these points in mind:
● Don't infringe copyright material. This will impact your brand and youtube account negatively.
● Try to create original content. If you can't create original content, then take inspiration from what is already there.
● If you can't create videos, images, visuals, audio, etc., use the ones that have creative commons licenses.
● Try to opt for high-quality content, minimum 1080P to 4k content, because it is easier to watch and YouTube prefers higher quality content more.
Bottom Line – How To Make Money On Youtube Without Making Videos?
It is virtually impossible to make money on YouTube without uploading video content. You don't have to record or create videos from scratch. There are resources available, and the new age of AI-generation tools is making it even easier for you to post content.
But you need to understand that creating and growing YouTube channels will need patience. You will have to work consistently, and it might take some time before you start gaining results. As long as you are persistent, you can do it.
FAQ's
Do You Get Paid for Uploading Videos on YouTube?
YouTube does not pay you for uploading videos. You get paid once you either are in the YouTube Partner Program, get paid by an affiliate when watches click links in your description or if you have a brand deal.
Is YouTube a good way to make money online?
Yes it is, youtube income is semi-passive income. Once you film good content, it can pay you for years from creating videos people want to watch.
Should you Buy a YouTube Channel?
This is not a necessity, however it can be a good idea if you plan to continue filming content in the same niche.
How do YouTubers get paid?
Youtubers get paid as a video creator. Some youtubers also are on other social media platforms so this becomes attractive to brands when collaborating with influencers.
Can you make money on YouTube without making videos?
Yes.
When do you start making money on YouTube?
Once you meet the Youtube Partner Program criteria or secure a brand deal.
How many subscribers do you need to make money on YouTube?
1,000 subscribers.