How to Start a Blog in 2023: Step By Step Process
There is a misconception that blogging no longer works in 2023. The ability to share information, communicate, create and publish content through written blogs still works despite the vast amount of ways to make an income online.
When I started the Ambitious Investor, I knew that we had to be focused and take blogging serious in order for the business to be profitable. I have always been vocal about talking money, personal finance and sharing valuable information which seemed to be missing from the school curriculum, so blogging just made sense.
When you do a quick comparison about different online business ideas, you will realise when you weigh up the pros and cons blogging is one of the best ideas out there. It's a business you can start from home, part time, but you can launch your own money-making machine with a few pounds or dollars to get started.
I started my website with a little portion of money from my savings, roughly around £100 for a basic theme and website design and a one-year hosting plan with Bluehost. This has been one of my greatest investments, which has allowed me to meet new people, educate, and earn a 'semi-passive' income (more on this later) …

Our Top Pick for Web Hosting
If you're thinking of starting your own blog, you have a ton to gain and not much to lose other than pocket change and some of your free time. And if you do things right, you have the potential to create an online platform that brings you a steady cashflow you can use to improve your life and create generational wealth.
I created this guide to help you assess exactly step by step how to start a blog from scratch, stand out on the web and make an income. If you're ready to change the direction of your life with a blog, let's get started reading and then implementing the next few steps.
First You Learn, then you L…Earn. Here we go.
So What is a Blog Anyway?
The website you're currently visiting Ambitious Investor, is a blog. However, blogs come in many different styles and formats. You probably have come across a blog in the cooking niche that shares recipes, a blog which helps to educate new mums or even a blog in the fitness niche before. You'll even find blogs on travel and how to safe money on flights around the world.
They all have the same thing in common. A blog is either built by a person like yourself, or a group of people who later form a company. You may have heard of Huffington Post or Tech Crunch. Both of these well known blogs produce multi millions all simply from sharing content and valuable information. The content shared comes in the form of blog posts, just like the post you're reading right now.
While a lot of people blog for fun, there are all kinds of people who have turned their blogs into money-making machines. While some earn enough money on their blog to supplement their incomes, others — including hundreds of people I know personally — pay for their entire family's lifestyle with a blog. The top 1% of bloggers even make millions of dollars every single year, and that's no joke. Simply google top earning blogs to see a list of top earning blogs. Once the traffic starts to come in, things tend to get pretty hectic in a short space of time.
Top Reasons Why You Should Start a Blog…
Starting a blog can make sense if either one or all of these apply to you:
You want the chance to earn passive income
Free time is scarce in your life, and you need a side gig for nights and weekends
You have a lot to say and want a platform to share your ideas
You're creative but you don't have a way to tap into that side of yourself
You feel like blogging and have the time to get started
You enjoy collaborating with other writers
Important Things to Note
Before you dive into the steps below, there are definitely some things to consider. Here are some basic issues to think over today before you devote a ton of time and energy into starting a blog.
You won't make money from day one. If you're considering a blog as a potential source of income, you should know that earning money online is absolutely possible. But you should also know that it won't happen from day one! I spent many months trying to figure out how to earn my first $100, and it took me a year or more to replicate that success and start earning $1,000 per month on a regular basis. You need to build up your website and spend time building a community before you can earn consistent income, so don't get discouraged if you're not rolling in the dough right away.
Haters are definitely going to hate. You will have friends and family members who don't understand what you're doing or why. They'll probably think your blog is a joke, but this is usually because one person's ambition makes other people insecure. If you want to be successful as a blogger, you have to ignore negative people and block out the noise!
You will make mistakes. Figuring out how to start a blog isn't easy, and you will make plenty of mistakes along the way. You need to think of each mistake as a learning experience instead of a hurdle to overcome.
Figure out your passion. Finally, you'll have more success as a blogger if you find your passion and build a website around a topic you care about. It can be something as simple as pet care, life insurance, or travel. The key is making sure you care enough about your niche to talk about it for years to come.
How to Start a Blog: A Step-by-Step Guide
Choose a niche and a name
Register your domain
Pick a blog host
Launch your hosting account
Connect your domain and host
Build your website
Design your website
Write/Find writers and publish content
Promote your blog & Monetise
When it comes to starting a blog, the first detail to think over is what you're going to write about. Will you cover vegan recipes? Fitness? Technology and gadgets? It's up to you but you do need to find a niche you plan to stick to.
If you're struggling to come up with one niche you love, you can also consider choosing a few different topics that go together in some way. For example, health and beauty tend to go together well, as do personal finance and stocks.
Maybe you could write about entrepreneurship and fatherhood or motherhood? Perhaps you could blog about kids and travel or family travel.
The choice is really up to you, but this step is really crucial. Think about what you love and what you really want to write about.
Step 2: Register your domain.
Next up, you need to figure out if the domain is available for the website name you were hoping for. This is one area where you may need to get creative since many, many website names are taken already.
I suggest shopping around for domain names on www.godaddy.com. This website lets you try different names and combinations of names that might work for your niche, and you can find out instantly if the domain name you want is available.
Usually, domain name registrars like GoDaddy sell domains for as little as £8, but you can often find even better deals than that. You may also be asked to pay thousands of pounds for premium domain names, but I would not do this at all. You're a lot better off choosing a domain that's close enough to what you want and using your money for some other part of your business plan.
Step 3: Pick a blog host.
Next up, you'll need to pick a blog host. This is the company that will "host" your website and make sure it remains live and functional on the web.
There are a ton of different hosting services to choose from, but I like Bluehost for beginners for a few reasons. Not only is it so dang cheap (often as low as $3.95 per month!), but they have good customer service and they're pretty reliable. Bluehost also makes it exactly easy to figure out how to start a blog, which is really important in the beginning. And remember, you can also change your host later on if your website grows or you need a host with more functionality.
Step 4: Get your hosting account off the ground.
Here's how to set up hosting with Bluehost.
#1: Go to Bluehost.com and click on the button that says to get started.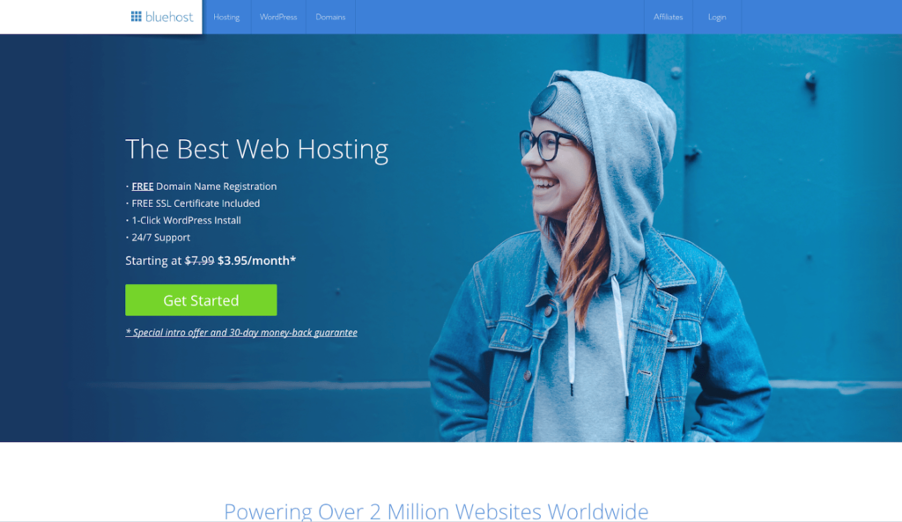 #2: Select the hosting plan you want out of the options they show.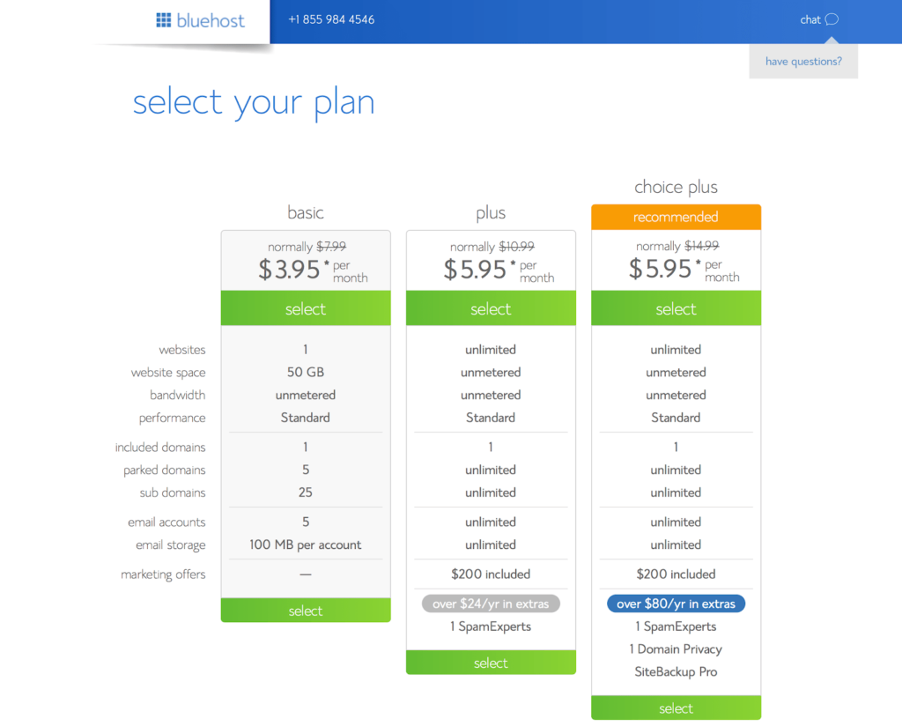 #3: Enter the domain name you chose when you purchased a domain from GoDaddy.com or elsewhere.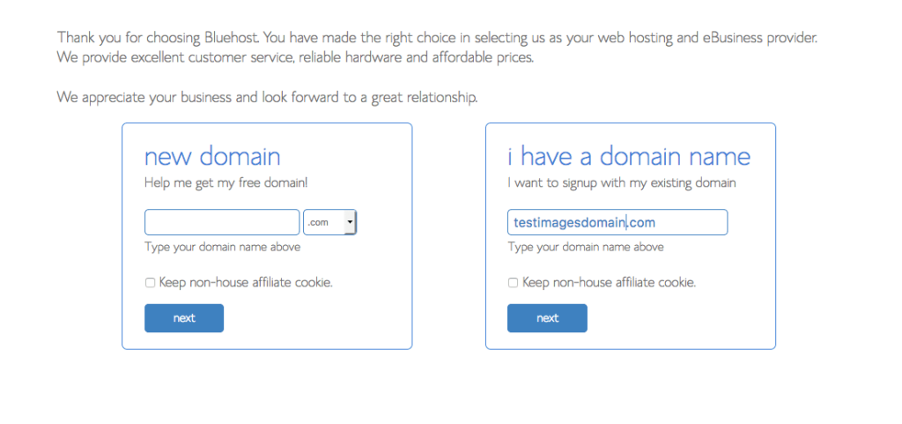 #4: Enter all the information Bluehost asks for on the next page, including your contact information.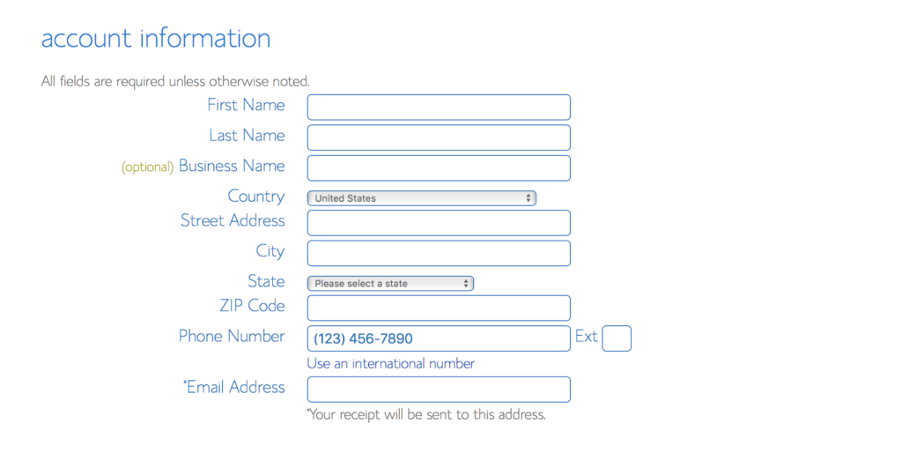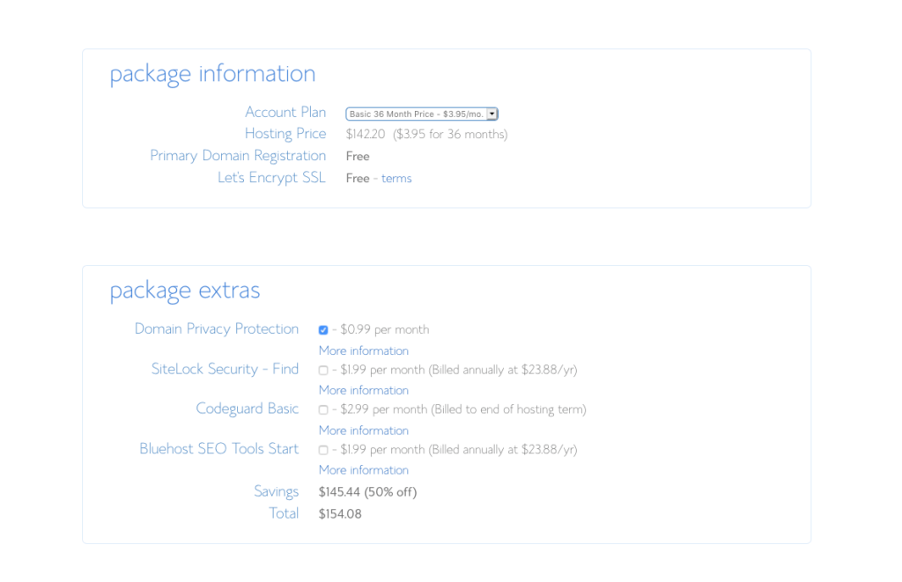 #5: Enter your payment information for the hosting plan you selected.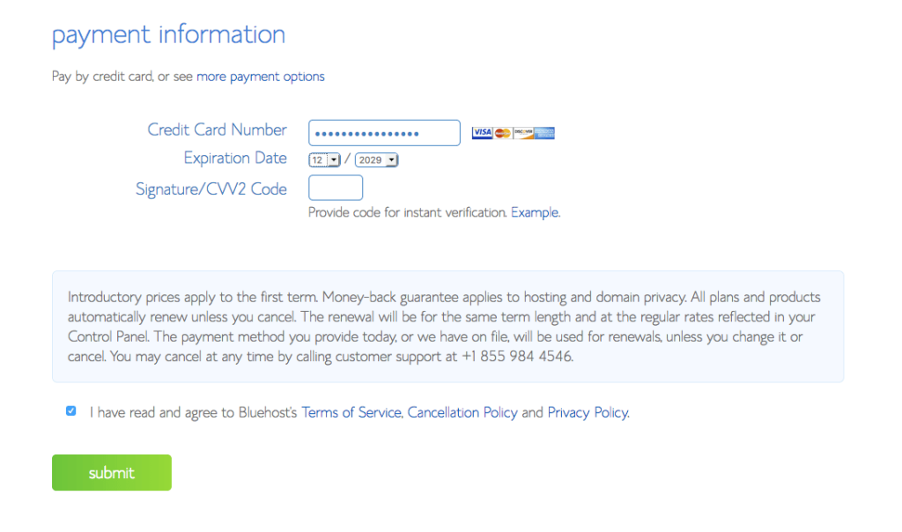 #6: Create a new password for your Bluehost account.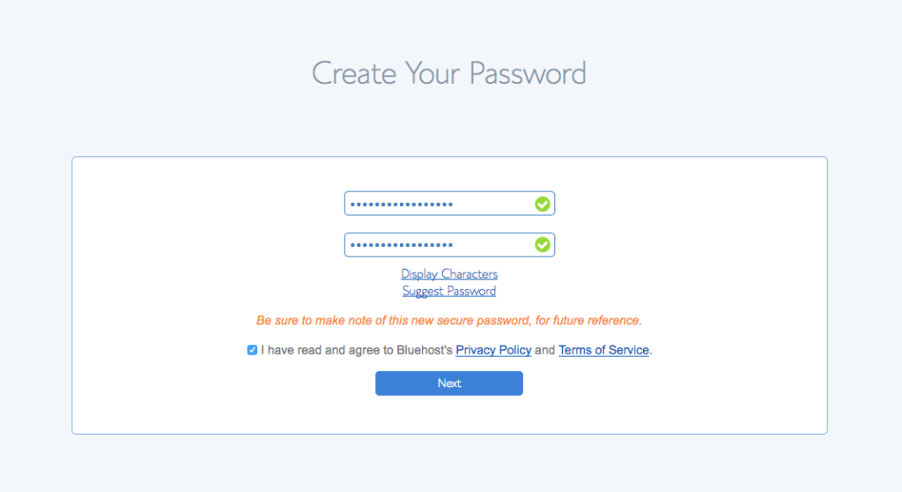 #7: Pick a theme from Bluehost, if you want!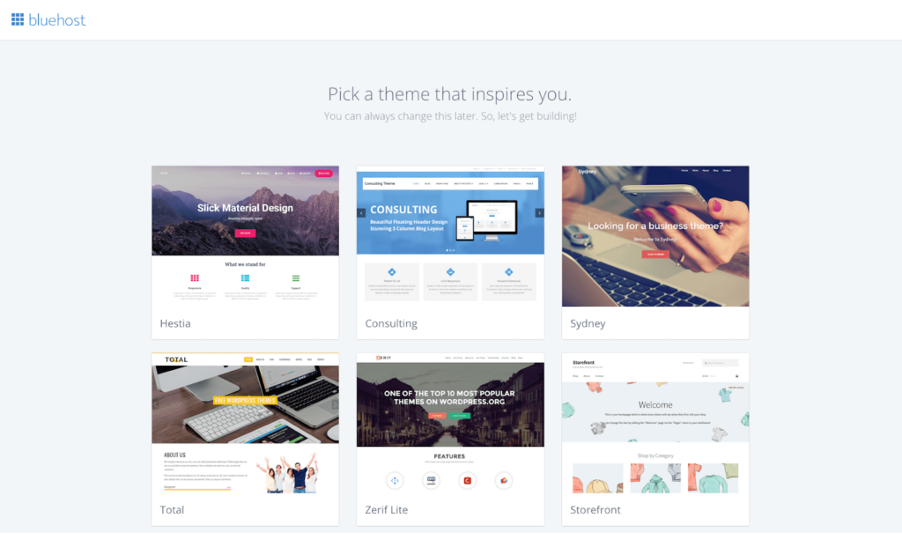 #8: You're done!

Step 5: Connect your domain and host.
Your domain and host provider are interconnected and pretty much talk to each other, which is the main reason why you need to connect them right straight away.
If you use Bluehost to set up a domain and set up hosting, you don't need to take this step. But if you register a domain with a website like GoDaddy, you will need to connect these two accounts.
To connect your registered domain name with your hosting account, you will need to use domain name servers, also called DNS. When you opened your new hosting account, you should have received a welcome email providing you with DNS information and other details. Your DNS should read something like this: "Nameserver1: ns1.bluehost.com, Nameserver2: ns2.bluehost.com.
Exactly how to connect your domain registrar with your host depends on the domain registrar you used, so you may have to do some digging to find out where to enter your DNS.
Step 6: Build your website.
Bluehost makes it insanely easy to build your WordPress website using their platform. The ability to start building your website easy via the Bluehost platform is the reason why I recommend the Bluehost platform. They make the process of figuring out how to start a blog so simple. Here are some of the next steps you'll take:
#1: Log into your Blue host account.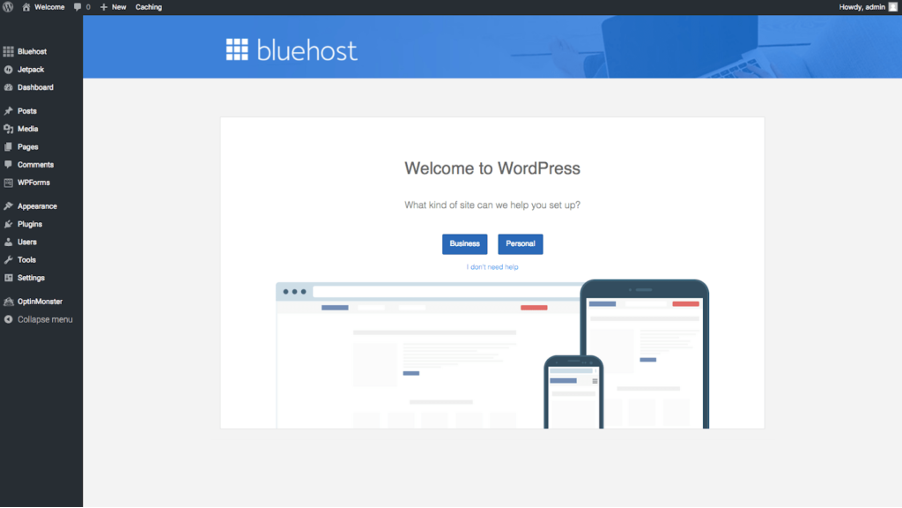 #2: Click on the "launch" button to get your blog going.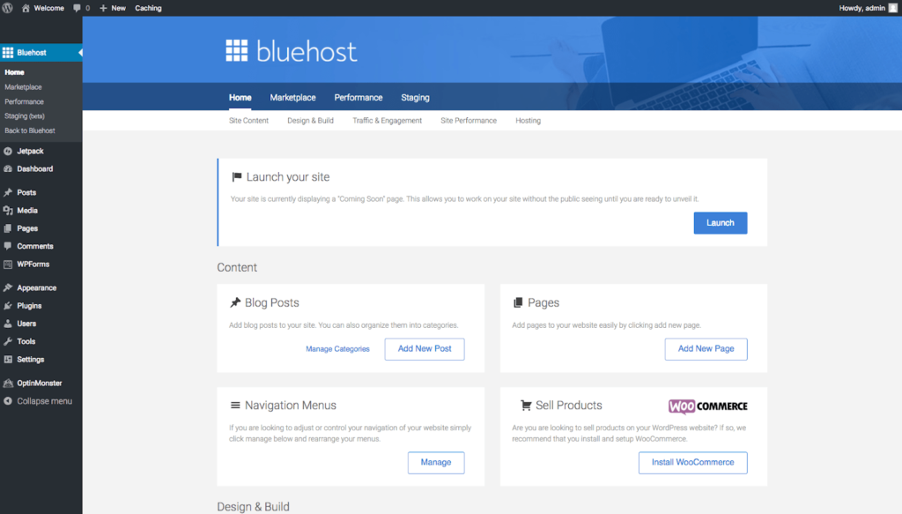 #3: Determine a site title and description.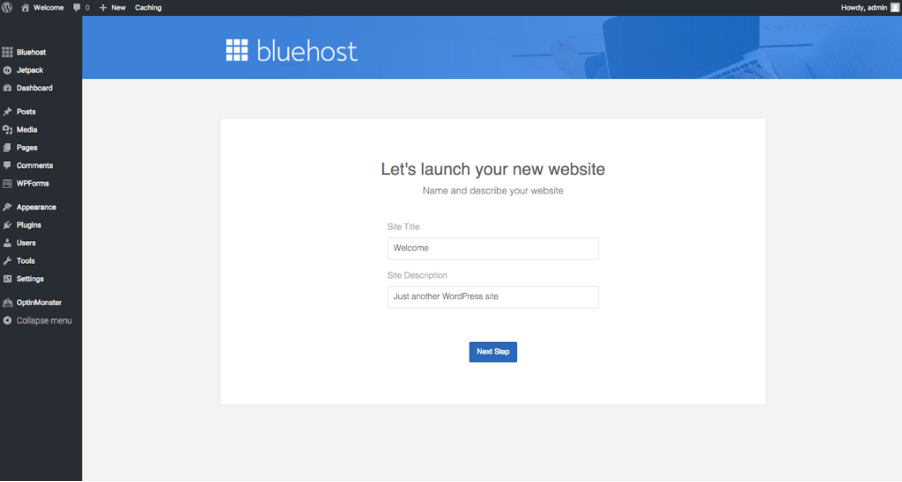 #4: Go to the homepage and click on My Sites.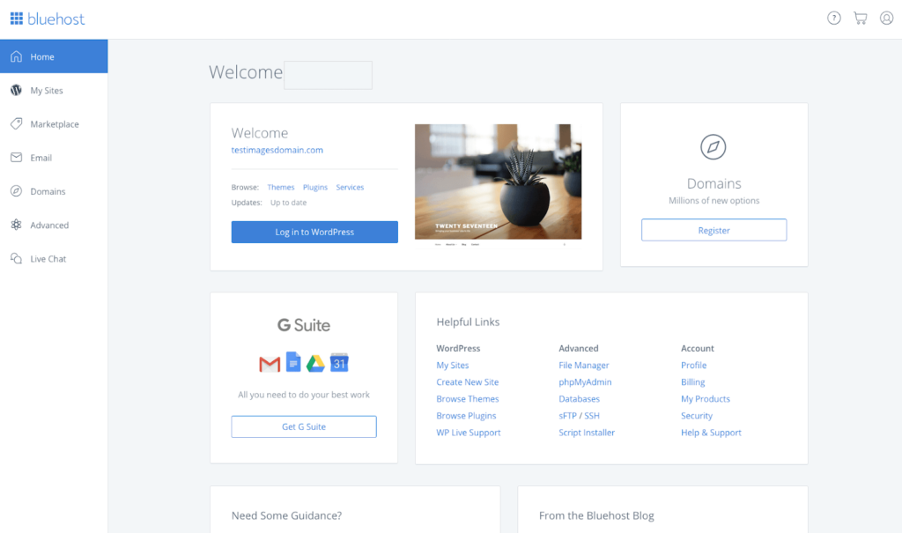 #5: Choose your domain name and hit "install."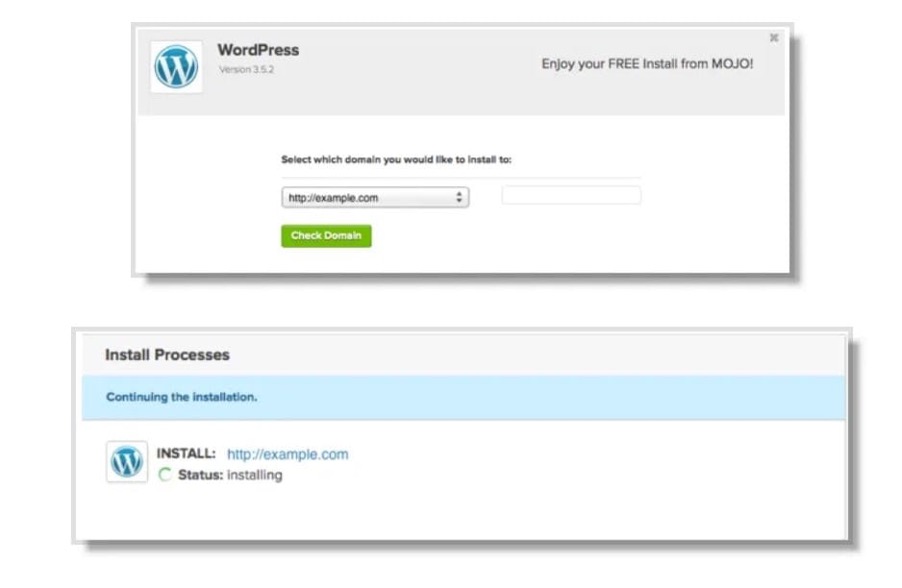 #6: You're done!
Note that there may be situations where these steps need to be done somewhat out of order. Bluehost and other hosting websites frequently change the exact screens for their process, and they may add another step or take away a step. The steps listed above are approximate and should be insanely helpful when it comes to starting your blog!
Step 7: Design your website.
WordPress has a ton of different options that can help you create a design for your website that makes sense for your content. If you click on "appearance" and "themes" once you're in WordPress, you can choose from hundreds of templates for your homepage and the rest of your site.
You can pay more for a custom website theme, but you really don't need to when you're first getting started. As a blogging newbie, your goal should be getting your website off the ground. Try not to get too caught up in the finer detail of how to start a blog because it's easy to go down the rabbit hole. And if you spend too much time making decisions at the beginning, you may never get your blog off the ground.
Step 8: Write and publish content.
Once your blog is ready to go, you can write content, hit the publish button, and start building a community of readers! Try not to stress too much over the content you're writing at the beginning since it's very likely you'll go back and edit or tweak your content later on.
What you really need to do at this point is get used to the writing and publishing process. Get in the habit of writing passionately about your niche, then hitting the publish button even if you're worried it's not that great. You will get better over time, but you have to get started to reach that next level.
Step 9: Promote your blog and get ready to earn money.
Your next step is making sure people can find your website, and this includes setting up social media accounts. There are a ton of social media platforms out there, but obviously you won't want to be on all of them. Personally, I suggest setting up Facebook, Twitter, Instagram and Pinterest accounts for your blog before you worry about the others.
Once you start publishing content, you'll want to make sure you share your blog posts on all your platforms on a regular basis. Invite family and friends to follow you on social media platforms, and also reach out to other bloggers in your niche to start building relationships that might make things easier later on. You can also comment on other blogs as a way to get your name out there. Not only will the blogger see your comments, but anyone reading their blog might see them, too.
Also, make sure you're collecting emails from potential subscribers right away. While it may seem pointless to collect reader emails when the only person reading your blog is your mom, these early readers could turn out to be your best customers later on. This is also something that you'll regret not doing if you forget. I know a lot of bloggers who failed to collect emails until they were several years in, and all of them deeply regret it.
Tips for Success
Here are the top tips for success as a blogger:
Network with other bloggers.
Meeting new people can open up doors offline, but online the same rule applies. The best thing you can do is to start networking with other bloggers in your niche. Other bloggers are not competition, when blogging it's all about collaboration. The internet is full of daily users, of which explore multiple websites and there is tonnes of room for everyone to win at blogging.
Guest post and comment on other blogs.
How do you get started networking with other bloggers? I would suggest commenting on other blogs in your niche in order to build rapport with bloggers you don't know yet. I would also try to arrange guest posts with other bloggers. Not only is this a good way to get your name out there, but you can also get a coveted backlink to your website.
Don't assume there's nothing to learn.
Here's something that makes me crazy. So many new bloggers get started and then refuse to listen to all the awesome advice you get can get online for free. This is a huge mistake since there is always something to learn — even after you've found some success. I suggest figuring out which blogging experts you want to lean on and following their YouTube channels or podcasts so you can soak up as much information as you can.
Learn about keyword research and SEO.
You will earn more money blogging if you take the time to learn about search engine optimization (SEO) and how to use keywords to get your articles to rank. Remember that you won't make money blogging if nobody sees the content you write. To earn passive income, you need SEO working on your behalf at all times.
Study all the different ways to make money blogging.
There are a ton of different, ranging from affiliate marketing to display ads and sponsored content. While you won't make a lot of money blogging at first, you should spend time learning about all the blog monetization strategies you could use later on.
Write long blog posts with a ton of helpful details.
Google tends to look favourably on longer content that has lots of helpful detail and information. As a result, you should strive to write the lengthiest, most helpful blog posts you can. Add in screenshots and photos that make your posts even better, and you'll be rewarded for your efforts when it comes to search engine traffic.
Create small goals for yourself.
Blogging is really a long game effort — as in, you can't expect to start a blog and start making money overnight. That's why I suggest creating small goals for yourself that can help you feel a sense of accomplishment before you earn a dime. Consider setting goals in terms of the monthly traffic you have, or in terms of social media followers. Whatever works is fine. Just make sure to set goals that can help you stay motivated and on track with your big picture blogging plan.
Don't care what other people think.
Finally, know that you will encounter people who hate you and your website. They may be people you know, or they could be total strangers. It really doesn't matter because your response should be the same. Ignore people who don't understand your new blogging business. Feel free to delete their comments or just don't respond. Whatever you do, don't let people make you feel bad about pursuing your blogging dream. Your biggest critics are probably afraid to pursue theirs.
How to Start a Blog Frequently Asked Questions (FAQ)
You've got questions…and I have answers! In all seriousness, I wanted to provide some basic questions and answers that can help you decide if now is the time to get started blogging. As you get ready to start working toward your goals, here are some additional questions and answers to consider.
How long will it take me to earn money blogging?
You may start making small amounts of money blogging right away, but it's also possible you'll spend six months or a year figuring out the best ways to monetize. Remember that you really need to build up a selection of quality content before you can start being recognized in search engines, and this takes time in itself.
If I were a new blogger, I would focus on writing excellent content and honing my craft for at least 3 or 4 months before I worried about trying to monetize my website.
How much does it cost to start a blog?
You can start a blog for less than $100 provided you find a low-cost domain name and you use an affordable hosting plan like the one I recommend from Bluehost. Keep in mind that you can spend significantly more time than that, but you don't necessarily have to.
How do I choose a blog niche that is profitable?
Any blog niche can be profitable provided consumers pay for at least a few products in that niche. As you figure out what you want to blog about, try to think about it in terms of products and services consumers pay for in the areas you want to write about. If you love camping and want to start a camping blog, for example, then you could consider monetizing with affiliate links for camping gear and products and even sponsored content from outdoor brands.
If you want to blog about parenthood, you could monetize by promoting baby gear and supplies, or even creating your own products parents can buy. If you want to blog about travel, you could monetize by promoting hotels, airlines, and pretty much any travel brand that has an affiliate program.
The sky is really the limit and there's no such thing as a blog niche with no potential for profit.
What do you do if you can't find a domain name you like?
If you can't find the exact domain name you like, you'll just have to keep trying combinations of letters and words until you find something that works. Instead of CampingLife.com, for example, consider thinking outside the box with a domain name like Campers4Life.com. That may or may not be available, but you get the point. You just have to find a domain name that is close enough to what you want to write about. It doesn't have to be perfect.
How do bloggers get paid?
Bloggers make money through a variety of strategies including affiliate marketing, display ads, and sponsored content. Many bloggers also create their own products for their readers to buy. Some bloggers focus on just one monetization source to build up the income they want, but others try all monetization strategies that make sense for their brand.
What is affiliate marketing?
Affiliate Marketing is a type of monetization strategy that lets you make money in a passive format. When you sign up for an affiliate program, you'll get "affiliate links" to place on your blog. When a reader clicks on a link and signs up for a service or purchases a product, you earn a commission that varies from brand to brand.
Many bloggers try to use affiliate links to earn money because they're easy to use and implement, and because the potential for long-term passive income is so great.
Should I start more than one blog to make more money?
If you can make money with one blog, why not start two and earn twice as much? Unfortunately, blogging isn't always as easy as it seems like it would be and having two blogs might make you stretch yourself too thin.
If I were you, I would start a single blog on a topic I cared about, figure out how to monetize it, and get that blog making money before I worried about starting a second website. That way, you can make some mistakes and learn more about blogging before you dive into another online business idea.
What are the main benefits of blogging as a side hustle or business idea?
Blogging is one of the best side hustles out there for a few reasons. First, you can get started for very little money. Second, you can blog part-time while you continue working full-time, and you can even blog during evenings or weekends when you get started.
Blogging is also pretty cool since you can earn a lot of income doing it and the income potential is unlimited with blogging; whereas most side jobs are limiting in terms of how much you can earn, there is a ceiling.
Wrapping Up
You visited my website because you wanted to know how to start a blog, but I hope you learned a lot more than that. If you read this giant blog post, you hopefully learned why blogging is such an innovative business idea, all the different ways you could monetize your website, and what you need to think about as you choose a niche.
At the very least, I hope I gave you a lot to think about. However, I hope you don't think too long about starting a blog. If I have learned anything from blogging, it's the fact that the spoils go to those who actually get started.
The bottom line: Read this post. Buy a domain on Godaddy.com Set up hosting on Bluehost.com and get started today. There's no sense in waiting any longer than you have to.