What is Nutmeg?
Nutmeg, a UK-based robo advisor, allows users to choose from various funds according to their risk preferences. Nutmeg offers customers four different investment portfolios: Fixed Allocation (fixed allocation), Fully Managed (fully managed), Smart Alpha, and Socially Responsive.
Remember that when you invest, your capital may be at risk.
What is Nutmeg's investment process?
Nutmeg offers a range of investment services and products, including Stocks and shares ISAs, Lifetime ISAs, Junior ISAs, General Investment Accounts, and Personal Pensions. Financial advice can also be obtained.
You must choose and manage an investment portfolio once you have decided on the product. This is how it works:
Fixed Allocation Portfolio (Cheapest):
It is passively managed. Nutmeg will only invest in assets that are suitable for your level of risk.
Portfolio Fully Managed:
It is an active portfolio. Nutmeg's active portfolio is one where it will make regular strategic changes to protect from losses and increase future returns. Active portfolios tend to be more expensive than their passive counterparts.
Smart Alpha Portfolio:
J.P. Morgan Asset Management actively manages this portfolio.
Portfolio for Socially Responsible Companies:
The investments in this actively managed portfolio are geared towards bond and company issuers that meet high environmental, social, and governance standards.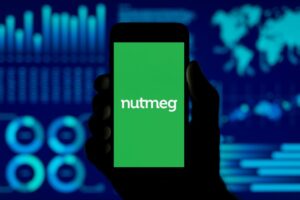 Nutmeg charges a fee.
Downloading the app is completely free.
Depending on the type of investment you make, fees will vary.
Use our table of robo-advisor fees to compare charges.
Fixed Allocation Portfolio (Cheapest):
Platform fee: 0.45% (up to 100 000 GBP) per annum; 0.25% for more than 100 000 GBP
Fund cost: 0.1% (average)
Spread on the Market: Average of 0.05%
Portfolio Fully Managed:
Platform fee: 0.75 % per annum (up to 100 000 GBP); 0.35 % (over 100 000 GBP)
Fund Cost: 0.19% (avg.)
Spread on the Market: Average of 0.05%
Smart Alpha Portfolio:
Platform fee: 0.75 % per annum (up to 100 000 GBP); 0.35% for more than 100 000 GBP
Fund Cost: 0.14% (avg.)
Spread on the Market: Average of 0.05%
Portfolio for Socially Responsible Companies:
Platform fee:0.75% annually (up to 100 000 GBP); 0.35% for more than 100 000 GBP
Fund Cost: 0.32% (avg.)
Spread on the Market: Average of 0.05%
Nutmeg's rates are high.
Nutmeg Fixed Allocation is one of four portfolios that are the most affordable. It's also the least expensive portfolio offered by any robo advisors in the UK. You can compare Nutmeg Fixed Allocation Portfolio and Fully Managed Portfolios to those of other UK robo advisers using our table on our website.
Is Nutmeg good for beginners?
Nutmeg has a beginner's friendly interface. Nutmeg's website is easy-to-use and has a simple app that you can use on iOS and Android. You can use the app to set up regular direct debits or make one-off investments. The app allows you to monitor your investments and change them whenever it is convenient for you.
Is Nutmeg a passive investment?
Nutmeg's Fixed Allocation portfolio adopts a passive investing strategy.
Is Nutmeg safe?
Nutmeg protects your investment up to a limit of PS85,000. You can claim your money if Nutmeg goes bankrupt. The FSCS will not reimburse you for losses arising out of the performance of your investment.
FCA regulates Nutmeg
Nutmeg has been authorized by and is regulated under the Financial Conduct Authority. You can check their licenses in the FCA Register.
Is there a Nutmeg referral program?
Yes. Nutmeg will waive its management fee for the first six months if you recommend friends. Nutmeg also rewards you with gift vouchers between £50 and £100. Choose from Amazon.co.uk, John Lewis and Partners, Prepaid Mastercard, Currys PC World, and Deliveroo.
What is the process for opening an account at Nutmeg.com?
Click here to visit Nutmeg website
Conclusion
In conclusion, utilizing Nutmeg as an investment brokerage platform presents several key advantages. With its user-friendly interface and personalized investment strategies, Nutmeg provides a seamless experience for both novice and experienced investors. The platform's emphasis on automation and sophisticated algorithms enables efficient portfolio management and optimization, saving investors valuable time and effort.
Furthermore, Nutmeg's diversified range of investment options, including stocks, bonds, and funds, allows for a well-balanced and customized investment portfolio tailored to individual goals and risk tolerance. The platform also offers robust security measures to protect users' personal information and assets, providing peace of mind in an increasingly digital world.
Nutmeg's commitment to transparency and accessibility ensures that users can access comprehensive data and insights, empowering them to make informed investment decisions. The platform's educational resources and tools further contribute to financial literacy, equipping investors with the knowledge they need to grow and manage their wealth effectively.
While Nutmeg offers many benefits, it is important to recognize that investing always carries inherent risks. As with any investment platform, users should exercise caution, conduct thorough research, and seek advice from financial professionals before making investment decisions.
In summary, Nutmeg's combination of user-friendly features, automated portfolio management, diverse investment options, robust security, and educational resources make it an attractive investment brokerage platform. By leveraging Nutmeg's capabilities, investors can potentially optimize their investment strategies and work towards achieving their financial goals.
Check out our blog to compare an entire list of investment platforms.