November 13, 2023
No Comments
The Plus 500 trading platform is a bespoke software that offers a wide range of advanced features for both beginner and professional traders. It is available on desktop, mobile, and tablet devices, making it accessible to traders on the go. In this blog post we will provide a detailed plus 500 review so you can determine if it is the right platform for your investment needs.
The platform has a great charting system that provides a visual view of an asset price over time, which is essential for traders. The chart updates in near real-time, making it easy to track price movements and identify trends. Plus500 also offers a range of customisable features such as time ranges and chart types, as well as drawing tools to help with analysis.
In addition, Plus500 provides a wide range of indicators that traders can overlay on the chart to identify trends in the price over time. The platform also offers a great training academy and walkthroughs to help traders understand these features.
One unique feature of the Plus500 platform is the +Insights, which provides a huge range of data for each asset, including stocks. This feature is not available on other trading platforms and can help traders improve and maximise their trading potential.
Traders can also set price alerts and alerts for sentiment and price percentage increases via email and text message. This ensures that traders do not miss any important market movements even if they are away from their desk.
The investment options, such as stocks, are easy to find and understand, with a great search feature. Depositing and withdrawing cash is also super fast, with deposits often being instant via card, bank transfer, and PayPal, and withdrawals only taking a few hours.
Overall, the Plus500 trading platform is one of the best trading platforms available, providing great features for both beginner and professional traders.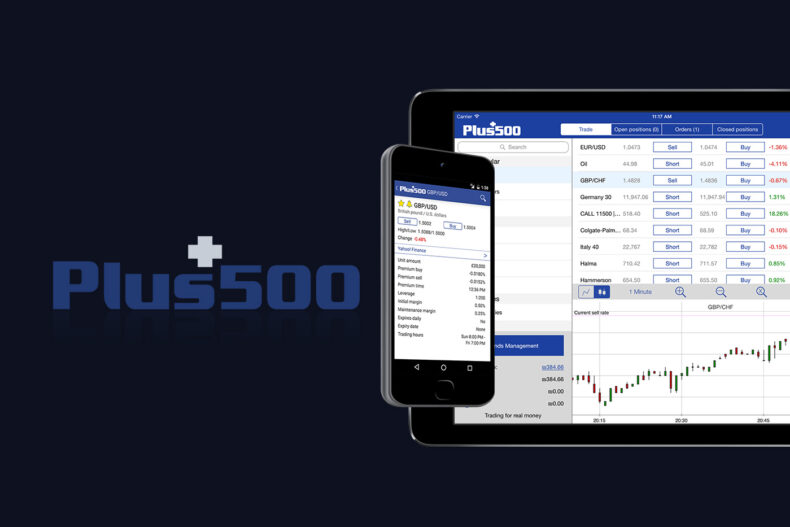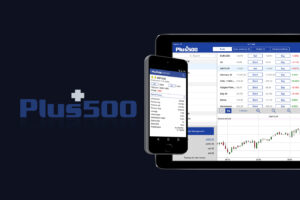 How Plus500 works
CFD trading
Plus500 is a CFD trading platform that allows traders to speculate on the price of an asset without actually owning it. With CFDs, traders enter into a contract with Plus500 about the future price of an asset, rather than buying and owning it directly. CFDs offer the ability to trade both price directions, up and down. This means that traders can speculate that the price of an asset will go up (going long) or down (going short). CFDs typically have fewer fees and offer more advanced trading options.
Leverage trading
One of the main advantages of trading CFDs on Plus500 is the ability to trade with borrowed money, also known as leverage or margin trading. Traders can use their own money in their account as a deposit for borrowing more cash to place a trade with, which could mean bigger returns. However, leverage can magnify both profits and losses, so it is important to use it with a sensible trading strategy.
For example, let's say a trader wants to invest £50 on a trade and predicts that the price of a share will go up in value. They are confident and want to use 5x leverage. With a leveraged trade, they could make a trade worth £250, rather than £50 (5x higher). If the stock price increases by 10%, the trader has now made 10% of £250, rather than £50, and has made £25, rather than £5. That's a massive 50% increase on their money (£50).
However, if the stock price goes down 10%, the trader would have lost £25, rather than just £5 – half of their money. Plus500 offers leverage on all their trades, and the maximum amount allowed varies by the asset type, such as stocks, indices, ETFs, commodities, options, forex, and crypto (not UK).
+Insights
Plus500's +Insights feature is a unique tool that provides traders with up-to-date information on trends across trading markets, using data from the other 24 million Plus500 traders. This feature allows traders to see what new stocks are hot and trending, which have been the most profitable, or simply what everyone else is trading.
ESG Scoring
Plus500 also provides a helpful ESG scoring feature that shows how a company is performing in terms of their impact on the world and the environment. ESG stands for environmental, social, and governance, and is a measure of how a company is impacting the world. The ESG score is provided by FactSet, a large, reliable, and trustworthy data organization that provides investment data and insights to businesses across the world.
The ESG score is a total score out of 10, an industry ranking, and then the average of the industry as a whole and even industry subcategories to compare with other companies in the industry. The score is then broken down into categories, each with a rating out of 10 and subcategories within those. The categories include environment, business model and innovation, human capital, leadership and governance, and social capital.
Overall, Plus500's +Insights feature and ESG scoring tool can provide traders with valuable information to make informed decisions about their trades.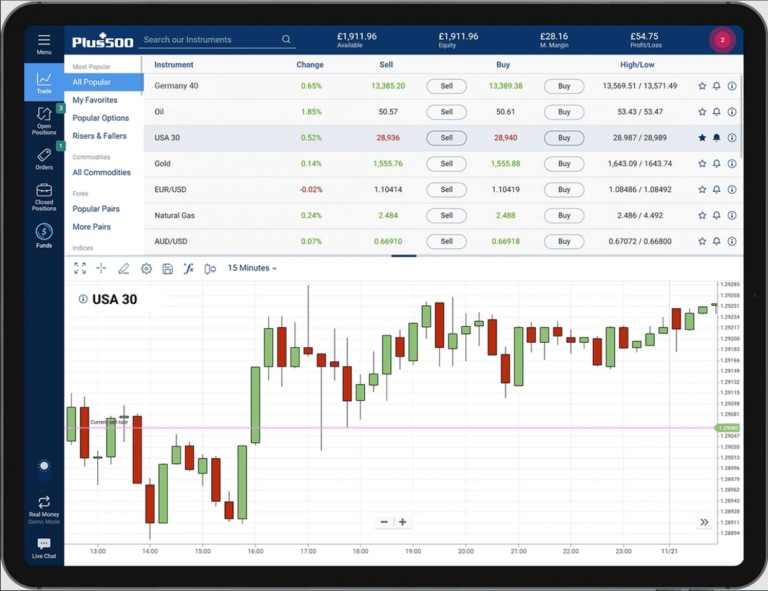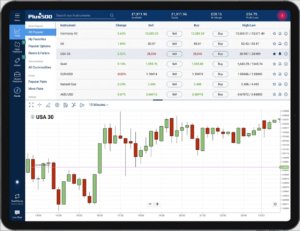 Plus500 Trading Features
Plus500 offers a plethora of trading features that can help traders automate their trading and save time for research and analysis. Here are some of the popular trading features available on Plus500:
Live Statistics
Plus500 provides live statistics for each asset within the last 5 minutes, allowing traders to see the change in price in near real-time as a percentage. Traders can view the last 60 minutes and the last day's percentage changes across these three time periods. This feature is useful for traders who want to save time looking at charts. Additionally, traders can determine whether the current price is high or low compared to the past day's price, making it useful for certain trading strategies.
Set Buy Orders
Traders can set a price to buy or sell, placing an order which will execute immediately when the price is reached. This feature is a great way to automate trading and save time.
Close at a Profit
Traders can set an order to automatically sell when they reach a certain price, securing their profit. This feature is also known as take-profit orders.
Stop Loss Order
Traders can set an order to sell their asset automatically when it reaches a certain price, reducing their losses on the trade. This feature is useful for automating trading and minimizing losses.
Guaranteed Stop
Plus500 offers guaranteed stops, ensuring that orders are executed even when the market moves fast. This feature eliminates the risk of the price moving past the set price. However, this feature comes at an extra cost, covered in a higher spread fee. The cost varies for each trade and asset, and traders can see how much it might cost when setting up their trade.
Trailing Stops
Traders can set trailing stops, which can help increase profits or keep profits. A trailing stop is where a stop order rises as the value of the asset rises and will only execute when the price changes direction. For instance, if traders set a trailing stop of 20%, their trade will keep rising until the price changes direction and drops 20% from the highest price. This feature allows traders to benefit from the price rising for as long as possible until the market changes direction.
Negative Balance Protection
Plus500 offers negative balance protection, ensuring that traders never lose more than they deposit into their account. If a trader's account drops a set amount, their positions will automatically be closed, called a margin call. This feature is provided due to financial regulations, and the amount depends on traders' trades and how many positions they have open. Traders can view all of their open positions easily in one view within their account, called "account snapshot."
Range of Investments
Plus500 offers over 2,800 different CFD investments covering a range of asset classes, including stocks and shares, ETFs, commodities, and forex. Here is a rundown of each investment type:
Stocks and Shares
Plus500 offers a vast range of stocks and shares from across the world, including the larger markets such as the UK and USA, as well as smaller markets such as Ireland and Hong Kong. Additionally, there is a wide range of Australian stocks available.
Popular shares such as Apple, Microsoft, and Tesla are all listed on Plus500. Stocks represent ownership (a share) of a company and are traded on stock exchanges worldwide. If a company performs well and grows, the share price typically increases.
ETFs (Exchange Traded Funds)
ETFs are a group of different investments, typically shares, pooled together into a single investment to make it easier and cheaper to buy and trade. When trading an ETF, investors effectively buy or sell a part of all the investments within the ETF, saving time and money in fees. ETFs are also great for building a diversified investment portfolio.
Plus500 also offers indices and commodities as ETFs.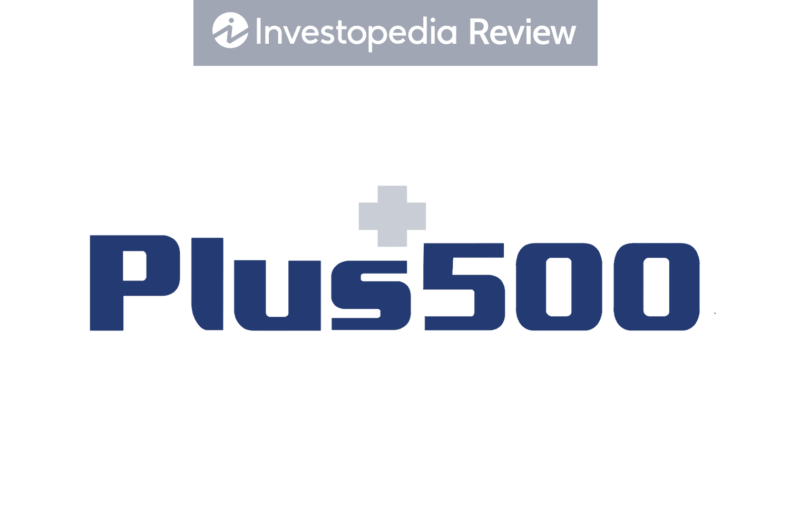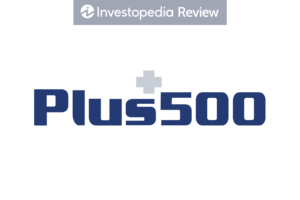 Indices
An index is a collection of stocks and shares grouped together and typically offered as a single investment, such as within an ETF. Grouping shares can provide a measure of something, such as economies of whole countries. For instance, indices can represent the top 100 companies in the UK (FTSE 100), the top 500 companies in the US (S&P 500), and other countries worldwide.
Plus500 offers indices that group AI companies, ESG and impact indices, crypto, Metaverse, cannabis, and real estate companies.
Commodities
Commodities are real things such as gold, silver, and even oil and gas. The price of these commodities can be traded on Plus500 via CFDs, and there is a good range available. Investors also have the option of trading ETFs of certain commodities, such as a fund that holds gold.
Options
Options are contracts that give the holder the right to buy or sell an asset, such as a stock, at a certain price in the future. The option itself has a price that changes over time and in relation to the actual asset price. Plus500 allows investors to trade the option price via CFDs rather than buying the options directly.
Foreign Exchange (Forex)
Forex is a popular market worldwide, and CFDs are a popular option for trading. Forex involves swapping one currency for another, such as Pounds (GBP) for US Dollars (USD). The market operates 24 hours a day, 5 days a week, and is very reactive to breaking news worldwide, making it an exciting market and potentially very lucrative for the best traders.
Plus500 is an excellent option for forex, with over 65 currency pairs available, including all the major currencies, minor currencies such as Australian Dollars, and a large range of exotic currencies such as Thai Baht.
Crypto
Plus500 allows investors to trade crypto such as Bitcoin and Ethereum as CFDs. However, in the UK, trading crypto CFDs is currently restricted by law. Investors who only want to trade crypto can check out the best crypto exchanges, as they are allowed to buy crypto directly in the UK.
Plus500 Fees
Plus500 is known for being a low-cost trading platform. The main fee that traders will pay is the spread fee, which is a small markup that the platform adds to the price of an asset when buying or selling. Other fees that traders may encounter include currency conversion fees, overnight fees, guaranteed stop fees, and inactivity fees.
Spread Fees
Spread fees are the main fees that traders will pay on Plus500. They are also known as bid/ask spread or buy/sell spread. These fees are a small markup that the platform adds to the price of an asset when buying or selling. The actual spread varies across all different assets, depending on the volume of trades for that particular asset and the volume at the particular time of trading. The spread fees on Plus500 are generally low compared to the industry in general, with forex fees as low as 0.6 pips and stocks and indices fees much lower. Traders can see the spread fee within the platform when researching an asset and shown when making a trade.
Currency Conversion Fee
Traders who want to trade assets in another currency will pay a currency conversion fee. With Plus500, traders pay 0.7% for currency conversion fees, which is reasonable compared to other trading platforms. However, traders will only pay the currency conversion fee on the net profit or loss of their trade, not the total value of their position.
Overnight Fees
Traders who want to keep their positions open overnight may pay a small overnight funding fee, or they may even get paid to hold a position to balance out the volume on the platform. The fee is a percentage of the trade volume and is normally applied around 10 pm – 11 pm each day, depending on the asset. Traders can see this fee when they view the asset and make the trade.
Guaranteed Stop Fee
Traders who want to use the guaranteed stop feature will pay an extra fee within the spread. The spread fee will be higher, and traders will see the higher fee when they set the stop.
Inactivity Fee
Traders should watch out for the inactivity fee. After three months of no activity, traders will begin being charged $10 per month. However, if traders take a break for longer than three months, all they need to do is log back in at some point, and the three months start again. They don't need to trade, just log in.
Overall, Plus500 is a low-cost trading platform that offers traders competitive fees. Traders should be aware of the different fees they may encounter when using the platform, including spread fees, currency conversion fees, overnight fees, guaranteed stop fees, and inactivity fees.
Customer Support
Plus500's customer support is highly regarded by its users. The platform has a comprehensive FAQ section that covers a wide range of topics, including trading-related queries. If users cannot find the answer they are looking for in the FAQ section, they can contact customer support directly. The support team is available 24/7 and can be reached through live chat, email, or WhatsApp. This means that users can get a response almost immediately, making it easy for them to resolve any issues they may encounter.
Is Plus500 Safe?
Plus500 is a well-established CFD platform with over 24 million users worldwide. As a FTSE 250 company, it is one of the largest 250 companies listed on the London Stock Exchange, which adds to its credibility.
Plus500 is authorized and regulated by the Financial Conduct Authority (FCA) in the UK, with a firm reference number of 509909. The FCA ensures that financial services companies in the UK are looking after their customers. Plus500 is also authorised and regulated across the world by each country they operate in, which is over 50 countries.
To ensure the safety of users' money, Plus500 keeps customers' funds entirely separate from their own money. Additionally, customers' money is stored with a large bank that Plus500 cannot access. Therefore, in the event of Plus500 going out of business, customers would still receive all their money back.
Customers are also entitled to the Financial Services Compensation Scheme (FSCS), which provides further protection up to £85,000 if Plus500 were to go out of business.
Overall, Plus500's authorization and regulation by the FCA, its separation of customers' funds, and its membership in the FSCS make it a relatively safe platform for trading CFDs.
Plus500 Pros and Cons
Pros
Plus500 offers a great trading experience with a user-friendly web trading platform that is easy to use and looks great.
The Plus500 mobile app is also great, allowing traders to deposit and withdraw funds seamlessly, track finances, and trade on the move.
Plus500 has unique features such as Insights, which provides traders with real-time market data and analysis.
Plus500 has a low cost overall, with no hidden fees or commissions.
Plus500 offers a good range of investment options, including stocks, forex, commodities, and indices.
Plus500 provides excellent customer service, with support available via WhatsApp and email.
Plus500 offers a free and unlimited demo account for traders to practice trading before investing real money.
Plus500 is trustworthy and reliable, with licenses to serve customers globally.
Cons
Plus500 does not offer 3rd party integrations, limiting the ability to use other trading tools and platforms.
Plus500 charges an inactivity fee for accounts that have been inactive for more than three months.
Plus500 does not offer cryptocurrency trading in the UK.
Other than the above cons, there are not many other drawbacks to using Plus500.
Plus500 Customer Reviews
Plus500 has received over 11,500 reviews on Trustpilot and has a score of 4 out of 5, which is an excellent score for a financial services company. Customers have praised Plus500's excellent customer service, which is uncommon in the industry. Many reviews also mention the great trading software and mobile app, as well as the reasonable fees. Overall, Plus500 is a popular choice among traders due to their exceptional service and user-friendly platform.
Our Thoughts
Plus500 is a highly trusted and established trading platform that is popular worldwide. The user-friendly platform offers a range of features and options suitable for all types of traders, from beginners to advanced. One of the platform's unique features, +Insights, provides traders with insights based on data from all other traders on the platform. This feature helps traders make better trades by providing information on popular, profitable, and most viewed stocks.
The platform offers a large range of CFD investment options, with over 2,800 options to choose from. The fees are low, with almost all fees covered in the spread fee, including a currency conversion fee. The guaranteed stops feature is also a great feature that guarantees a price if the trade doesn't go as planned.
Overall, Plus500 is an excellent trading platform that is highly recommended for all traders. Its range of features, low fees, and unique +Insights feature make it stand out from other trading platforms. If you're interested in learning more or getting started, head over to the Plus500 website.
To check out other trading platforms check our comparison on trading platforms blog.
Some Legal Info from Plus500
Trading CFDs is not suitable for everyone. It is important to understand the risks involved and trade sensibly. As per Plus500, 81% of retail investor accounts lose money when trading CFDs with this provider. Traders must consider whether they can afford to take the high risk of losing their money.
Frequently Asked Questions
What is the minimum deposit required to start trading with Plus500?
The minimum deposit required to start trading with Plus500 varies depending on the country of residence and the payment method used. However, in general, the minimum deposit is relatively low compared to other trading platforms, and it can range from $100 to $500.
Is Plus500 a safe platform for trading?
Plus500 is a regulated platform that is authorized and licensed by several financial regulatory bodies, including the UK's Financial Conduct Authority (FCA) and the Australian Securities and Investments Commission (ASIC). The platform also uses advanced security measures, such as SSL encryption, to protect users' data and funds.
Can Plus500 be used for day trading?
Yes, Plus500 can be used for day trading. The platform offers a range of trading instruments, including CFDs on forex, stocks, indices, commodities, and cryptocurrencies, which can be traded on a short-term basis.
How do I log in to my Plus500 account?
To log in to your Plus500 account, you need to visit the platform's website and click on the "Login" button located at the top right corner of the page. Then, you need to enter your email and password and click on the "Log In" button.
What are the fees associated with using Plus500?
Plus500 is a commission-free platform, which means that it does not charge any fees for opening or closing trades. However, the platform charges a spread, which is the difference between the bid and ask prices, and it varies depending on the trading instrument and market conditions.
Is Plus500 beginner-friendly?
Plus500 is a user-friendly platform that offers a range of educational resources, including video tutorials, articles, and a demo account, which can be used to practice trading strategies without risking real money. Additionally, the platform's interface is intuitive and easy to navigate, making it suitable for beginners.