April 13, 2023
No Comments
Smartphones, iPads and MacBooks. They have them all. What is Raylo? And how does it work.
Let's look at the mobile phone section of Raylo. You can get the top-of-the-range phone like the iPhone 14 or the Galaxy A53 for a fraction of the cost of buying it new. Instead, you pay a monthly fee.
Is it possible to do it as easily as this?
These types of things are where the devil is always at the details
Raylo lets you subscribe to the device instead of purchasing it. You can use the tablet, phone or laptop as much as you like, then you can either return it, get another one, or keep it.
This is a cheaper option than traditional buying a phone for yourself. Imagine a phone contract. You pay a monthly direct debit of around £60 for a top-of-the-range phone. Some of this goes towards the 'airtime' (i.e. Your minutes, data and other fun things, while the rest goes to paying the phone. It is quite a lot.
You can get the phone network O2, vodafone or EE by using credit. They are basically loans that you repay each month to pay off your phone via your bank account.
Raylo doesn't require you to have a loan or credit agreement. You only need to pay a monthly subscription for the phone, and then you pay separately for your airtime (more details later).
This is how they can reduce your monthly costs, making £60 per month more affordable. (Check out our example below to see real prices). Does that make sense?
Tell me more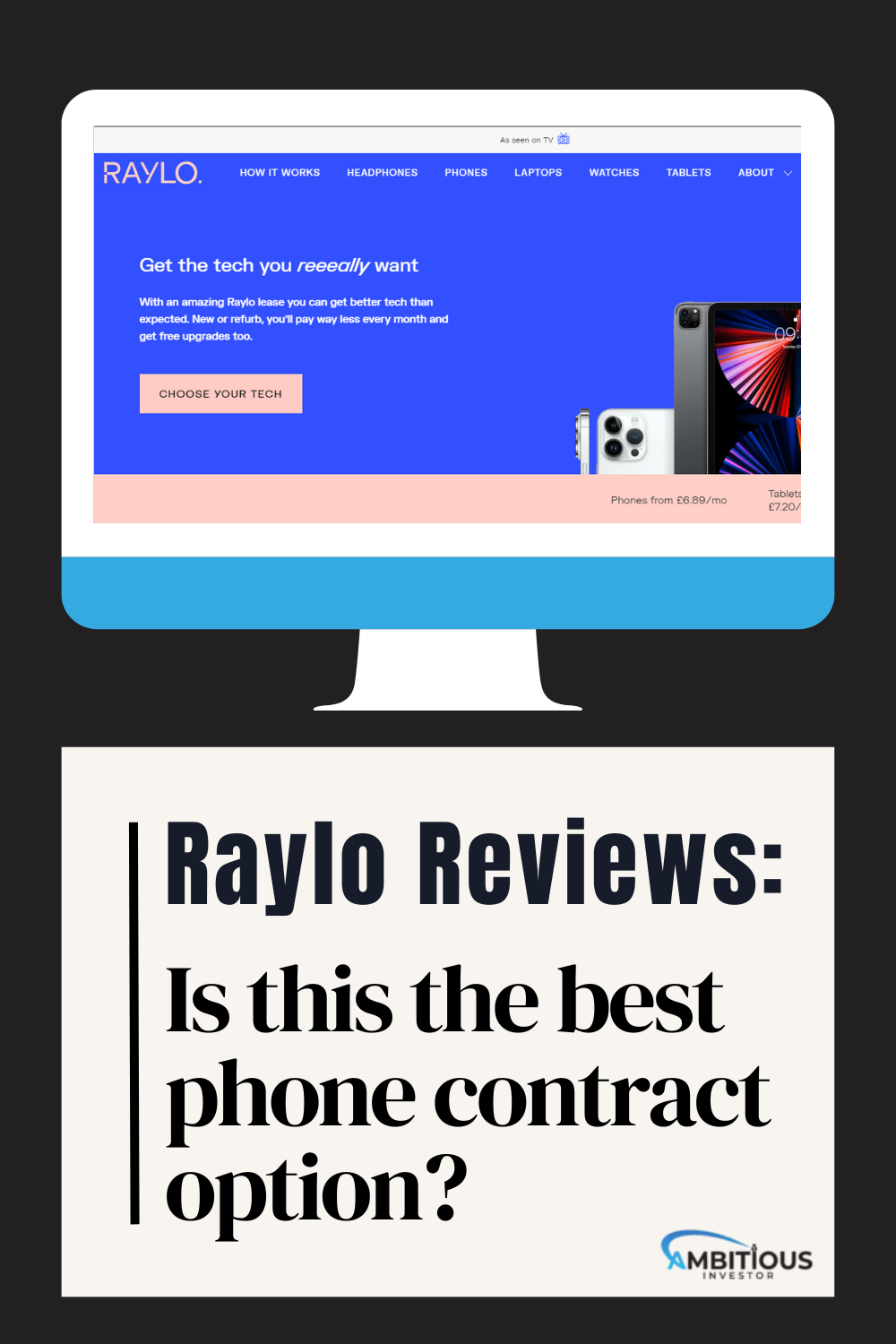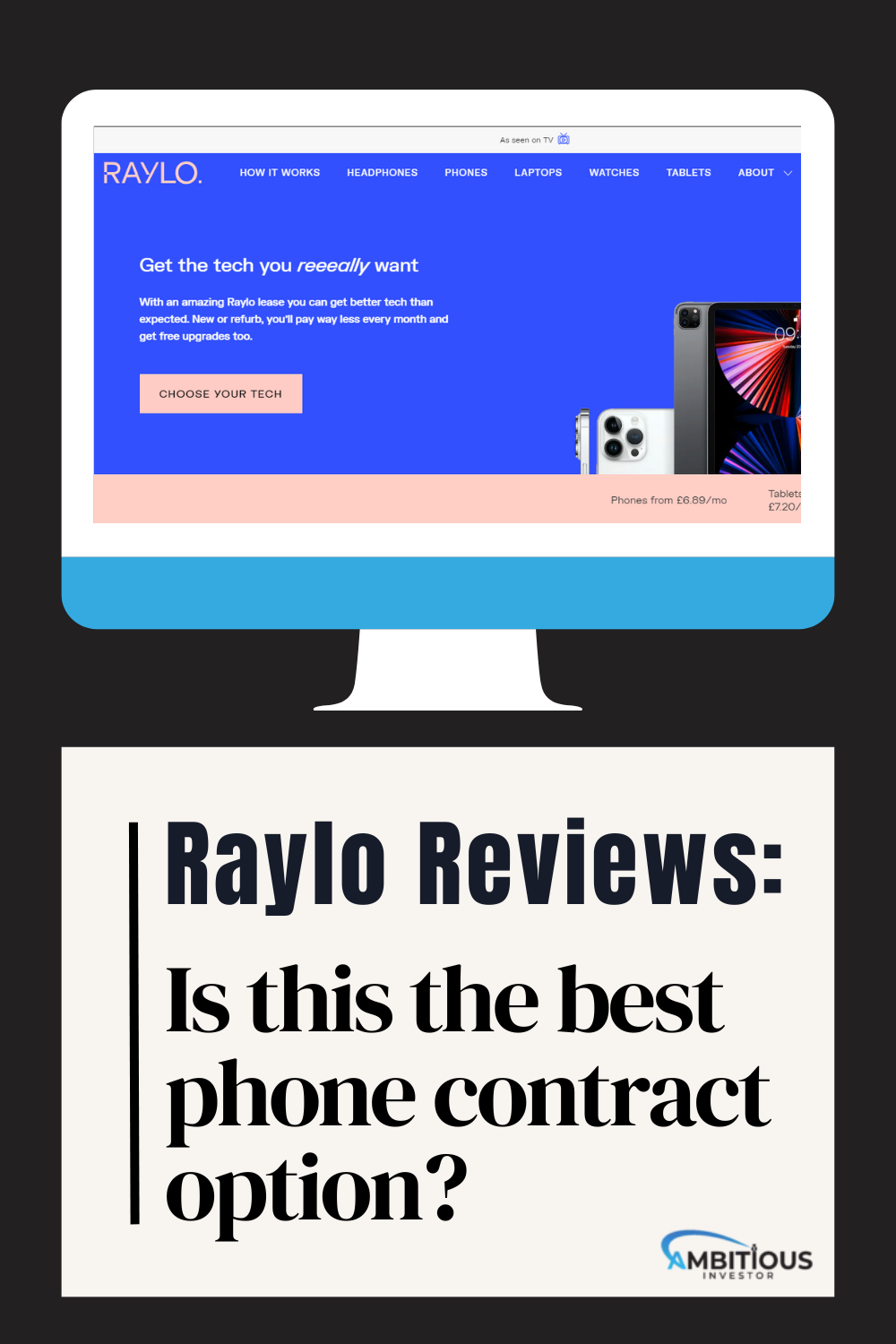 You can choose between 1, 2, or 3 year terms depending on which device you have. Then, at the end, you just need to hand the contract back to Raylo in a pre-paid package and they'll give a new device for you for 1, 2, or 3 more years.
You can also dispose of your old devices by simply handing them back. This is a great way to help the environment and save some green energy.
Money Tip: You could also purchase a refurbished Raylo device and save even more money.
It's not the only option. You have three options after the term ends, which is the 1, 2, or 3 year period you signed up for.
1. Upgrade: Get the most recent device and keep your subscription.
2. You can keep the phone by paying a non-return fee and keeping the device. It's just like a regular phone contract. You can do whatever you want with it.
The fees vary depending on the phone. At this moment, you are looking at PS199 for an iPhone 12 You can extend your subscription for an additional year and buy the phone for only PS1.
3. Cancel: You can simply give the phone back and walk off.
What devices are available?
All the tech you need: Tablets, phones, and laptops. All the tech you need. Let's go over each one:
Phones
You can choose from the latest iphone available, such as an iPhone 13, Pro Max, Mini, and Pro Max, or a Samsung Galaxy S21 (plus S21+, and S21 Ultra) if you are looking for the latest models of phone handsets. Prices start at PS26.99 per Month.
You can choose a refurbished phone from a wider selection starting at £12.99 per monthly. There are many options:
iPhone 12 (plus Pro Max, Pro Max, and Mini), iPhone 11 (plus Pro Max, Pro Max, and Mini); and iPhone XR/XS
Galaxy S21 (plus S21+, S21 Ultra)
To view the most recent models, visit the Raylo website.
Tablets
You can't get iPads at the moment, but you can get the new iPad Pro! As a customer, you can also get an older model if you want to save some money. Raylo allows you to even choose your memory size and colour. There are many options available:
iPad 9th Generation (10.2 inch screen). – Starting at £8.99 per Month
iPad Pro (11/12.3 inch or iPad Pro) starts at £18.99 per Month
To view the most recent models, visit the Raylo website.
Laptops
Raylo also offers laptops
There are many great options available, including all Macbooks and the new range, with the Apple M1 Pro Processor – we don't blame anyone if that's not clear to you. It's very, very good!
There are many options:
Apple Macbook Air (13/Inch – 16 inch)
Prices start at £24.99 per Month and increase depending on the laptop you choose. This could be a major breakthrough in laptops.
To view the most recent models, visit the Raylo website.
What do you think about the sim cards on your phone?
Raylo will give you the handset but they don't have a network. You can unlock all phones, but for data, calls and texts you will need a simcard. You can do all the usual phone stuff.
This is the best option, as you pay less for the phone than the actual data. A cheap sim card is easy to obtain. You can order it directly from the network's website. Raylo will even help you choose the best one. It's done.
This is a real cost comparison
Let's assume we want an iPhone 12 for 24 months. We also want some data to do all the TikTok-ing…
We'd be charged £30 upfront from O2 (who knows why?). Then, monthly charges of £58.05 for total airtime with 15GB data)
We would pay nothing upfront if Raylo was used, then we would be charged £27.99 per monthly for the phone. Next, we will choose a simcard from O2 with 12GB data which costs £12 per month. That's £39.99 per monthly.
We would pay £58.05 per Month plus a £30 one-off fee to O2 Direct.
Raylo would cost us £39.99 per Month (plus they'll give to you £30).
This is a monthly savings of £18.06 for Raylo. This is not bad at all.
After 24 months, you would have received:
O2 – £1,393.20
Raylo – £959.76
This is a significant savings of £433.44 in 24 months. You might be thinking, but Raylo doesn't allow you to keep your phone. Let's dive into this.
You would keep your phone with O2 and it is 2 years old. With Raylo you can either give the phone back or pay £199.99 for an iPhone 13. Let's add that to get £1,159.75 total price with Raylo. That's still a savings of £233.45.
Even better, if you keep the phone for a year with Raylo you can purchase the phone for £1.
Raylo is a monthly lower-cost plan. If you want to keep your phone, you would also pay less overall. Are we being conned all these years by phone networks? It used to cost 50p to send a text message. We'll let your mind make the decision.
What other information do you need?
Add friends and family to your plan: you can add devices to your plan, usually at a discounted price, if you want to buy a device for a friend or family member.
You get a free case and screen protector.
Customer Service: A phone company that provides good customer service? I doubt it. Yes! You can speak with someone anytime you like, without having to wait on hold for hours. There is no agenda to convince you to upgrade your phone, as with other phone networks. Although it's not groundbreaking, it works and there's also a help center with all the answers you need. You can still reach us by phone or email if necessary.
Credit checks: Raylo will conduct a credit check on your application. You'll need to make monthly repayments so Raylo needs to be sure you can afford them.
You have thirty days to cancel: If you decide to cancel after you make the purchase, you have 30 days to do so.
They are pretty green: leasing a device is very green because they can be reused after your use. They support environmental charities and the packaging is plant-based.
Warranty: The warranty covers the device if it malfunctions. You'll get a brand new device, which is more than likely.
Insurance: You can also get insurance. It's comprehensive and covers your device against theft, damage, or loss. And it's available worldwide. It costs only £4.99 per monthly for a phone. You'll have to pay an excess of £89 for accidental damage, and £125 for theft.
Next day delivery: Everyone gets excited when they order their new phone. It's almost like Christmas! Raylo will get it for you and have it sent to you as soon as possible. Of course, it's free. It's not Christmas Eve, but that's no reason to pretend otherwise.
Raylo customer reviews
Trustpilot reviews gives it a very high rating. It has been rated excellent by Trustpilot with a rating of 4.5/5 from more than 5,400 reviews.
We love to read reviews that give us a glimpse into the lives of others. Here's one of our favorites:
"I've never had such a simple process with a new phone. After visiting Raylo's site, my new iPhone arrived fully insured and came with a screen protector and a high-quality cover. I also received a £30 voucher. If I had chosen the network route, I would still struggle to find a good deal and feel overwhelmed. It is a great idea. It has saved me so much time ."
What are alternatives to Raylo?
The top 5 alternatives to Raylo are: Flexitrent.com, Rentyourmac.com, Reebelo.com, Hardsoftcomputers.co.uk and Navitechnologies.com
Our thoughts
You get a brand new phone at a top price, lower monthly payments and a lower overall cost if you want to keep it. Great service, low insurance, great case, and basically everything you need with the phone. This is a first for the industry.
You can also get an iPad or MacBook! It's cheaper than buying the item outright and you don't have to spend as much upfront. We are now completely converts.
Even better, after your contract ends, there's no hassle to trade or sell the phone. Instead, you get a brand new phone in the mail.
It's hard to find negatives in this process. The entire process, from the delivery to the recycling of the old device, is environmentally friendly. Let's give it 5 stars. This is the future of smartphones.
Recommendations
Check out our recommendations page for digital marketing tools, budgeting apps and other suggested companies. Thanks! This really helps us keep our website going.
Also, check out the Raylo website to learn more about their cool company, handset deals, more flexibility to mobile contracts and other offerings.