January 19, 2023
No Comments
Are you looking for ways to make money online in 2023? For many, online work has become a primary source of income, not a way to supplement a paycheck. But working online part-time is still an option if that's what works for you. There are more than 10 online jobs available, however, we decided to write this blog to show you what we believe are the top 10.
Online remote jobs have exploded in recent years, with a 91% growth in the last decade. There are now countless opportunities to earn a high income from the comfort of your own home or from wherever you want to work.
The biggest perks of mastering high income skills and working from home are flexibility, freedom, and limitless opportunities to increase income.
Without further ado, let's take a look at the top 10 online jobs to make money in 2023.
1. Social Media Manager
Almost every company is seeking to create a buzz around its products or services via social media platforms. And they need social media experts to help them keep up with trends, keep accounts active, and beat the competition.
If you enjoy communicating in writing, working with visuals such as videos, and analyzing data to generate actionable insights, then you can make money online as a social media manager.
There has never been a better time to become a social media manager than now! Brands and business-oriented personalities now realize the value of a solid social media presence, but experts are fewer.
What Does a Social Media Manager Do?
As a social media manager, you will strategize, create, and manage campaigns for businesses or individuals. The daily duties will vary depending on the size of the company. In a large organization, you may manage a team and approve content, while in a smaller brand, you may do more content creation tasks.
Social Media Manager Salary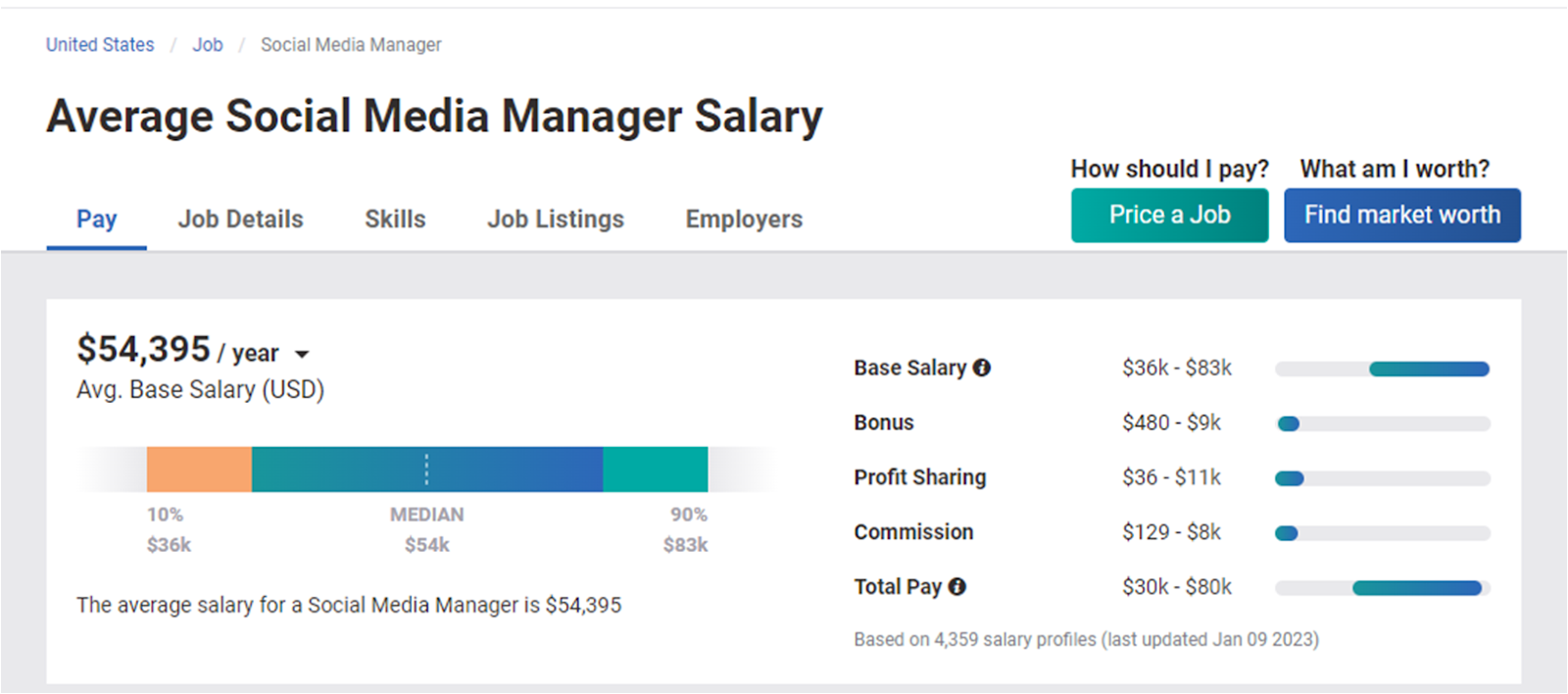 In the US, the average social media manager's salary is $54,395, according to Payscale. The exact amount you can earn depends on various factors, such as whether you choose to work as a remote employee for one company or do freelance work.
How To Become a Social Media Manager
A social media manager is a senior position, especially in large corporations. Experience is valued more than education, so you'll need a portfolio or proof of expertise.
You can look for self-paced social media manager courses online, brush up on your knowledge of the various platforms, and manage accounts for individuals or small businesses before becoming a highly paid social media manager.
2. Virtual Assistant
A virtual assistant role is one of the most popular and in-demand online remote jobs. Virtual assistants help businesses with different tasks, particularly repetitive ones. Expect more VA jobs as estimates show that hiring them saves businesses 78% in annual operating costs.
What Does a Virtual Assistant Do?
VAs help companies, businesses, and individuals with various tasks, from administrative to more technical ones. You can offer VA services for almost any skill. However, the most in-demand services for virtual assistants are cold calling and emailing. The most common types of VAs are general administration and project management.
How Much Does a Virtual Assistant Make?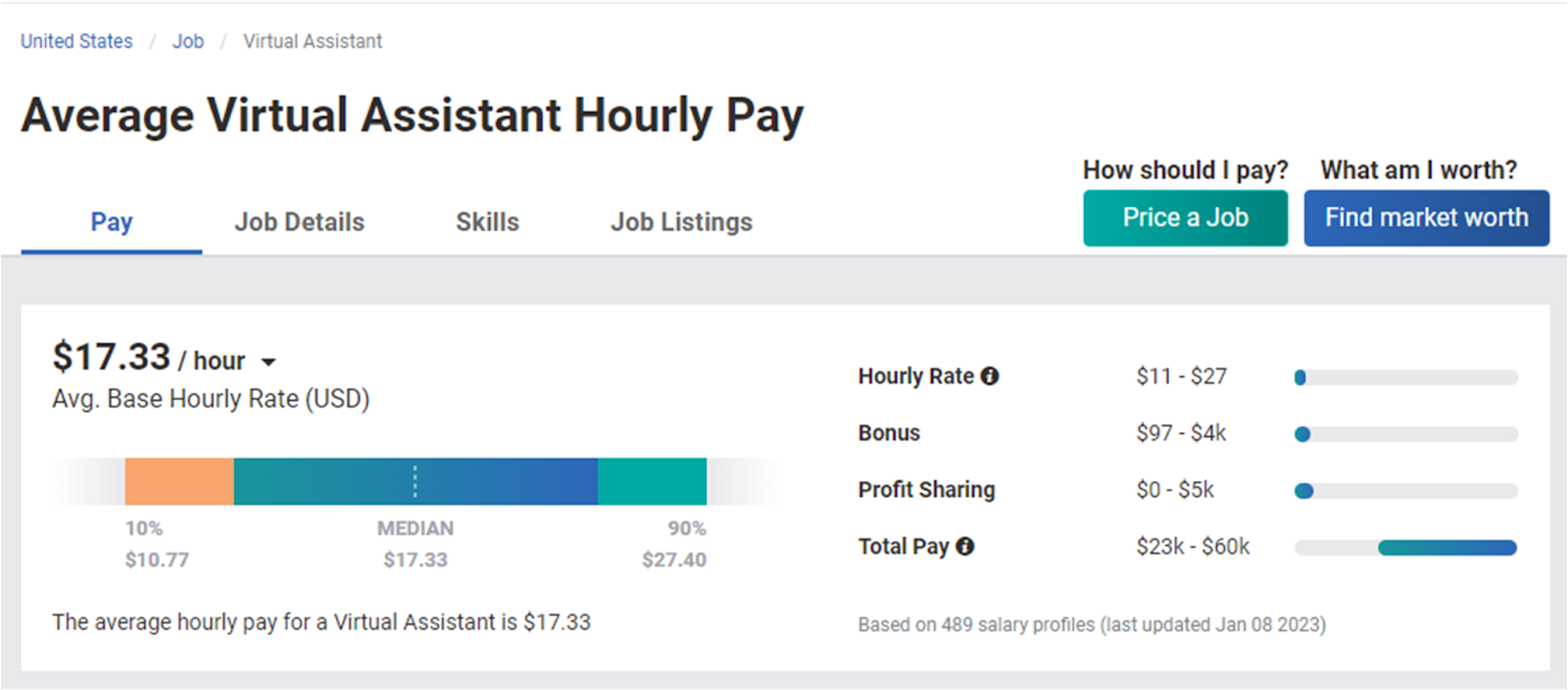 A virtual assistant's income can vary depending on skill set, country, and the number of clients. VAs in the US earn an average of $17.33 per hour, according to Payscale.
How To Become a Virtual Assistant
If you already have the skills companies are looking for, you can start your VA business immediately. Here are a few steps that can help:
Check out VA-centered online courses
Look at VA job posts to determine the in-demand tasks you'd like to perform
Research how much other VAs are charging for similar services
Create an online portfolio or resume highlighting work skills, achievements, certifications, etc.
Apply for jobs
3. Digital Marketing Manager
One of the fastest-growing online remote jobs is digital marketing. You can't go wrong with this option if you enjoy creating hype around a product/service and want to learn some high income skills. The US Bureau of Labor Statistics (BLS) predicts a 10% increase in marketing manager jobs in the US between 2020-2030.
What Do Digital Marketers Do?
Digital marketing managers devise strategies for promoting products or services through online channels such as websites, social media, search engines, and mobile apps. Since digital marketing is a broad industry, it's broken down into several categories, for instance:
Search Engine Optimization
Pay-per-Click
Social Media Marketing
Content Marketing
Email Marketing
Mobile Marketing
Marketing Analytics and Affiliate Marketing
Facebook ads Manager
Digital marketers with expertise in all or most of these areas typically work as consultants or in managerial positions. The popular roles are digital marketing manager, digital marketing specialist, digital marketing coordinator, and digital media specialist.
You can also select one specialty and become a consultant instead of performing daily tasks.
Digital Marketing Manager Salary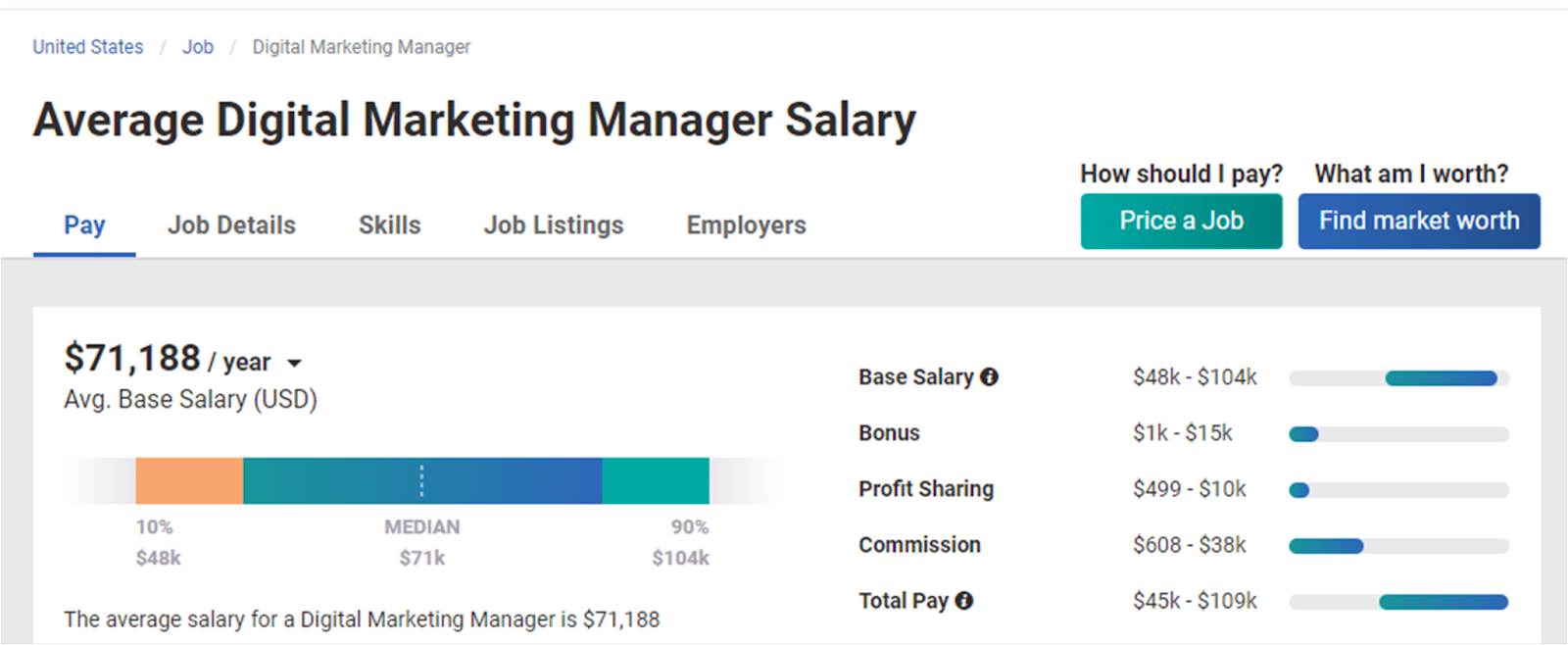 According to Payscale, the average base salary for digital marketing managers in the US is $71,188.
How To Become a Digital Marketer
All digital marketing specializations are high income skills. You can choose one area, enroll in courses, and master it until you become a highly sought-after specialist.
4. Online Writing
One of the high income skills with low entry barriers is freelance writing. Don't let the emerging AI writing tools scare you off! They'll not take your job — at least not anytime soon.
Currently, even the best AI writing tools require considerable input from writers to create well-structured, detailed, and accurate content. As a result, some writers are utilizing AI writing tools to streamline their writing process. Consider these tools as your assistants, not a threat.
What Do Freelance Writers Do?
Freelance writers create written content for various clients, such as articles, blog posts, social media posts/captions, YouTube scripts, Twitter threads, and website copy.
There are different types of online writing, so you can choose what works best for you. For instance, technical writing, copywriting, ghostwriting, feature writing, UX writing, SEO writing, business writing, press releases, social media writing, and news/journalism.
How Much Do Freelance Writers' Jobs Pay?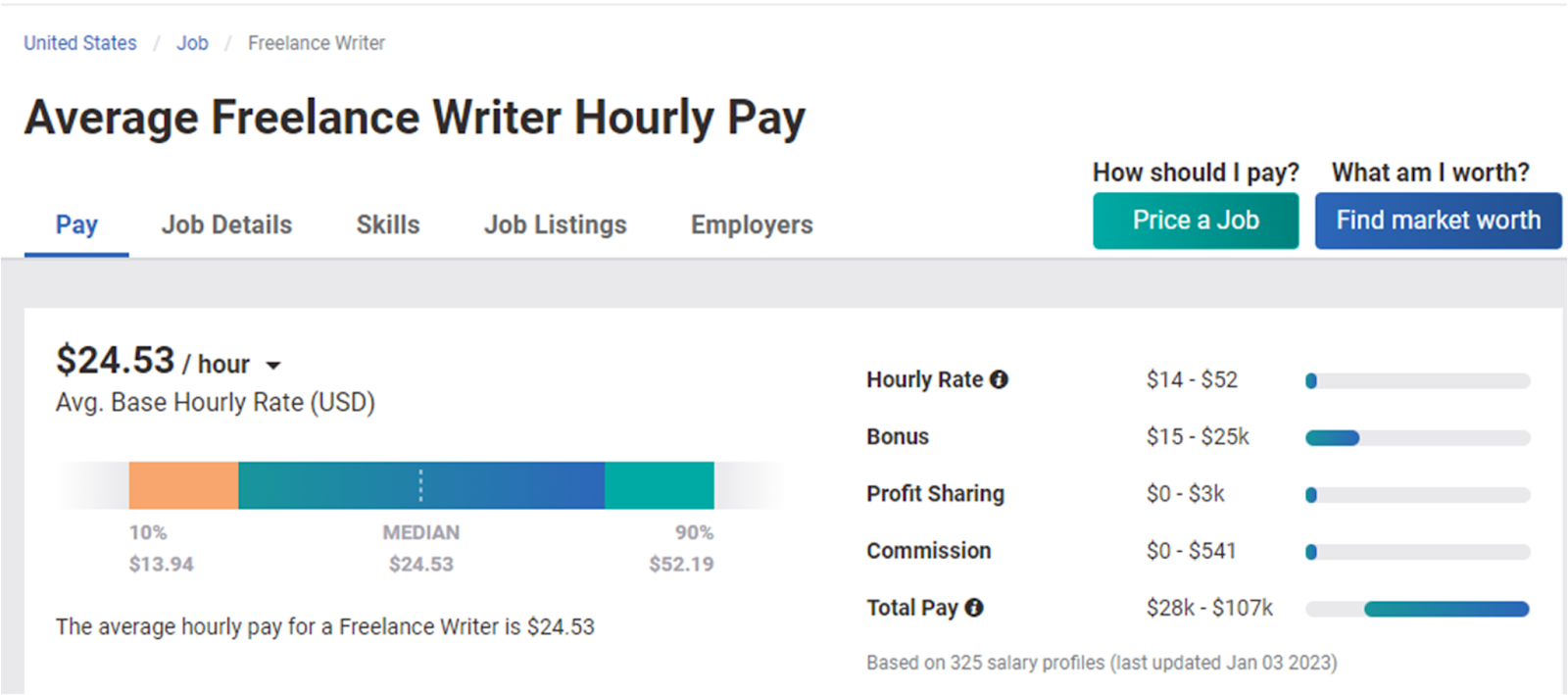 Freelance writers in the US earn an average of $25.53 per hour. The amount varies depending on a writer's pricing structure, type of content, region, and other factors.
How To Become a Freelance Writer
Here are a few pointers to help you become a successful freelance writer:
Develop writing skills through reading and practice.
Create a portfolio by writing for free on your blog/medium or submitting articles to online publications.
Learn the business aspects of freelancing (negotiating rates, invoicing, marketing)
Reach out to clients and market your services.
5. Transcriptionist
If you have stellar listening skills, excellent command of the English language, and good typing skills, consider becoming a transcriptionist. It's a good way to make money online, and you'll always have work as numerous companies specialize in offering transcription jobs. You can also get work from direct clients.
What Do Transcriptionists Do?
Transcriptionists listen to recordings and type out the scripts. Accuracy is crucial when transcribing. There are three types of transcription services: general, medical, and legal. Start with the general category unless you have a background in law or medicine.
How Much Do Transcriptionists Get Paid?

The average hourly rate for a US-based transcriptionist is $15.
How To Become a Transcriptionist
Below are the steps you can take to set up a profitable work-from-home hustle as a transcriptionist.
Determine what type of transcription jobs to do
Practice your typing and transcription skills
Apply for work via a transcription outsourcing company or establish your services as a freelancer.
6. Video Editor
Video editing is one of the high income skills you should consider if you have a knack for storytelling. It's a demanding job, but it's also creatively rewarding and well-paying.
You can choose the type of videos you'll work with. For instance, reels for social media content creators, marketing videos for businesses, YouTube videos, film, etc. Research shows that 97% of businesses will prioritize video content in 2023. If you can edit such videos, brush up your skills and show up now.
What Do Video Editors Do?
Video editors are the masterminds behind bringing footage to life. They creatively assemble, cut, and add footage in the right places to create visually appealing stories.
How Much Do Video Editors Make?

Video editors make an average of $54k in the US.
How To Become a Video Editor
Here are the steps you can take to help you become a video editor.
Learn how to edit videos
Familiarize yourself with the basics of popular video editing software
Watch well-edited videos to develop your creative skills
Build a portfolio of your work
7. Website Designer
If you are creative, have an eye for design, and are interested in technology, you should learn more about web design. It's one of the most rewarding high income skills for creatives.
What Does a Website Designer Do?
A web designer is not the same as a web developer. Web designers plan and create visually appealing and user-friendly websites. As a web designer, you'll create designs, layouts, and graphics for web pages and optimize them for various devices.
Website owners are willing to pay a premium for a good website designer because they know what's at stake. Industry data shows that 57% of internet users will not recommend an enterprise with a poorly designed mobile website.
How Much Do Website Designers Make?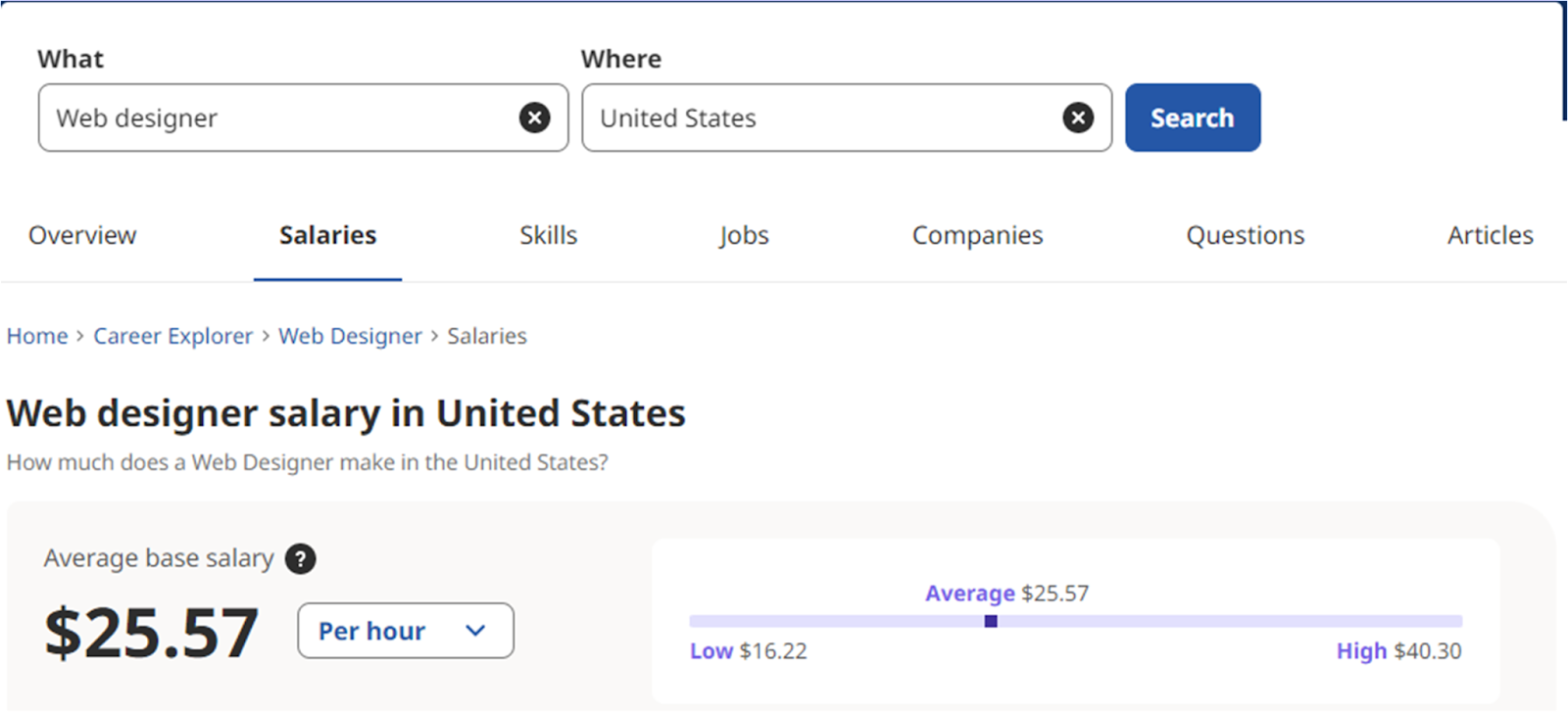 According to Indeed, web designers earn an average hourly wage of $25.57.
How To Become a Website Designer
Here's how to become a web designer in five steps:
Enroll in a good web design course
Understand web design theory and tools
Practice web design skills with your own projects
Create a portfolio for your web design work
Apply for jobs
8. Graphic Designer
Graphic designing is another high income skill for creatives interested in digital and creative arts. Graphics Design is a broad field, but there are specialties, including
Brand identity and logo design
Packaging design
Web and mobile design
Layout and print design
What Do Graphic Designers Do?
Graphic designers create engaging visuals for various mediums, such as advertising, websites, and print materials. The type of visuals you'll create depends on what type of graphic designer you opt to be.
How Much Do Graphic Designers Make?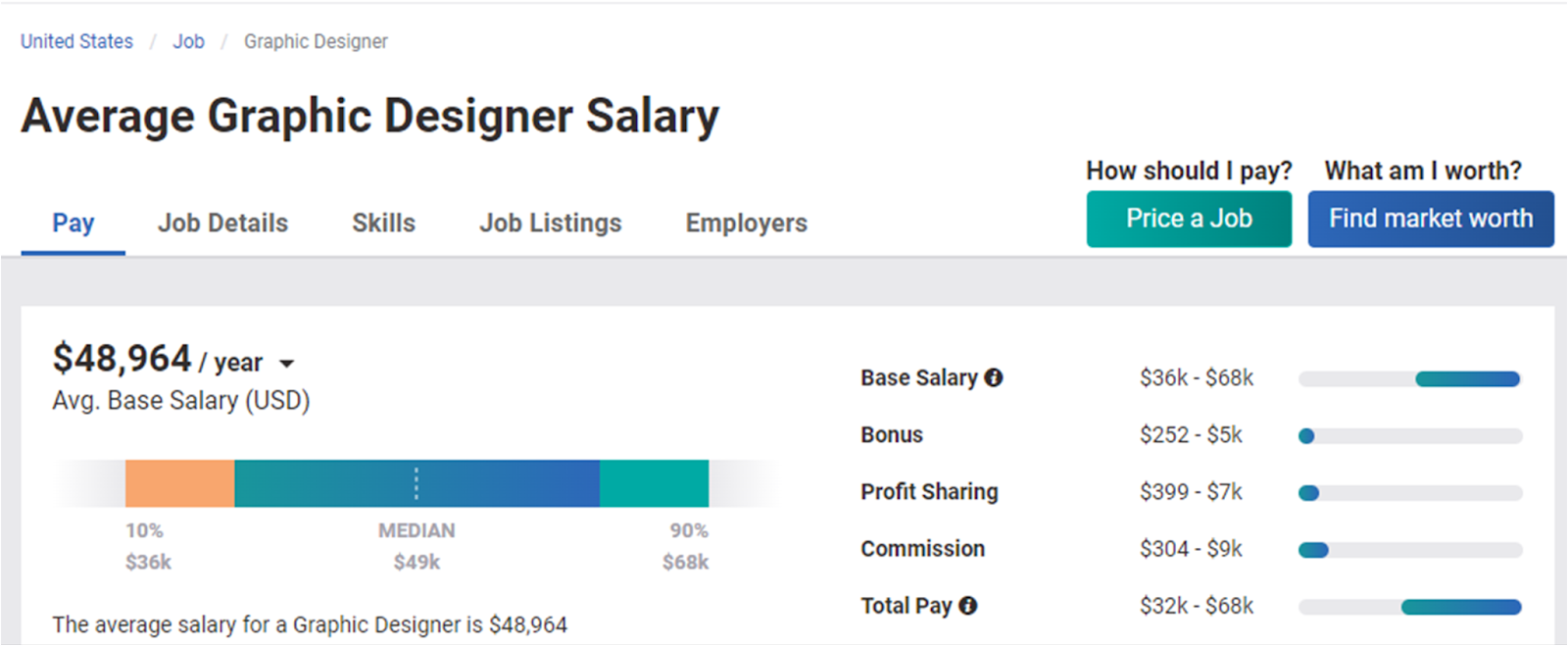 Graphic designers earn an average of $48,964, according to Payscale.
How To Become a Graphic Designer
Becoming a graphic designer typically involves the following steps:
Learn graphic design basics
Take online courses or earn a bachelor's degree in graphic design or a related field.
Develop your skills in design software, color theory, typography, and layout
Build a solid portfolio to showcase your work to potential employers
Follow established designers on social platforms and keep learning
9. SEO Specialist
If you are looking for technical high income skills, an SEO specialist career path might be perfect. You'll never be out of work if you master the skills well.
Most websites are buried in search results, and the owners are willing to pay an expert who can help them rank higher and increase traffic. As an SEO specialist, you'll gain a competitive advantage from continuous learning. Google changes the ranking algorithm often and without warning.
What Does an SEO Specialist Do?
SEO specialists develop and implement optimization strategies to increase a website's search engine rankings. While working as an SEO specialist, you'll need to collaborate with marketing, web design, and content creation departments to implement best SEO practices throughout the website.
How Much Do SEO Specialists Make?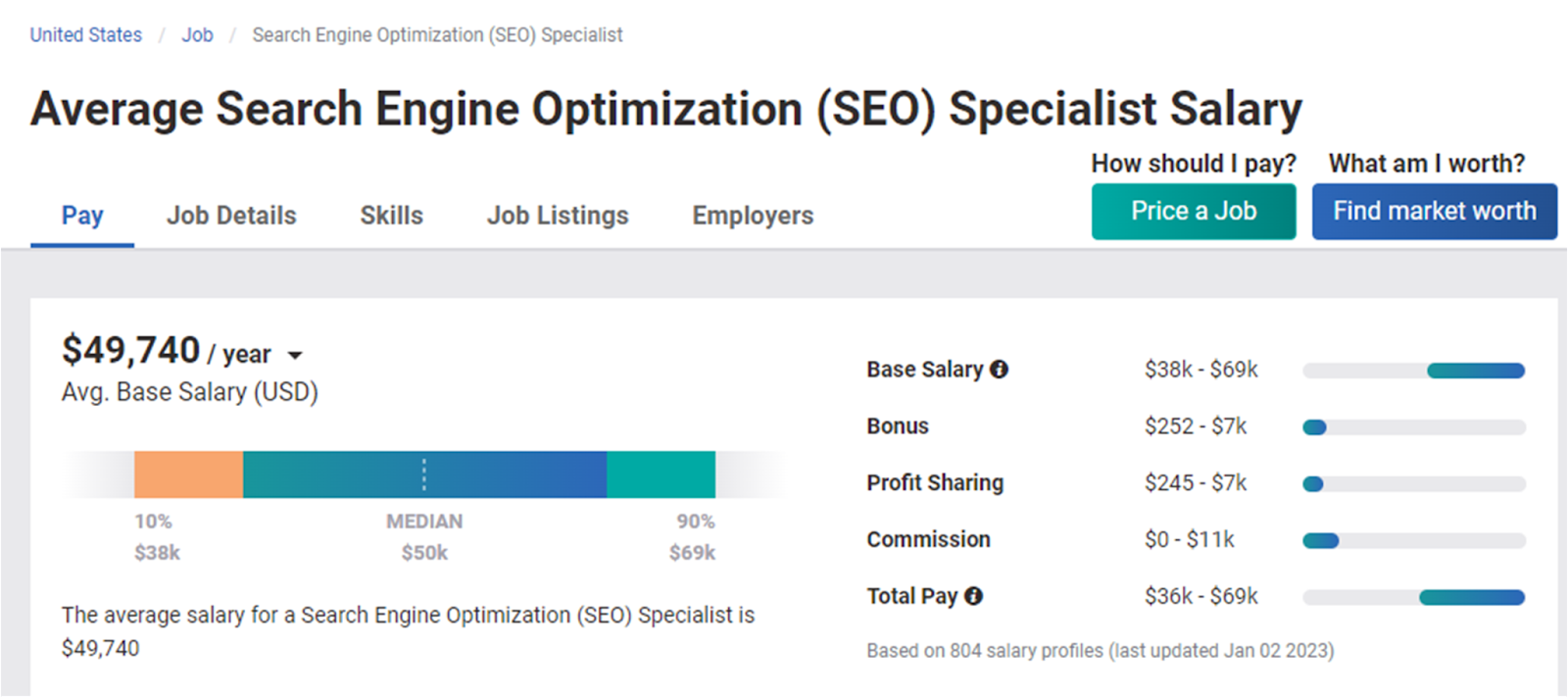 US-based SEO specialists make an average of $49,740 annually.
How To Become an SEO Specialist
You can become an SEO specialist in less than a year. The duration depends on your approach to learning and how much time you have available for learning. Here's a good strategy:
Take a detailed SEO course
Put your SEO skills into practice by optimizing your own website
Create a portfolio of projects
Apply for jobs or work with a marketing agency
Keep learning
10. Virtual Recruiter
Do you have a background in HR and recruiting, or feel comfortable screening people? You can work from home as a virtual recruiter. Your work is to help companies and businesses find the most qualified candidates to fill various roles across different departments.
What Does a Virtual Recruiter Do?
Virtual recruiters write job descriptions, post them on job boards, screen, shortlist, and interview potential candidates. You'll generally be handling recruitment-related tasks for your clients or company. You can offer services in specific industries as a virtual recruiter.
How Much Do Virtual Recruiters Make?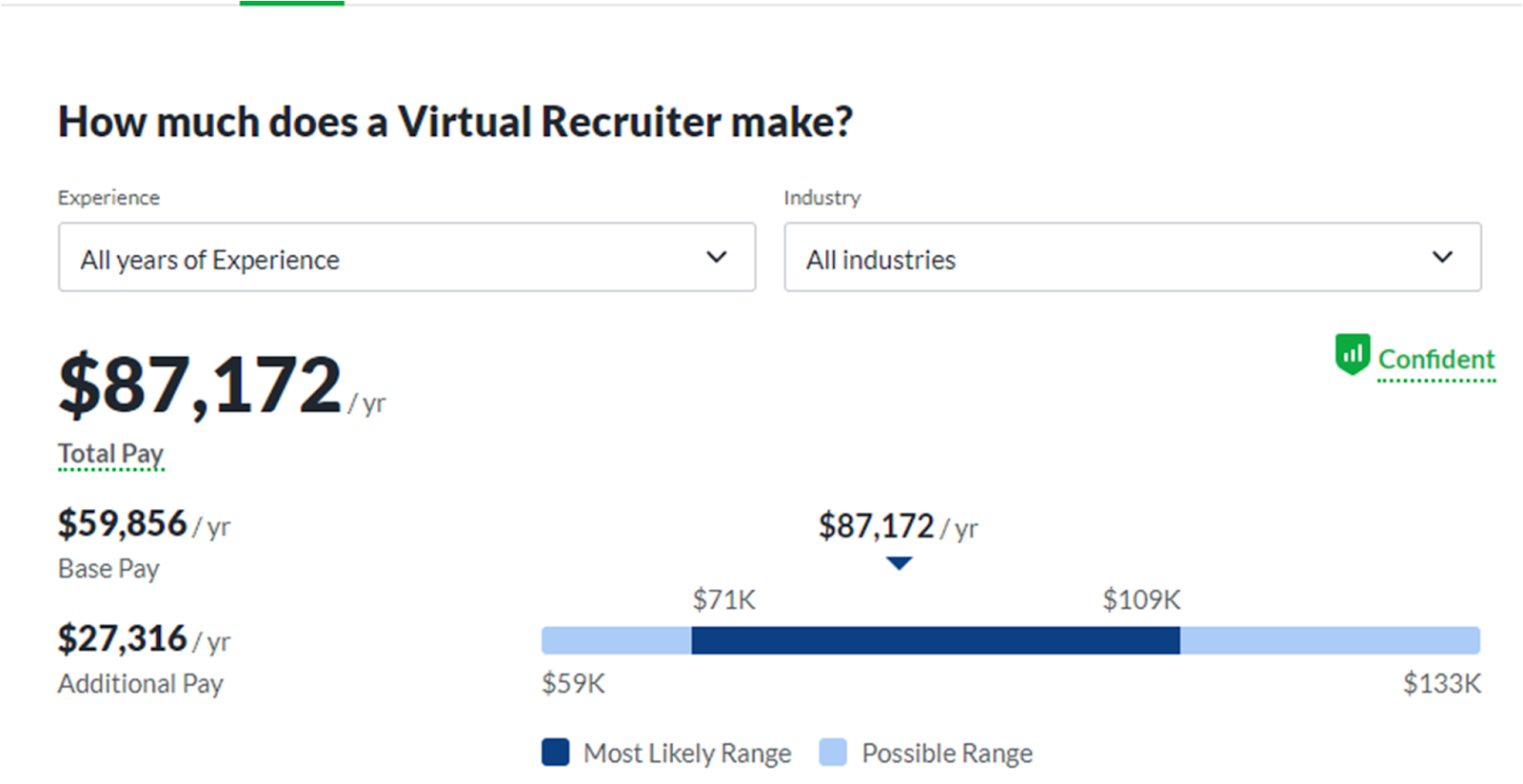 According to Glassdoor, Virtual recruiters earn an average of $87,172.
How To Become a Virtual Recruiter
Most virtual recruiter job postings require an educational background in HR and recruiting or related courses. Previous work experience in similar positions, even as a traditional recruiter, can make it easier to get the job.
If you're starting without a relevant educational background and work experience, you'll need to update your resume to position yourself as the best candidate.
Conclusion
That's it. Our top 10 online jobs to make money in 2023. Which one are you going for? Feel free to let us know in the comments section below. Also, check out our Services page for business coaching and scaling a high income skill.