Writesonic Review: Is It the Best AI Content Creation Tool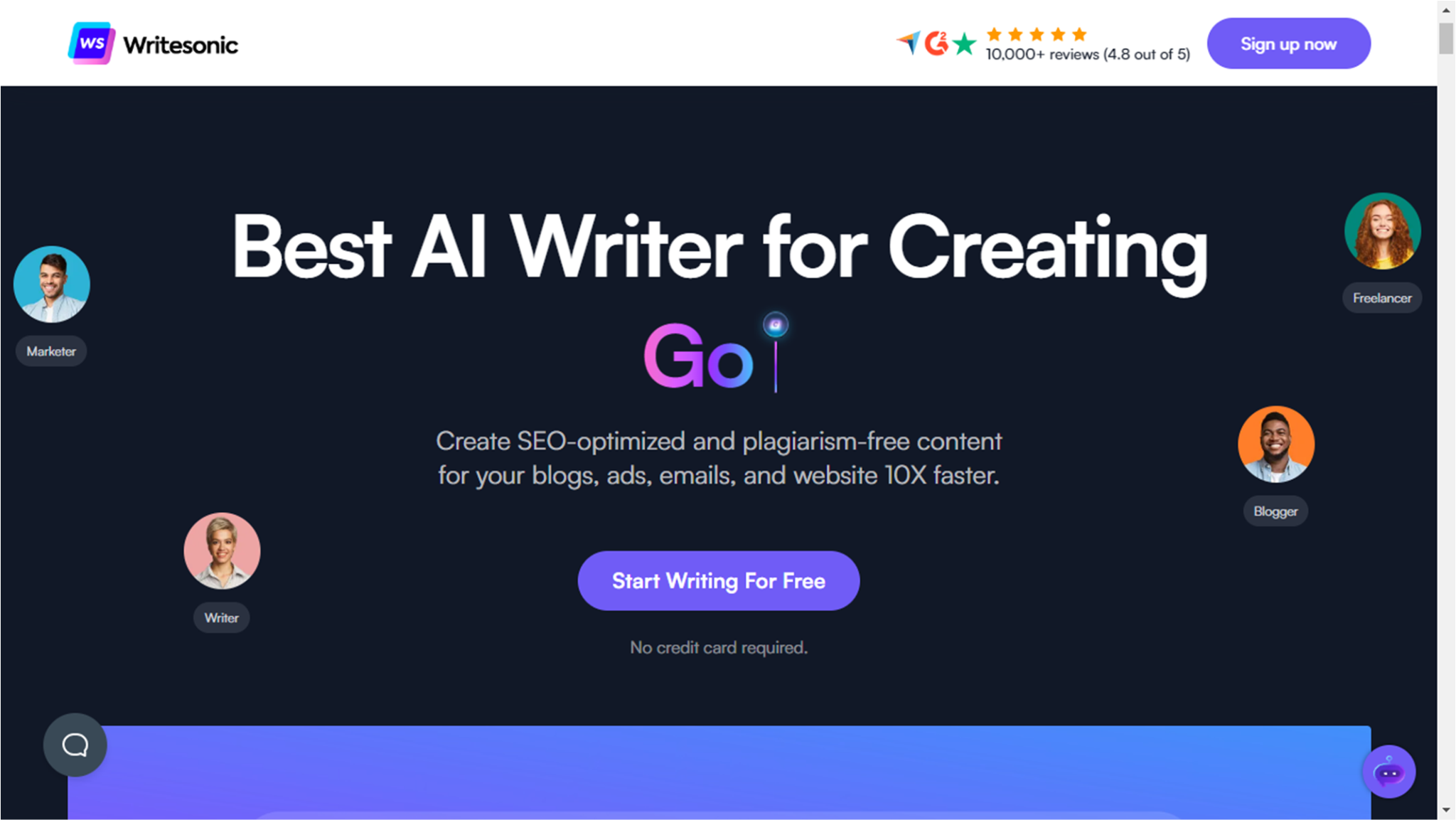 Which type of content do you create often? Facebook ads, blog posts, or emails?
As a business owner who creates a lot of valuable materials for my audience (from YouTube videos to social media content), I'm always looking for tools that promise to streamline my workflow.
When the AI writing tools hit the market, I jumped in, tested several, and selected my favorites. Writesonic is among my impressive picks! It's more hands-off, generates high-quality content quickly, and is constantly modified to produce more human-like text.
But one thing I've learned from trying the best AI writing software is that they aren't all created equal. Some, like Jasper, are more suited for experienced content marketers with a budget, while others, like Writesonic, are more beginner and budget-friendly.
Should you try Writesonic? Read my insightful Writesonic review below to discover everything about it, including my experience, pros and cons, top features, suitability, output quality, and pricing plans.
An Overview of Writesonic's Pros and Cons
Even the best tools have their shortcomings. Here's a quick overview of Writesonic pros and cons.
Writesonic Pros
Constantly rolls out new and improved features
Incredibly easy to use
Integrates with various platforms, including Zapier
A freemium model with a low monthly cost
An excellent 5-star Trustpilot rating
Writesonic Cons
One user per account (unless you request a custom plan)
Little room for co-writing to produce more personalized content
What Can You Do With Writesonic?
Writesonic is an AI writing and image generation platform that's constantly evolving. It produces content 10x faster than an average professional writer, making it possible to generate more materials within a short time. But Writesonic doesn't stop at written content.
Here's an overview of the four main AI-powered products Writesonic offers.
Web app with 100+ AI writing features: Most users use Writesonic for its writing capabilities. It has an extensive library of writing templates to help creatives write various types of content, from ad copy to in-depth articles and ebooks.
Chatsonic: If you like using ChatGPT, you might love Chatsonic. It works similarly, but Chatsonic is connected to Google, while ChatGPT answers are limited to information available online up to Sep 2021. This means Chatsonic might give more up-to-date information.
Botsonic: This feature allows anyone to build a no-code and custom AI chatbot for their business. You don't need to be a developer or techie!
Photosonic: If you're always hunting for stock images, this AI-powered photo generator can help you. Your work is to enter a precise text prompt, and the AI image generator will do the magic in seconds.
Writesonic Features and Capabilities
Here we'll focus on the writing features.
Writesonic is comprehensive and offers several valuable writing features. Whatever type of content you create, Writesonic has a template for it—from personal bios to ebooks, short fictional stories, product descriptions, and in-depth articles. I found this versatility helpful because you can fulfill all your content needs on one platform.
Templates provide a pre-designed framework and structure for creating specific types of content hassle-free. For instance, a blog post template is tailored for effortlessly creating engaging and well-structured blog content. These templates often include sections for the introduction, body paragraphs, conclusion, headings, and subheadings.
The 100+ writing templates are neatly organized into various easy-to-digest categories on the dashboard. Take a look below.
Overview of Writesonic features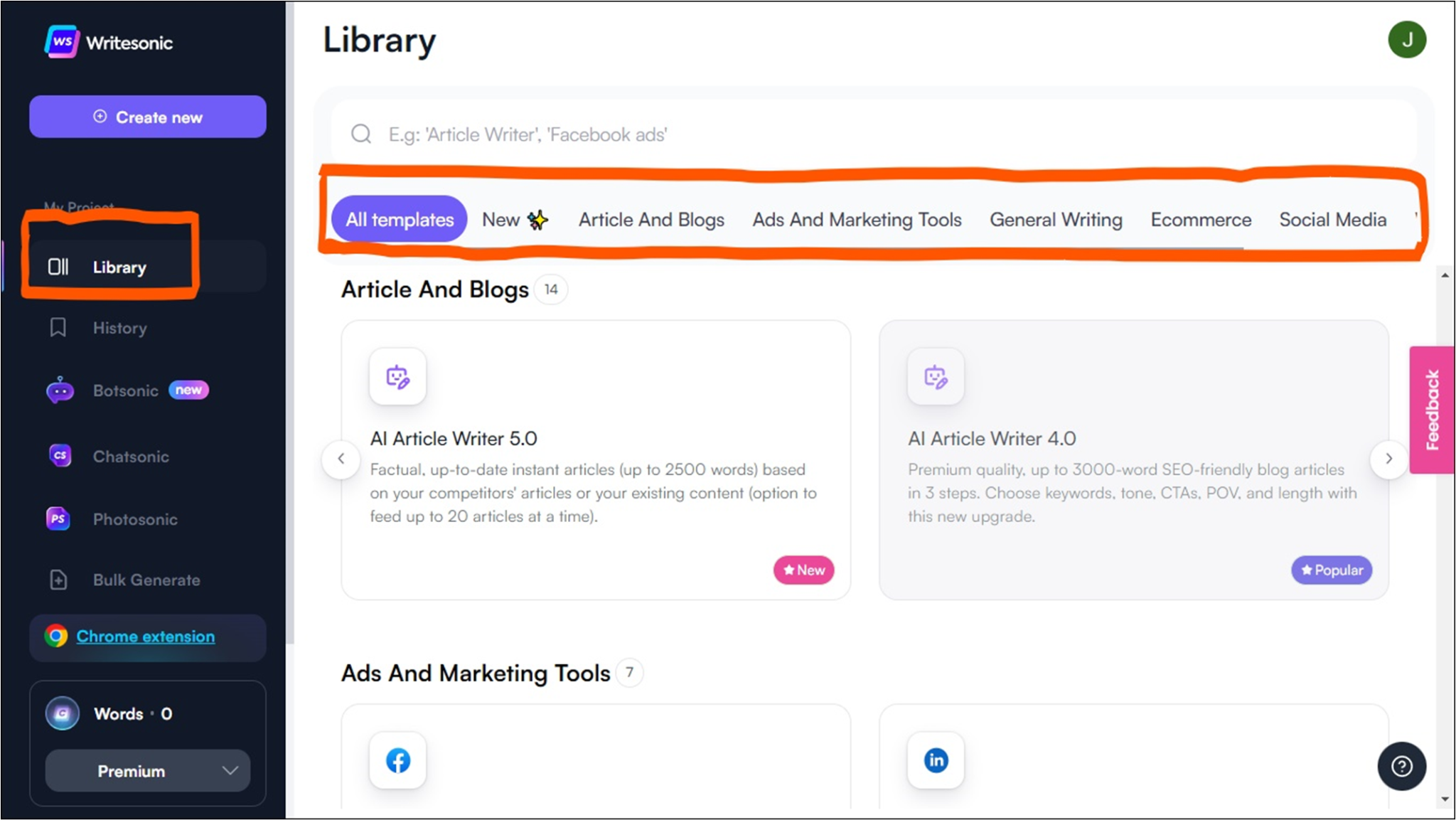 Here are the main Writesonic features categories:
Articles and Blog posts: Under this category, you'll find several features to help generate catchy blog post ideas, compelling introductions, comprehensive outlines, interactive short stories, long-form seo blog posts, and other long-form content like sales emails and ebooks.
E-commerce Product Descriptions: Here, you'll find templates to craft descriptions, features, titles, and ad headlines for your products.
Ads and Marketing Tools: These are templates for creating click-worthy Facebook ads, Google ad titles/descriptions, Linkedin ads, seo meta descriptions, YouTube descriptions/titles/intros/outlines, and tweets.
Website Copy: Write landing pages and SEO meta tags with pre-trained templates.
General-purpose Writing: You'll also find features for general content writing, rewriting, or editing. These include a paraphrasing tool, sentence expander, Quora Answers, review responder, content shortener, product bios, company missions, press releases, and emails.
How to Use Writesonic Step-By-Step (How Writesonic Works)
Writesonic works like other major AI writers. You'll start by choosing the right template. The tool will then prompt you to feed some information and wait a few seconds for the content.
I specifically like the software's minimalistic outlook. It has a clean and easy-to-navigate interface, making it easier for a beginner to use the AI writer instantly.
Here's a more detailed look at the steps to take when you're ready to utilize Writesonic's handy features.
1. Sign Up
You must create a Writesonic account to use the writing features. And it's a straightforward process.
Visit the official Writesonic website and click "Get Started." You'll then enter your name and email to create an account.
Unlike other top AI writers like Jasper, you don't need to enter your credit card details to test Writersonic.
Writesonic offers you 10,000 free words as a new user. These are enough to try out the different features and determine if the tool meets your content needs.
2. Select the Right Template
Once you log in to your Writesonic account, you'll see all the main features on the left-hand side. Click any of the features to get started.
For written content, click "Library" and scroll down to see all the available templates. They're all grouped into the major categories we highlighted earlier.
Select the suitable template that matches your specific content requirements. These templates streamline the process of generating prompts tailored to different types of content. After all, you wouldn't structure a Google ad in a similar way to an email!
3. Write Your Input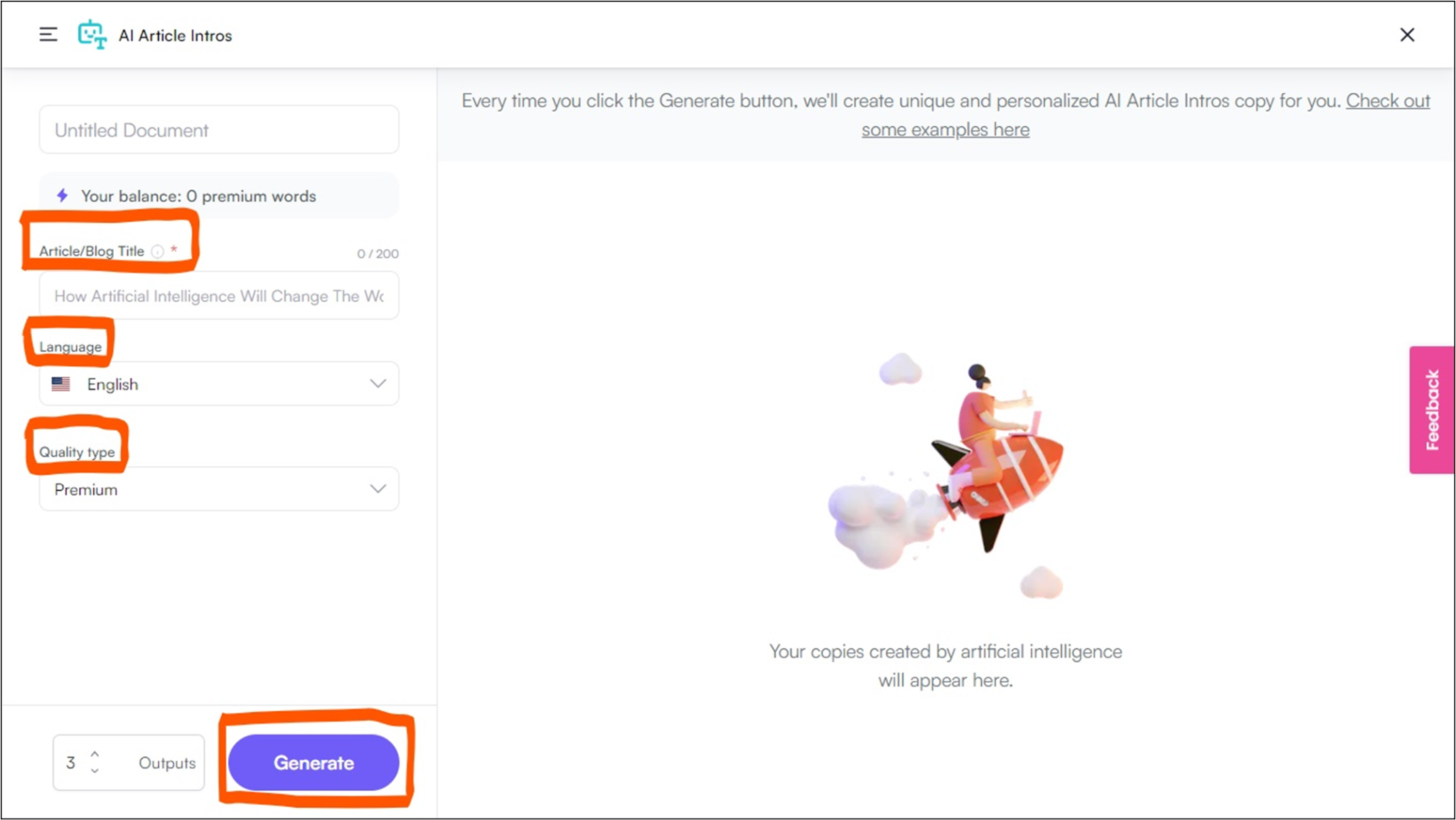 The next step is to feed the tool with the specifics of your content. And it's one of the most important steps that determine the quality of the output you'll get from a reliable AI article writer.
What you need to remember is to be as precise as possible. The more clear, detailed, and specific your instructions are, the higher the chances of getting an output matching your needs.
The details you'll need to input vary by template. For instance, the inputs required for an article are topic, quality type, language, and number of outputs.
4. Hit Generate and Watch the Magic Happen
And now to the interesting part! Hit the generate button and wait to see what Writesonic creates. For most templates, it takes seconds.
But depending on the template, it might take a few steps to get the final output. For instance, when creating an article, Writesonic takes you through four easy and automated steps.
Enter your topic to get relevant ideas
Generate an introduction to your article
Get a comprehensive outline
Get the final and full article based on your outline
These steps allow you to check the output at each level, choose what to keep/discard, and regenerate if you're unsatisfied. It makes a lot of sense because you wouldn't want to get a final lengthy article without approving or tweaking the AI-generated outline.
5. Edit Your Text as Needed
Even if you like the output quality, we recommend fact-checking and editing it before publishing or using it anywhere. Ensure the generated content aligns with the intended message and is suitable for the target audience.
Writesonic Writing Quality
I'm sure you're eager to see a Writesonic content sample! I used the YouTube introduction template to generate a short video intro.
The customization options for the YouTube Intros template are video title, search term, tone, language, and quality.
I entered the title: "Hacker steals $1.7 million in NFTs from a high-profile investor."
And here's Writesonic's output: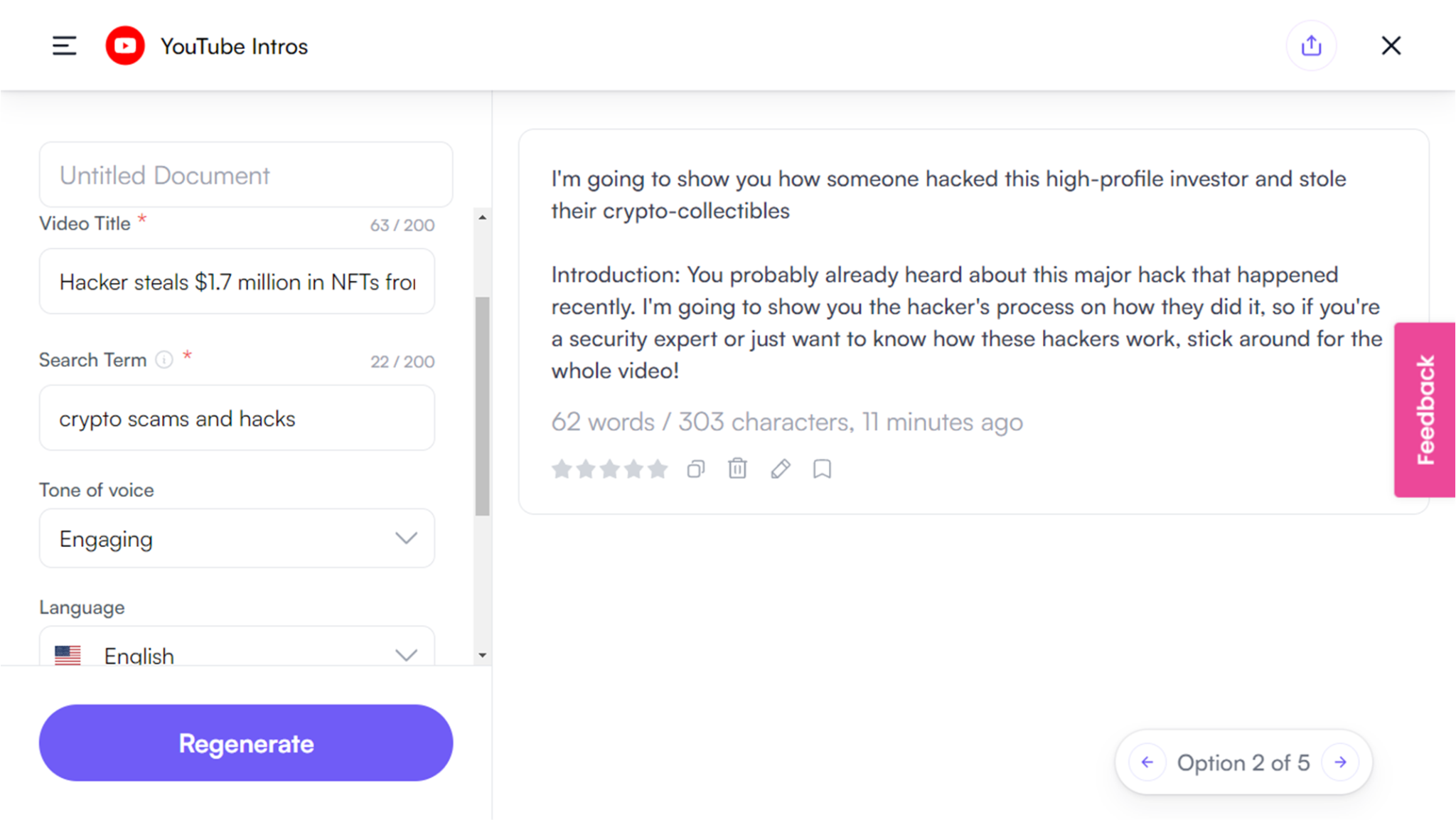 "I'm going to show you how someone hacked this high-profile investor and stole their crypto-collectibles.
Introduction: You probably already heard about this major hack that happened recently. I'm going to show you the hacker's process on how they did it, so if you're a security expert or just want to know how these hackers work, stick around for the whole video!"
It's not perfect, but it sparks great ideas for the intro. You can opt to generate multiple outputs and choose the best. There's also the option to regenerate if you're unsatisfied with the output.
Writesonic SEO Optimization
Who wants AI-generated content that doesn't rank on search engines? Writesonic helps you create SEO-friendly blog posts and landing pages in two ways. The first option is to enter your keywords for the blog topic, and the AI writer will incorporate them throughout the article.
The second option is utilizing Writesonic's partnership with Surfer (an SEO optimization tool).
You can switch from Writesonic's Sonic editor mode to Surfer mode to analyze the AI-generated content for SEO. You must then adjust your content based on Surfer SEO's recommendations to improve your ranking score. However, Writesonic's pricing doesn't include Surfer SEO. You must subscribe to Surfer separately.
Writesonic Customizability and Control
Writesonic is designed to automate content writing, and it does that well. But the templates don't give many opportunities for customization and personalization. As much as you want the software to generate content for you, having control over the output is critical because you understand your audience better. And you're human!
Writesonic's prompting options are fairly good. You can specify the tone, style, and other instructions to suit your content needs. Other customizability features I like about Writesonic include the following:
Setting the word count
Choosing a language (Writesonic supports 25+ languages)
Training the Sonic editor how to write content resonating with your brand using short prompts
Selecting output quality
The only issue with Writersonic is that it doesn't support co-writing well, especially for writers who prefer personalized content. If you prefer a more involved writing process, you might be disappointed. Once you hit generate, you can't add context, iterate inputs, or tweak outputs as the tool writes.
What Integrations Does Writesonic Offer?
How many tools and services do you use—from content planning to publishing and promoting your online business? Switching from one tool to another can decrease productivity and is time-consuming.
Writesonic excels at integrations and compatibility with other content production tools. It integrates with DALL-E for image generation, Copyscape for plagiarism checking, Surfer for SEO, and WordPress for publishing.
It also connects with Zapier, a tool that automatically ties together different apps, allowing you to access all the services you use on one platform. The partnership with Zapier means Writesonic can connect with thousands of other apps, including Google Docs, Twitter, Buffer, and Instagram for business.
Writesonic Pricing and Plans
What type of pricing plans does Writesonic offer? The software comes with two paid plans and a 10,000 words free trial.
Writesonic pricing starts at $12.67 monthly for about 100k words. The pricing varies based on the quality of output and the number of words. It offers GPT 3.5 (Premium) or GPT 4 (Superior).
GPT 4 is an update of the previous version. It's more likely to understand your prompts better and generate higher-quality content than GPT 3.5.
User Feedback and Testimonials
Writesonic has an excellent 4.8/5 rating on Trustpilot from about 3,900 users. These positive user experiences show that Writesonic's customers are generally satisfied.
Several customer reviews mention the ease of use, invaluable content rewriting feature, impressive features, and accuracy of Chatsonic.
Writesonic Customer Support
You can reach the Writesonic support team via chat on the website. The chat feature is available 24/7, and the team typically takes a few hours to respond.
Writesonic also has a Help Center with answers to the most frequently asked questions. You might find a solution there!
Comparison With Writesonic Alternative Tools
Ready to know how Writesonic compares to other AI writers? The table below highlights the unique strengths and weaknesses of the top five AI content generation tools.
See table in G.docs
Writesonic FAQs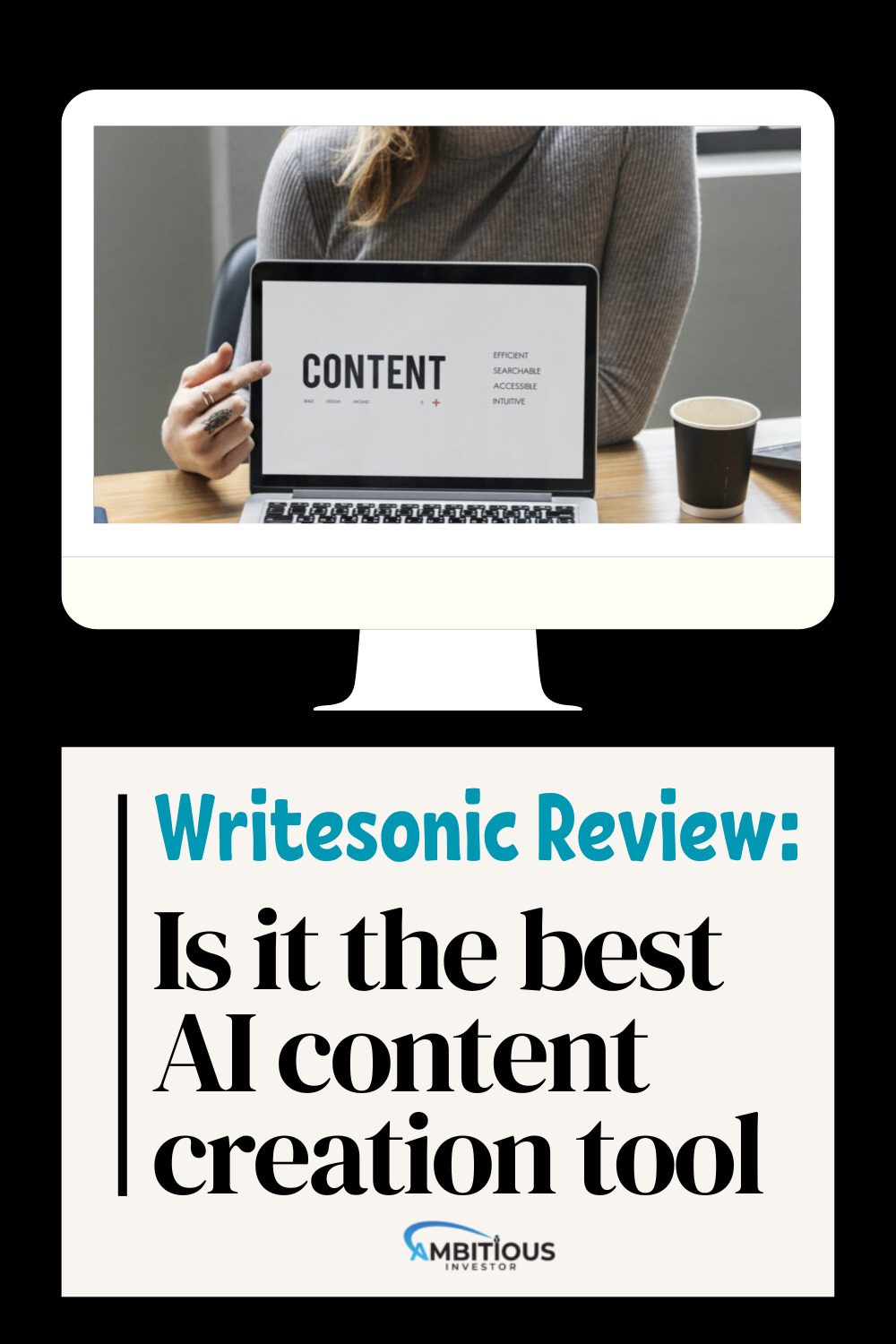 Is Writesonic worth it?
Writesonic is worth it for most content creators, marketers, and small businesses. You can claim your free trial, test the AI writer, and decide if it meets your content needs.
Who Can Use Writesonic?
Writesonic is ideal for any written content creator, including:
Bloggers, article writers, and content publishers who need a hand in creating original and SEO-optimized content.
Copywriters and marketers
Social media managers
Small business owners who create content by themselves.
Can You Write a Book With Writesonic?
Yes. You can use Writesonic to write lengthy pieces, including ebooks.
Is Writesonic Free to Use?
Writesonic is a paid AI writer, but it offers a generous free trial of 10,000 words.
What Language Model Does Writesonic Use?
Writesonic uses OpenAI's GPT-3.5 and GPT-4. It mentions that its tools are trained using content from top brands.
Final Verdict: Should You Use the WriteSonic App?
Writesonic is the best AI content-creation tool for anyone who prefers little to no involvement in the process. All you have to do is enter a few key details about your content, and Writesonic generates it within seconds.
Writesonic has a five-star rating on Trustpilot, an easy-to-navigate dashboard, and templates for various content types.
Sign up for the free trial now and test the tool yourself.