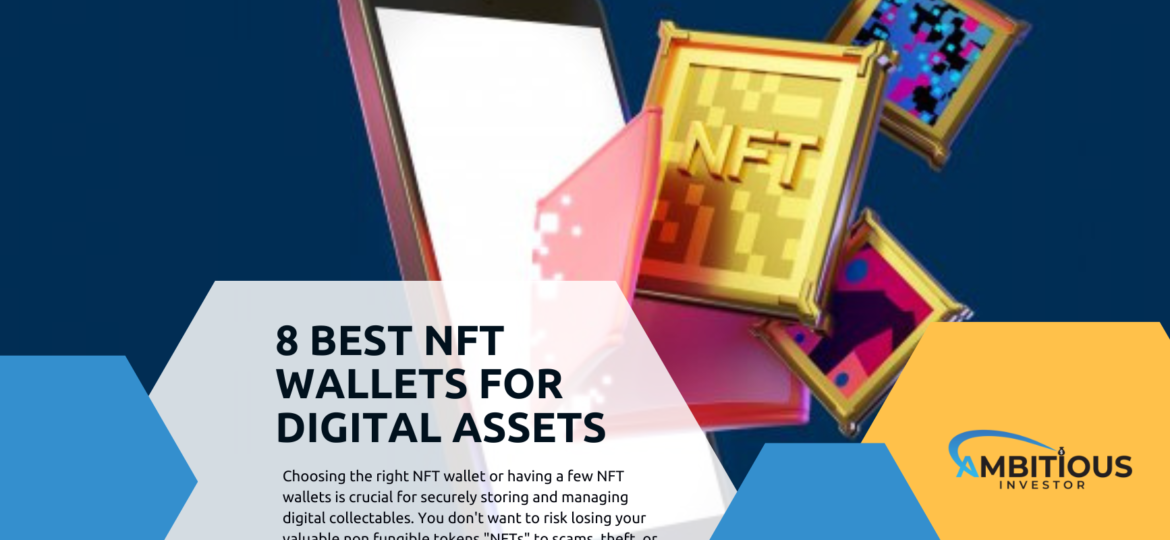 8 Best NFT Wallets of 2023
Choosing the right NFT wallet or having a few NFT wallets is crucial for securely storing and managing digital collectables. You don't want to risk losing your valuable non fungible tokens "NFTs" to scams, theft, or security breaches.
While a secure environment is a top priority, it's not the only factor that makes an NFT wallet great! The best NFT wallets have an intuitive user interface, are compatible with various NFT marketplaces, allow easy transfer of the collectables, are reasonably priced, offer cross-device support and other useful features.
To make the process of selecting the best NFT wallet for your needs easier, we've put the top options in the market to the test. Read on to learn which ones stood out and everything else you need to know about NFT wallets.
NFT Wallets Guide
Here is a quick overview of the best NFT wallets available:
AlphaWallet: Best for Ethereum and ERC-20 tokens
ZenGo: Best for secure wallet
Ledger Nano X: Best for intermediate and advanced crypto users
MetaMask: Best for secure NFT cold storage option
Trust Wallet: Best NFT wallet for beginners
MathWallet: Best multi-chain NFT wallet
Coinbase Wallet: Best for easy token transfer
Enjin wallet: Best for creating multiple NFT wallets

1. AlphaWallet: Best for Ethereum and ERC-20 Tokens
AlphaWallet is one of the most secure NFT wallets available on the market. It uses a technology called Secure Enclave, which provides a level of security similar to that of a cold wallet.
AlphaWallet is self-custodial, fully open source, and free to use.
What makes it one of the top NFT wallets is its compatibility with the best NFT marketplaces and blockchain games, such as OpenSea, Dragonereum, ChainZ Arena, and CryptoKitties. It also offers a built-in DApp browser to help you search for more NFT marketplaces and access DeFi apps.
If you want a wallet you can access on the go, this is it. AlphaWallet is mobile-only, and it's available on both Android and iOS devices. The user interface is intuitive, with one area dedicated to NFTs and gaming tokens.
Some popular blockchain networks AlphaWallet supports are Ethereum, Binance Smart Chain, and Polygon. This means you can access NFTs on multiple chains without needing different wallets.
AlphaWallet Key Features
Below are some of the features that make AlphaWallet one of the top NFT wallets:
Strong security features
Multi-chain support
Custom NFT creation
Open source
Gas fee and transaction speed customization
No KYC or personal data collected
Access to all NFT DApps with the DApp browser
AlphaWallet Pros and Cons
Pros
Free to use
Beginner friendly
Open-source and customizable
Cons
Only available on iOS and Android
2. ZenGo: Best for Secure Wallet
ZenGo is an easy-to-use, mobile-only, and non-custodial hot wallet.
It uses a unique keyless security approach that allows you to access your crypto wallet using biometric data, such as face or fingerprint recognition. This eliminates the security vulnerability associated with private keys and makes it a secure option for managing your NFTs.
One of the unique features we love about ZenGo is the guaranteed wallet recovery. If you lose your phone or upgrade, ZenGo's model allows you to recover your account via biometrics and email. No hassle to look for the notebook where you wrote the seed phrases like with other crypto wallets.
ZenGo supports two blockchains: Ethereum (ETH) and Polygon (MATIC). It also connects seamlessly to different NFT marketplaces on these chains, for instance, OpenSea and Rarible.
ZenGo Key Features 
Here are some of the features that make ZenGo one of the best NFT wallets:
NFT collection view
Supports Ethereum and Polygon NFTs
Uses MPC technology and facial recognition software for strong security
Pros
Easy to use, multi-chain wallet with over 700,000 users
24/7 customer support via live chat and email
A guaranteed wallet recovery model
Strong security features
Cons
Limited to mobile (iOS and Android)

3. Ledger Nano X: Best for Secure NFT Cold Storage Option
Ledger Nano X is the best NFT cold wallet. It allows you to store NFTs safely offline.
Cold or offline NFT storage is considered safer because it keeps your private keys offline, reducing the risk of cyber theft or hacking. Ledger Nano X uses advanced encryption algorithms and secure elements to protect your private keys and keep your crypto assets and NFTs safe.
The device is Bluetooth-enabled, allowing you to connect to Android or iOS devices without a cable. There's also an option to use a cable if that's what you prefer.
An NFT marketplace is typically associated with a particular blockchain. Nano X allows you to connect to Ethereum and Solana-based NFT marketplaces. These include OpenSea, Rarible, Super rare, Nifty Gateway, and SolSea.
Ledger Nano X Features
The top features of this cryptocurrency wallet include:
100mAh battery
Two buttons and a display screen
Bluetooth-enabled
Advanced security features with offline storage
Access to Ledger Live mobile app
Pros
Large storage capacity
Bluetooth connectivity
Accessible via iOS and Android devices
Cons
Might be expensive for some investors at about $149
Risk of losing the device
No touch screen
4. MetaMask: Best for Intermediate and Advanced Crypto Users 
Did you know you can store NFTs on MetaMask? The popular, self-custodial, and reputable crypto soft wallet supports thousands of altcoins and NFTs.
MetaMask is available as a browser extension and mobile app for both iOS and Android. However, only the mobile app supports NFT transactions and management. MetaMask mobile app has a built-in browser, which provides quick access to decentralized applications (dApps) and NFT marketplaces.
With Meta Mask, you can have a single address for each NFT, separate addresses for crypto coins and NFTs, and the ability to use the NFT portfolio tracker feature to keep tabs. You can also swap currencies to buy an NFT, using a built-in swap feature.
MetaMask supports multiple blockchains, such as Binance Smart Chain (BSC), Polygon, Avalanche, and Fantom.
MetaMask Key Features
Here's why MetaMask is a top nft wallet:
NFT portfolio tracker
Two-factor authentication
Multi-chain support
A browser extension
Built-in swap feature
Pros
Compatible with various of blockchain networks
Supports a wide range of Ethereum-based tokens, including NFTs
Offers advanced security features to protect your digital assets
Community-driven development and support
Cons
Doesn't support Bitcoin
Not so much beginner-friendly
No 24/7 live customer support
5. Trust Wallet: Best NFT Wallet for Beginners
Trust Wallet is one of the best nft wallets that is compatible with various blockchains, including Ethereum, Solana, Polygon, Smartchain, Optimism, and Avalanche. This means you can access any NFT marketplaces built on these chains, for instance, OpenSea and Rarible.
Binance, one of the world's largest cryptocurrency exchanges, acquired Trust Wallet in 2018. It has continued to operate as a standalone crypto wallet but the association with Binance makes it a perfect option for smart chain tokens and NFTs.
The NFT wallet is available for both iOS and Android devices, offering a user-friendly interface. You can easily navigate Trust Wallet, even if you have little or no experience with cryptocurrency.
You can use the Trust Wallet mobile app for iOS and Android or use the chrome extension.
Trust Wallet Key Features
Below is an overview of some features that make Trust Wallet a top NFT wallet.
DApp browser to find NFT marketplaces
Built-in exchange feature for swapping coins
Multi-chain support
User-friendly interface
Pros
Uses advanced security features, including encrypted storage, biometric authentication, and two-factor authentication
Mobile wallet for easy access to your digital assets on the go
Cons
Limited to mobile devices, not available on desktop
6. Math Wallet: Best Multi-chain NFT Wallet
MathWallet is a multi-chain wallet that allows you to store, manage, and exchange various cryptocurrencies and NFTs in one place.
It supports 145+ public chains, including Ethereum, Binance Smart Chain, and Polygon, giving you access to several NFT marketplaces.
Math Wallet provides a web, desktop, and mobile version of the wallet. It's also compatible with the best NFT hardware wallets, like Ledger to support your cold storage needs.
Security is also a top priority for Math Wallet. It employs various security measures, such as two-factor authentication, seed phrase backup, and hardware wallet integration, to ensure that your funds and private keys are kept safe.
Math Wallet Key Features
Some of the features that make Math Wallet one of the best NFT wallets include:
Free to use
Decentralized non-custodial wallet
145+ blockchains supported
In-built dApp browser
Hardware support
Browser extensions for several browsers including chrome and Microsoft Edge
Pros
Allows you to create multiple addresses
Has a DApp browser built in for accessing NFT marketplaces
Has a clean and intuitive user interface
Supports a broad range of blockchains and DApps
Cons
Limited customer support
Some users report occasional bugs or glitches

7. Coinbase Wallet: Best for Easy Token Transfer
Coinbase is a popular cryptocurrency exchange that also offers a digital wallet for storing and managing various cryptocurrencies and NFTs.
This exchange does not have its own NFT marketplace, but it is compatible with various NFT marketplaces, such as OpenSea and Rarible. This means you can buy, sell, transfer, and hold NFT from your Coinbase wallet.
Coinbase wallet is available as a web browser extension and mobile app for iOS and Android. Exploring NFT marketplaces and dApps is simplified by the in-built browser in the mobile NFT wallet.
Coinbase uses Secure Enclave technology and additional security features like two factor-authentication and password protection to give you a secure environment.
Coinbase Wallet Key Features
What makes Coinbase one of the top NFT wallets? Here are some of its features:
Crypto and NFT portfolio management
Secure storage
Mobile and desktop support
QR code feature
Pros
Integrates with Coinbase exchange account
Available on both mobile and desktop platforms
Supports multiple chains and NFT marketplaces
Cons
Only supports a limited number of blockchain networks
8. Enjin wallet: Best for Creating Multiple NFT Wallets
Enjin Wallet is a non-custodial software wallet that allows you to store and manage various cryptocurrencies and NFTs. As a non-custodial wallet, you are in full control of your private keys, which are stored securely on your device.
Enjin offers a web wallet and mobile apps for Android and iOS. You can create multiple wallets on Enjin for your different trading needs. For instance, you can have separate crypto wallets for your NFTs and coins.
Enjin Wallet simplifies your NFT transactions. You can share NFTs via simple QR codes, access multiple NFT marketplaces, and collect rare NFTs from the in-app Enjin marketplace.
The revolutionary NFT wallet allows you to import your existing crypto wallets and track hardware wallets like Ledger. Enjin wallet capabilities don't mean it's hard to use. Instead, it has a clean user interface and is suitable even for beginners.
Enjin Wallet Key Features
The notable Enjin NFT wallet features include:
DApp or DeFi swap
Slick portfolio view
Ability to create multiple crypto and NFT wallets
Enjin NFT Marketplace
Hardware wallet support
Pros
Supports several chains and NFT marketplaces
Offers an in-app dedicated NFT marketplace
Allows NFT minting
Cons
Supports select ERC721 NFTs
Not open source
BONUS: Binance Chain Wallet: Best Browser Extension NFT Wallet
If you do use or plan to use Binance to manage your NFTs, you should know more about Binance Chain Wallet. It can help you access the best DApps and NFT marketplaces.
It's an extension-based cryptocurrency wallet available on Chrome, Firefox, Brave, or Edge. All you have to do is add the extension to one of those browsers, connect to an existing wallet, or create a new one.
While you can interact with other blockchains, the association with Binance Chain means it might be biased towards the Binance ecosystem.
Pros
Free to use, with no hidden fees
Integrates seamlessly with Binance
User-friendly interface
Available on all major web browsers
Cons
Not a completely decentralized wallet, as it is tied to the Binance Smart Chain ecosystem.
Limited compatibility with other blockchain networks
Best NFT Wallets of 2023 FAQs
What Is an NFT Wallet?
An NFT wallet is a digital assets wallet designed specifically for minting, transacting, and holding non-fungible tokens (NFTS). They work much like a regular crypto wallet, but they are designed to help you interact with NFTs and DApps. In fact, most of the top NFT wallets are also the best cryptocurrency wallets.
NFT wallets allow you to view your digital assets, see their current value and keep track of your NFT transactions. Wallets come in different versions, for instance, mobile wallets, browser extensions, and web-based wallets.
NFT wallets are typically categorized into software and hardware wallets.
How Do I Pick an NFT Wallet?
Not sure what to look for when selecting an NFT wallet? Here are the top factors to consider:
NFT marketplace compatibility: Which marketplace do you want to mint, purchase, or sell your NFTs from? If the NFT wallet isn't compatible with the platform, you won't have a smooth experience.
Multichain support: Most NFTs are based on the Ethereum network but other chains are increasingly joining the scene. It's best to choose NFT wallets that support as many blockchains as possible. The supported chains also determine the marketplaces you can access.
A secure environment: NFTs are some of the most costly digital assets available. Does the NFT wallet you're considering have a history of constant or massive cyber attacks and private key vulnerability? Choose a secure wallet with strong features to safeguard your investments.
An intuitive user interface: The best crypto wallets must have an easy-to-understand and navigate user interface to make your NFTs management experience a breeze.
Supported devices: Do you want to access your NFT wallets via mobile or desktop? Most NFT wallets are mobile wallets. Other wallets are web-based and browser extensions. You can choose NFT wallets that offer all the versions.
What Are Some Unique Features of NFT Wallets?
Here are some unique features you may find in the best NFT wallets:
NFT portfolio tracking and management
Integrated non-fungible tokens marketplaces
Multiple blockchain networks support
Social features to share your digital collectibles
Builtin DApp browsers
What Are Non-fungible Tokens (NFTS)?
Non-fungible tokens (NFTs) are unique digital assets representing ownership of a specific item or content piece. It could be anything from artwork to virtual real estate, etc.
Unlike fungible tokens, such as cryptocurrencies, NFTs are not interchangeable and cannot be divided into smaller units. Each NFT is unique and has its own specific identifier, which is recorded on a blockchain, making it tamper-proof and transparent. This enables creators to prove ownership and authenticity of their work, and buyers to purchase and sell these unique assets on various marketplaces.
How Many NFT Wallets Should You Have?
The number of NFT wallets you should have depends on your personal preferences and needs. One feature-rich, secure, and multi-chain wallet is sufficient for most NFT enthusiasts but you can have multiple if you need to.
Conclusion
The best NFT wallets provide a secure and convenient way to access and manage your unique digital assets. Among the top NFT wallets, the best one for you will depend on your preferences and needs. Think about what features are a must-have for you, the blockchains your preferred NFTs use, and your top marketplaces.