December 31, 2022
No Comments
Having a Stocks and Shares ISA is a must-have if you want to grow your money tax-free over time and generate compound interest in the stock market. The first step is to find an ISA provider who matches your investment style and goals. Moneybox and Moneyfarm are some of the best platforms in the UK, especially for new investors and those who prefer a passive approach to investing. How do they compare, and where do you begin?
Read on to learn more about these robo-advisors.
Moneybox
Low minimum investment starting at £1
FCA regulated
FSCS protection for investments up to £85,000
Simple to set up and use
Mobile investment app
Invest spare change automatically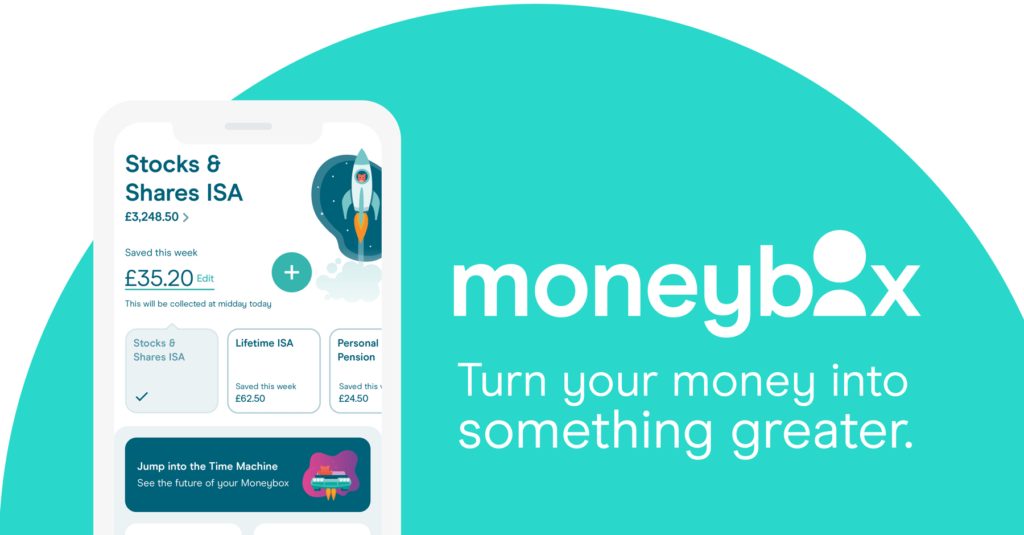 FCA regulated
Segregates customer and company funds (protected by Saxo Bank)
FSCS protection for investments up to £85,000
Experienced investment experts on-hand to help
Actively managed account
Minimum investment from as low as £500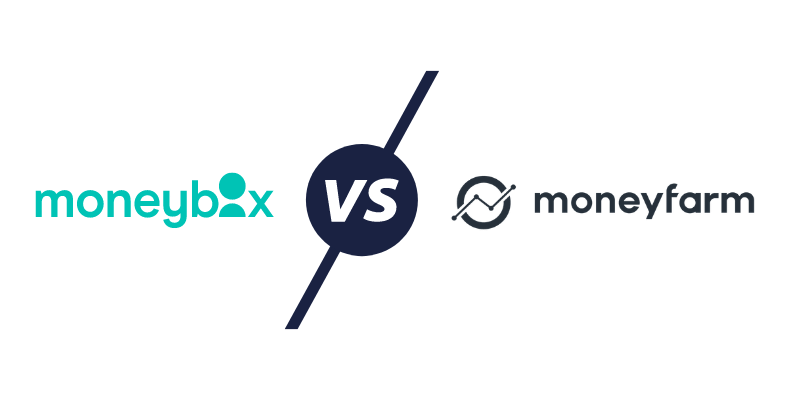 What Is an ISA?
ISA stands for Individual Savings Account. Unlike other types of savings and investment accounts, the interest or capital gains from an ISA are not taxed. Because of the tax benefits of ISAs, the government sets a limit (called the ISA allowance) on how much you can put into these accounts each tax year (April 6th to April 5th of the following year). The current ISA allowance is £20,000 per year, which resets at the start of the following tax year. Before we look at how moneybox vs moneyfarm compare, let's look at the different types.
Types of ISAs
There are four types of ISAs:
Investment ISAs or stocks and shares ISA
Cash ISAs
Innovative finance ISAs
Lifetime ISAs
This guide will focus on the stocks and shares ISA, which allow you to put your ISA allowance to work in various investments: shares, funds, investment trusts, and bonds. When you're within the annual £20,000 limit, you don't pay tax on profits, dividends, and capital gains which helps maximise your returns.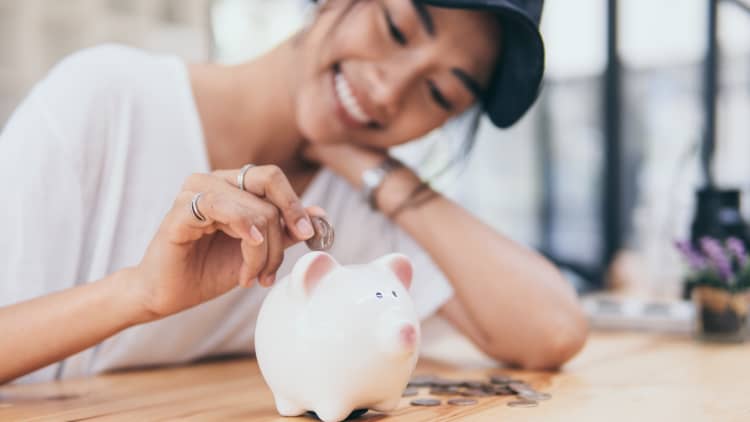 How Many ISAs Can I Have?
You can open all the ISAs you are eligible for and deposit your annual £20,000 allowance in one or spread it across various ISA accounts throughout the year. However, for every type of ISA, you can only contribute to one account per tax year. For instance, you cannot fund more than one stock and shares ISA at a time.
If you find a better ISA provider for your investment portfolios needs, you can transfer your funds to the new stock and shares ISA in the following tax year. In other words, you can have multiple stocks & shares ISAs open simultaneously, but you can only fund one at a time with your current tax year allowance.
Moneybox vs Moneyfarm Stocks and Shares ISAs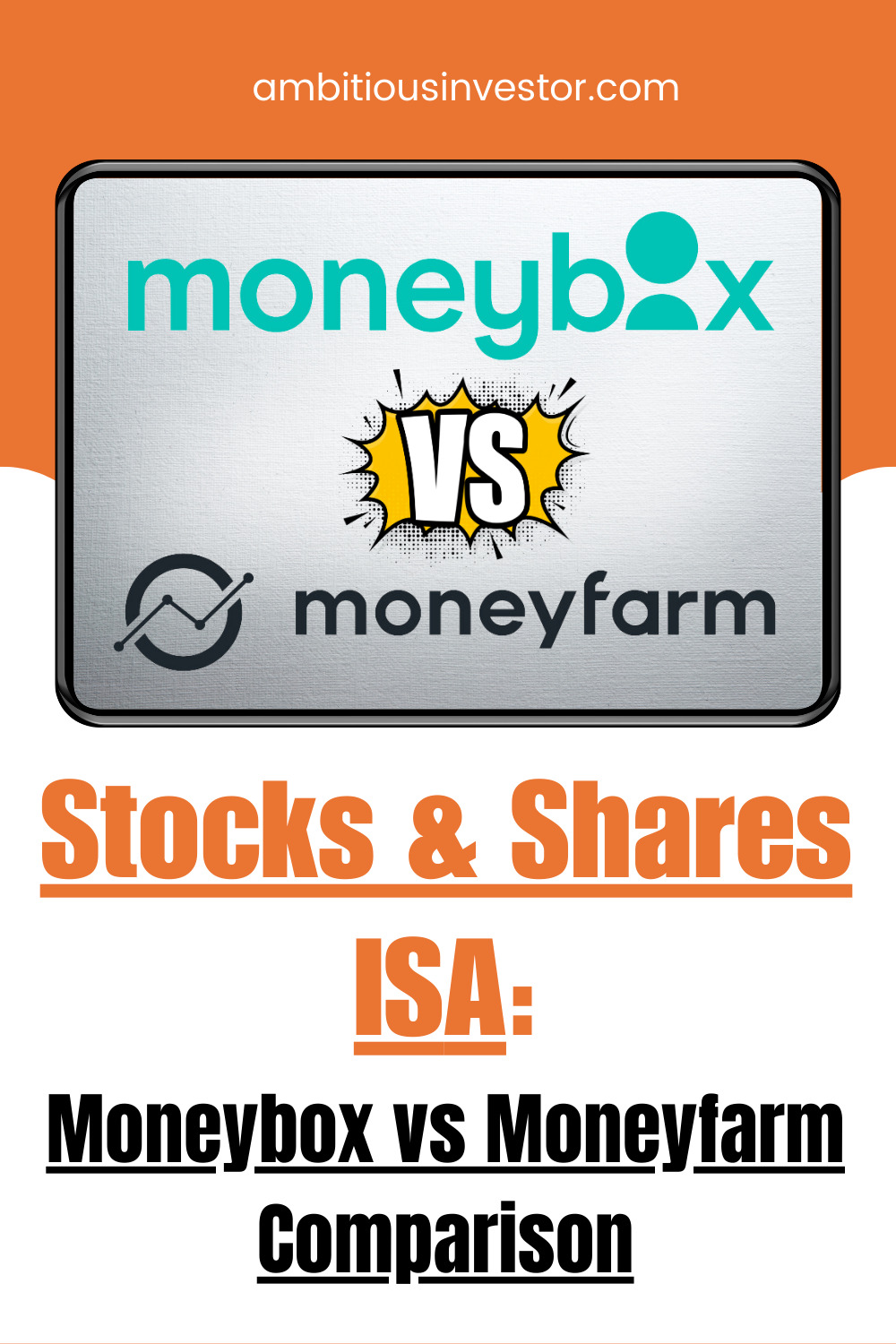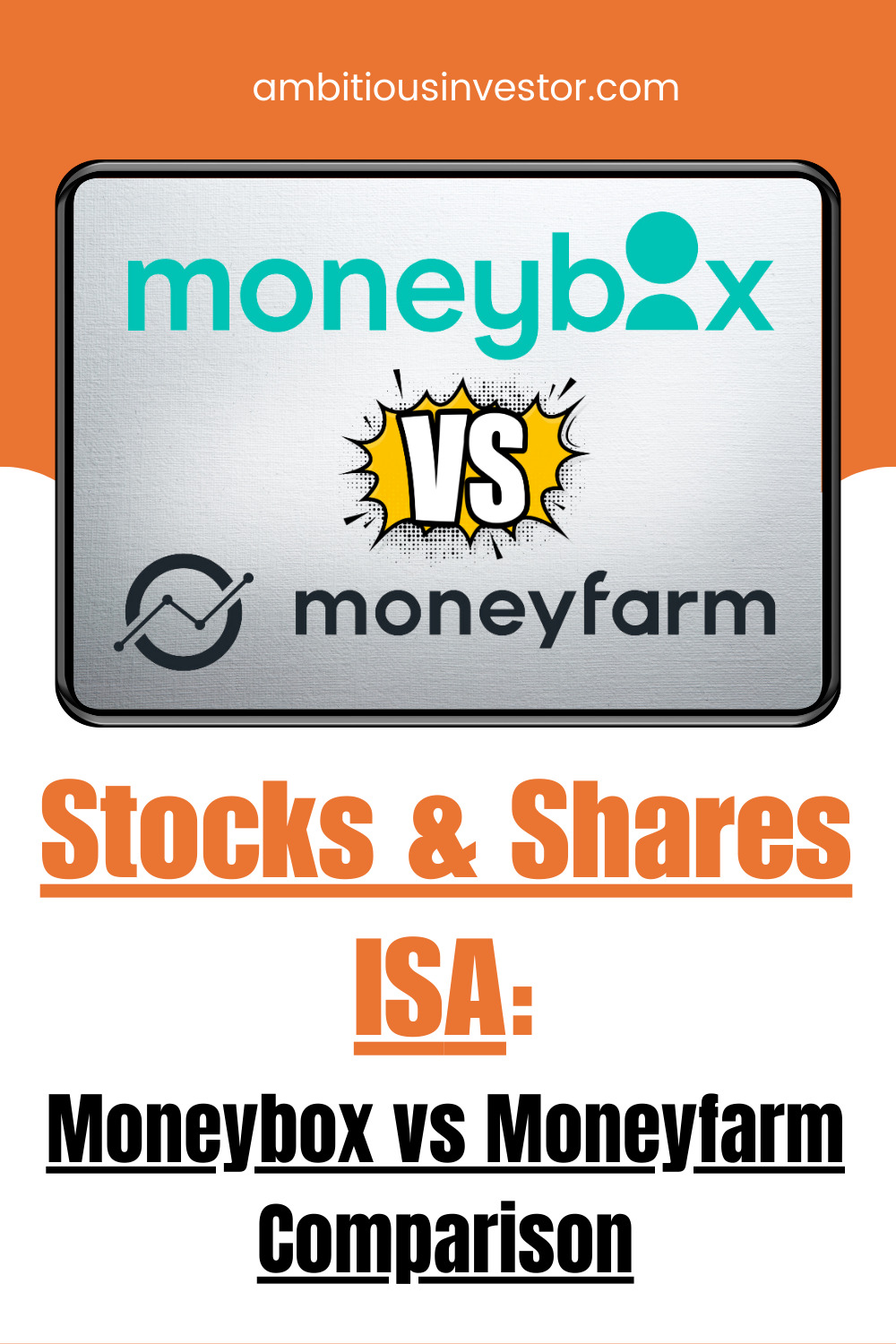 Moneyfarm and Moneybox are two of the UK's most popular stocks and shares ISA platforms. If you're a beginner or an experienced investor who prefers the "set it and forget it" investment approach, you'll have a lot to love about these platforms. But they aren't created equal. So the best ISA provider for you will depend on your investment strategy, approach and goals.
Below we compare the most important features of Moneyfarm and Moneybox to help you out.
| | | |
| --- | --- | --- |
| Platform Features | Moneyfarm | Moneybox |
| Minimum initial investment | £500 | £1 |
| Fees | One simple fee overall depending on invested amount 0.75% from £500 0.70 from £10k 0.65% from £20k 0.60% from £50k 0.45% from £100k 0.40% from £250 0.35 from £500k | Monthly subscription fee: £ 1 (free the first three months) Platform fees: 0.45% of your investment value per year Annual fund provider fees: 0.12% – 0.58% Currency conversion fee: 0.45% |
| Available investment vehicles | Equities, bonds, cash | 20+ index funds, ETFs, and individual US stocks |
| Transfer an ISA | Yes | Yes |
| Regulated by the Financial Conduct Authority | Yes | Yes |
| Protected by the Financial Services Compensation Scheme (FSCS) | Yes | Yes |
| Platform | Web-based and a moneyfarm app | Mobile app |
How Moneybox Stocks and Shares ISA Works
Moneybox's low £1 minimum investment makes it an excellent choice for anyone looking to save money or begin investing a few pounds each week or month. On Moneybox, you can invest in two ways:
Starting Options
Customise Allocations
Ready Made Portfolios
The Starting Options are three ready-made portfolios in which you can invest based on your risk apetite. Each portfolio contains a diverse selection of index funds. This makes the option ideal for new investors and those who prefer to keep things simple. These portfolios are:
Cautious (low risk)
Balanced (medium risk)
Adventurous (higher risk)
Customise Allocations lets you create your portfolio from the available funds. This makes the option ideal for investors who want to choose where their money is invested among tracker funds, ETFs, and US stocks.
How To Set Up a Moneybox Stocks and Shares ISA
In order to set up a money box stocks and shares ISA. You must be over 18, a UK tax resident, and a non-US citizen to open an ISA account. Follow these steps to create your account in less than five minutes:
Download and install the Moneybox app on the google play store or apple app store.
Sign up by submitting your details (name, email, password, phone number, and date of birth)
Verify your email
Link your bank account
Follow the prompts to choose a portfolio and account funding frequency.
How Moneyfarm Stocks and Shares ISA Works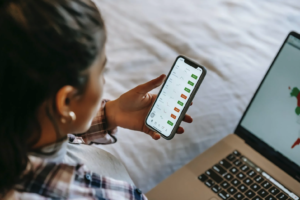 Moneyfarm is a Robo-ISA platform designed to simplify investing. You cannot select your investment allocations. Instead, the platform offers seven ready-made portfolios with varying risk profiles. Not sure what your risk tolerance is? Moneyfarm starts by giving you a brief questionnaire that covers your investment goals, knowledge, market volatility, comfort levels, and financial background.
Moneyfarm Recommendations
Moneyfarm recommends the best portfolio for you based on your answers. You can confirm the composition of each portfolio and past performance from the Moneyfarm website. Remember, you cannot customise your recommended portfolio. The company builds, manages, and rebalances the portfolio for you. If you don't think you're matched with the right portfolio, you can contact the personal investment advisors at the company for more help. This makes Moneyfarm ideal for investors who prefer a completely hands-off investment approach to the stock market. Moneyfarm also allows users to create an Individual Savings Account (ISA), which is a scheme that allows a person to hold cash, shares and unit trusts, free of any type of tax.

How To Set Up a Moneyfarm Stocks and Shares ISA
Creating a Moneyfarm stocks and shares ISA account is simple. Below are the required steps:
Visit the official Moneyfarm website and click the "Get Started" button. Or alternatively, download the app on the google play store or apple app store.
Enter your email, create a password, and hit the "Sign up" button.
Click the "Discover your investor profile" button and complete the questionnaire.
Follow the onscreen instructions to create your recommended portfolio.
Review the details of your recommended portfolio and accept if it works for you.
Proceed to add the required personal details.
Link your bank to transfer funds when you're ready or transfer an existing ISA.
Pros and Cons of Using Moneybox vs Moneyfarm
Every platform has pros and cons, which you should weigh to determine which works best for you. Below is an overview of the pros and cons of using Moneybox vs Moneyfarm.
| | |
| --- | --- |
| Pros of Moneybox | Cons of Moneybox |
| FSCs-protected and FCA regulated | Higher fees for low-value accounts |
| Responsive customer support | Doesn't offer investment advice |
| High-quality research, analysis, and educational materials | Some banks aren't compatible with the platform |
| Transparent fee structure | Only accessible to UK residents |
| Low minimum investment of £1 | |
| Excellent user experience for both beginners and experienced investors | |
Pros and Cons of Moneyfarm
| | |
| --- | --- |
| Moneyfarm Pros | Moneyfarm Cons |
| Designated personal investment advisors | Higher minimum investment of £500 |
| Fully actively managed accounts | Higher platform fees for smaller portfolios |
| Regular portfolio rebalancing (3-5 times annually) | Cannot select or customise own portfolio |
| Reduced platform fees for larger portfolios | |
| One simplified fee structure | |

Moneybox vs Moneyfarm portfolios
As it stands, Moneyfarm has a broader range of portfolio options over their rival Moneybox, which has a selection of three risk-rated investment account options: Cautious, Balanced and Adventurous. It also has the option for investors to create their own portfolios from various funds, which may be more suited for individuals with prior investing knowledge. Moneyfarm however, has a selection of 7 risk-rated portfolios for investors to choose from.
Watch the YouTube Video Review on Moneybox v.s Moneyfarm
Final thoughts – Summary on Moneybox vs Moneyfarm
When you invest with Moneybox and Moneyfarm, your money is protected by the Financial Services Compensation Scheme (FSCS) up to a maximum of £85,000. This means you can get your money back if Moneybox or Moneyfarm were to become insolvent. Keep in mind that the FSCS does not cover losses arising from the performance of any of your investments.
While both apps have great features and benefits, Moneyfarm is more appealing to those who are looking for an all-in-one app that can support their investment journey for the long term. If you do not plan on consulting financial advisers and wish to do it yourself, Moneyfarm is the app for most people. Within Moneyfarm, you get pretty much your own investment consultant who acts as a trusted advisor who can help and provide tips so you get the most out of your investment portfolio over time.
All of these reasons and more, make Moneyfarm our recommended app for 2023. Check out the customer satisfaction survey information on Trustpilot for more information on Moneybox and Moneyfarm.
In our Moneybox review, we cover in more detail other features and benefits of Moneybox. Feel free to binge-read more content like this and reviews here.