October 22, 2023
No Comments
Moneyfarm Review: Is It the Right Investment Platform for You?
Moneyfarm is a digital investment platform that has been working with UK customers for over five years and has over 125,000 customers. They are one of the biggest digital investment platforms in Europe, with over £3.5 billion of customers' money invested with them to date. Despite being digital, they offer a personal investment advisor who will help determine the best investments for customers based on their knowledge, experience, and objectives.
Moneyfarm handles everything for their customers, from getting them started to managing their investments over time. They have a very impressive track record for successful investing, beating the industry average by 2% per year, every year for the last five years. On top of that, they offer one of the cheapest ways to invest out there, with just one low annual fee.
Key Takeaways
Moneyfarm is a digital investment platform that has been working with UK customers for over five years and has over 125,000 customers.
They offer a personal investment advisor who will help determine the best customer investments based on their knowledge, experience, and objectives.
Moneyfarm has a very impressive track record for successful investing, beating the industry average by 2% per year, every year for the last five years.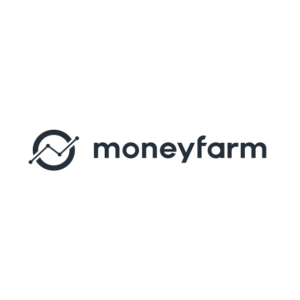 Read our blog to see how Moneyfarm and Moneybox compare.
Is Moneyfarm Good for Beginners?
Moneyfarm is an investment platform that is great for beginners. It offers a personal investor advisor who will guide you through the process and explain everything to you. The best part is that the advisor is completely free. Moneyfarm's investment strategy is designed for the future, and you will learn a lot about where your money is invested and how your portfolio is performing.
However, beginners should note that they will need to open their account with at least £500 to begin with. To make it easier, Ambitious Investor suggests setting up a regular monthly payment from your bank account. This way, it will soon add up. Overall, Moneyfarm is an excellent choice for beginners who want to start investing but need guidance and support.
How Moneyfarm Works
Moneyfarm is a digital wealth management platform designed to make investing simple. The process starts with the user selecting the type of investment account they would like, which includes Stocks & Shares ISA, Junior ISA, personal pension (SIPP), or a regular General Investment Account.
After selecting the account type, Moneyfarm will work out the right investment strategy for the user. This is done by gathering information about the user's financial goals and attitude towards investing. Once this information is collected, Moneyfarm will provide a personalized investment recommendation from one of its seven investment portfolios.
Setting up an account is straightforward and can be done online through the Moneyfarm website or mobile app. Once the account is set up, the user's money is in safe hands and will grow over time.
Moneyfarm's investment portfolios are designed to meet different risk appetites, from cautious to adventurous. The portfolios are managed by a team of experts who use a low-cost, passive approach to investing to keep fees low and minimize exposure to market volatility.
Overall, Moneyfarm provides a simple, easy-to-use platform for investing that is accessible to everyone.
Your Account Options
Moneyfarm offers four account types to help you save your money. The standard account is the General Investment Account where you might have to pay tax on the increase in your money, also known as Capital Gains Tax. The Stocks & Shares ISA is another option, and it allows you to save up to £20,000 per year with everything being completely tax-free. You can even transfer any of your current ISAs over to a Moneyfarm account for free, and they will handle everything. The Stocks & Shares ISA is also flexible, so you can withdraw money and add it back in the same tax year without affecting your ISA allowance.
If you have children, the Junior ISA is a great way to save for their future. You can save up to £9,000 per year, per child, and all the money will be in their name. They will be able to access the money when they turn 18.
Finally, if you want to save for your retirement, the Pension account is the way to go. You will benefit from tax contributions from the government, with 25% extra interest added to your account on everything you pay in.
Moneyfarm offers a range of account options to suit your needs, and you can learn more details about each one on their website.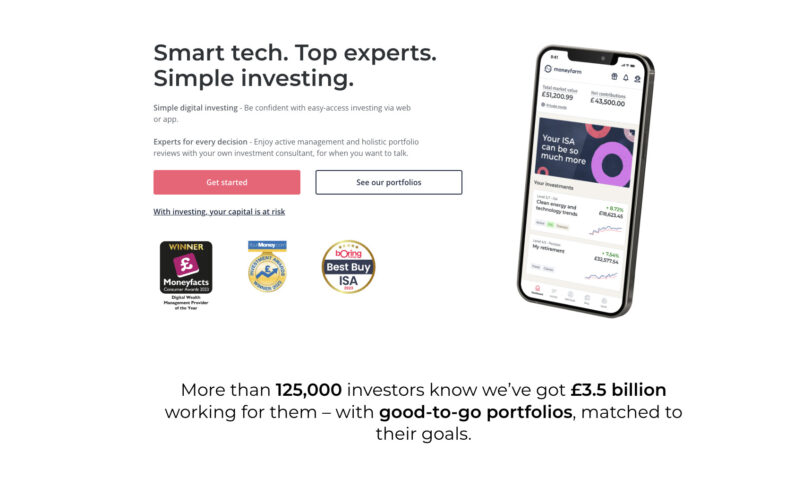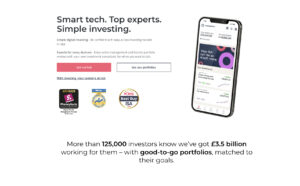 Your Personal Investment Advisor
Moneyfarm is a rare investment platform that offers personalized financial advice to its clients. Unlike other platforms, such as competitors such as Nutmeg, Moneyfarm provides free financial advice to help clients determine their best investment options. Clients can speak to experienced investment professionals, who are also experts in pensions, over the phone or live chat.
Moneyfarm advisors can assist with retirement planning and drawdown options, which is when clients start taking money from their pension. The best part is that the advice is not a one-time chat. Advisors are available whenever clients need them to manage their portfolio and ensure they are getting the best possible outcome.
With Moneyfarm, clients can rest assured that they are in safe hands with their experienced investment professionals.
Your Portfolio Options
When you sign up with Moneyfarm, you will be matched with one of seven investment portfolios that best suit your knowledge, experience, and savings goals. All portfolios are built from a mixture of exchange-traded funds (ETFs). ETFs are groups of stocks and shares with a common theme, such as companies in a specific industry or the top 100 companies in the UK.
Using ETFs is a great way to invest because they are low cost and can be bought and sold on stock exchanges just like shares in a company. This means that the experts at Moneyfarm can quickly buy and sell ETFs that make up a portfolio to take advantage of the markets and new opportunities to grow the portfolio.
The seven portfolio options available are designed to cater to different risk appetites, with portfolios ranging from low to high risk. Moneyfarm also offers active and passive investment options, with the latter being more cost-effective for portfolios worth over £10,000.
Socially Responsible Portfolios
Moneyfarm offers investment options that support positive change in the world by investing in forward-thinking companies that have a positive impact on the environment and society. Their portfolios are designed to exclude investments in companies involved in fossil fuels, corruption, child labor, and other negative factors.
Moneyfarm uses the ESG framework to assess the impact and standards of organizations and select investments that meet their criteria for environmental, social, and governance factors. This approach allows investors to support a positive change in the world while also earning returns on their investment.
Moneyfarm's socially responsible portfolios have been top performers, outperforming regular (non-ESG) portfolios by up to 5%. Investors can learn more about these portfolios on the Moneyfarm website.
Overall, Moneyfarm's socially responsible portfolios offer investors a way to invest their money in a way that supports positive change in the world while also earning competitive returns.

Fixed Allocation Portfolios
Moneyfarm offers a fixed allocation portfolio option where experts put together the portfolio initially but then do not continually make changes like they would with regular portfolios. This approach offers a low-cost, passive investing experience, often suited for those seeking long-term growth. The experts will make changes once per year to ensure that the portfolio is set up for success the following year. They are also monitored to ensure that everything is going smoothly, and they will step in to make changes if necessary.
The benefits of fixed allocation portfolios are much cheaper fees, with fees starting at 0.45% and going as low as 0.25%. More information on fees can be found later in the article. Overall, fixed allocation portfolios are a good option for those who prefer a passive investment approach and are looking for a cost-effective solution.
Moneyfarm Investment Record
Moneyfarm has an impressive track record for investment. Out of the seven portfolio options available, six of them have surpassed the average return from a wide range of investment providers tracked by independent review firm Asset Risk Consultants. These providers include well-known names such as Barclays, HSBC, Investec, and Blackrock.
For example, one of Moneyfarm's portfolio options has generated an average return of 9.4% per year over the last five years, compared to the average return of other investment providers at 7.4%. This is a significant difference of 2% per year. The best-performing portfolio with Moneyfarm has averaged 11.4% per year.
Moneyfarm's success is attributed to active management and research. The investment team constantly reviews investments and seeks better opportunities while prioritizing the safety of investors' money.
How much is Moneyfarm?
Moneyfarm charges a management fee, which is a percentage of the money invested and automatically deducted annually. The fee starts at 0.75% for investments up to £10,000 and is reduced as the amount invested increases. The fee reduction applies to the entire investment amount.
For instance, for investments valued at £15,000, the management fee is 0.70% for the entire amount. The full fee breakdown is as follows:
Money invested Fee
Up to £10,0000 – 75%
£10,001 – £20,000 – 70%
£20,001 – £50,000 – 65%
£50,001 – £100,000 – 60%
£100,001 – £250,000 – 45%
£250,001 – £500,000 – 40%
Over £500,000 – 35%
For fixed allocation portfolios, the fee breakdown data is as follows:
Money invested Fee
£500 – £100,000 – 45%
£100,001 – £250,000 – 35%
£250,001 – £500,000 – 30%
Over £500,000 – 25%
Moneyfarm invests in ETFs as part of their portfolios, and these ETFs have their own low fees, which are passed on to investors. These fees average 0.20% per year. Additionally, there is an additional hidden fee called a spread fee, which is the difference between the buying and selling price of an ETF. This fee is a maximum of 0.09%.
Overall, Moneyfarm's fees are low compared to other investment managers. For example, compared to Nutmeg, Moneyfarm charges a lower management fee of 0.75% up to £100,000, and 0.35% after that, plus ETF fees (0.20%) and spread fees (0.09%).
Moneyfarm offers the option to move investments elsewhere for free, but they are confident that investors will stay with them due to their low fees and track record for generating returns.
Customer Support
Moneyfarm provides personalized investment advice through a dedicated investment advisor. The advisor assists clients in choosing the best investment portfolio and is available for support via phone, email, or chat feature on their website and phone app.

Is Moneyfarm Safe?
Moneyfarm is a UK-based investment platform that is authorised and regulated by the Financial Conduct Authority (FCA). This means that they have been approved and are trusted to look after and protect investors' money. Additionally, the Financial Services Compensation Scheme (FSCS) protects investors' money up to £85,000 in the unlikely event that Moneyfarm goes out of business.
Furthermore, investors' money is held separately in a protected trust account, which is separate from Moneyfarm's business accounts. This ensures that all the money would be returned to customers in the event that Moneyfarm closes down. Overall, Moneyfarm's regulatory status and protections give investors confidence in their investments' safety.
A Quick Recap and More Info
The investment platform requires a minimum deposit of £500 to open an account, which can be done through the website or mobile app available on both Apple and Android. Transferring an existing ISA is also possible, and it's free of charge. Withdrawals from the account can be made at any time without incurring fees for opening or closing the account. The platform offers a flexible ISA, which allows users to withdraw and return funds within the same tax year without affecting the £20,000 ISA allowance.
Moneyfarm Customer Reviews
Moneyfarm has received excellent customer reviews on Trustpilot, with a rating of 4.4 out of 5 from over 750 reviews. This is an impressive score for a financial services firm, where ratings are typically very low. Customers have praised the investment advisors for their great customer service, the company's track record of making money, and the user-friendly website and app. Overall, Moneyfarm seems to have a satisfied customer base who appreciate the company's efforts to provide a positive investing experience.
Pros and Cons
Pros
Suitable for beginners and investors who prefer a hands-off approach
User-friendly platform
Offers a free personal investment advisor
Proven track record for growing wealth
Provides socially responsible investment options
Offers six months fee-free
Cons
Requires a minimum investment of £500
Limited drawbacks identified.
Our Thoughts
Moneyfarm is a unique, investment solutions provider that offers a great all-round service. Unlike other investment providers, Moneyfarm provides both a personal investment advisor and a user-friendly website and app to manage and view your investments. This means that users get the best of both worlds – personalized investment advice and transparency over their investments.
One of the standout features of Moneyfarm is its low fees, making it one of the cheapest investment providers available. Additionally, Moneyfarm has an excellent track record for investing and offers socially responsible investment options.
Overall, Moneyfarm is an excellent choice for those looking for a comprehensive investment service that offers personalized advice, transparency, and low fees. With great customer service and a user-friendly platform, Moneyfarm is a top choice for investors.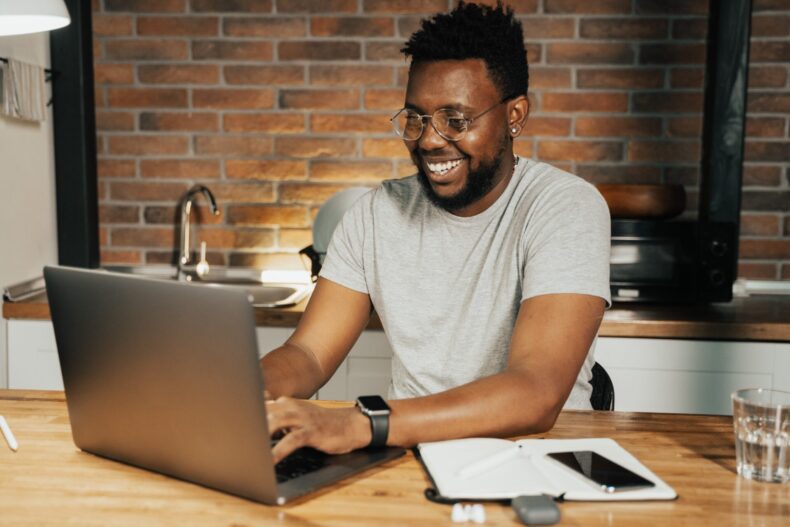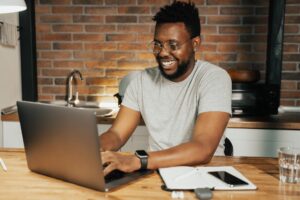 Frequently Asked Questions
What is the average return on Moneyfarm?
Moneyfarm's average return varies depending on the investment portfolio and market conditions. The company offers five different investment portfolios, ranging from cautious to adventurous. Each portfolio has a different risk level and expected return. According to their website, the average return for their most adventurous portfolio over the past five years was 11.3%.
How long does Moneyfarm withdrawal take?
The time it takes to withdraw money from Moneyfarm depends on the type of account and the withdrawal method. For example, a withdrawal from an ISA account usually takes between 1-3 business days, while a withdrawal from a pension account can take up to 10 business days. It's important to note that withdrawals may take longer if there are market fluctuations or other unforeseen circumstances.
Is Moneyfarm regulated?
Yes, Moneyfarm is regulated by the Financial Conduct Authority (FCA) in the UK. The FCA is responsible for regulating financial institutions and ensuring that they meet certain standards and regulations. They are also a member of the Financial Services Compensation Scheme (FSCS), which provides protection to customers in the event that the company goes bankrupt.
Moneyfarm vs Vanguard: Which is better?
Moneyfarm and Vanguard are both popular investment platforms, but they have different features and benefits. The firm offer a range of investment portfolios that are tailored to individual risk levels and investment goals. Vanguard, on the other hand, offers a wide range of low-cost index funds. The choice between the two depends on personal investment goals and preferences.
Moneyfarm app: How does it work?
The Moneyfarm app is designed to make it easy for customers to manage their investments on the go. The app allows users to view their portfolio, track their performance, and make changes to their investments. Customers can also set up automatic deposits and withdrawals, and receive notifications about their account activity.
Is Moneyfarm ethical?
Moneyfarm offers a range of investment portfolios that include ethical and sustainable investment options. The company uses a screening process to select companies that meet certain environmental, social, and governance (ESG) criteria. Customers can choose to invest in portfolios that align with their personal values and beliefs.