Top 10 Best Email Marketing Software for 2021
There are multiple ways to stay in front of your ideal customer and online marketing provides you with numerous options to market, promote and sell your products and services. One of the best ways to contact prospects is by email marketing. Email marketing consistently delivers a better ROI than other marketing channels and unlike social media platforms you don't need to worry about algorithms changing stopping your content, promotions, and adverts to be seen. The benefits of email marketing are endless; from building a community, engaging with customers on a one-on-on level to generating more leads, increasing sales and more.
To create a proper email marketing strategy, you need to use the best email marketing platform which suits your business. Here are the best email marketing platforms and a breakdown of features, advantages and disadvantages.
Top 10 Email Marketing Software & Platforms
It is considered one of the main email marketing platforms. It offers you many benefits if you want to achieve a campaign with positive results. Among its advantages are: Simple to use, opt-in forms, landing pages, email segmentation, tagging system, automation, pop up forms for your website, good design and integration with your business website and WooCommerce, PayPal, Stripe, WordPress and Shopify.
It allows you to segment different users, tag key customers, manage lists quickly. It also features email scheduling when you need to advertise a service or product. Send new updates of what your brand is up to, information, promotions and more.
Due to the functionality that this platform has, you will get more users to subscribe to your email list. ConvertKit provides you with data and graphs in which you specify how many subscribers you have achieved. It also shows you which publications have greater receptivity.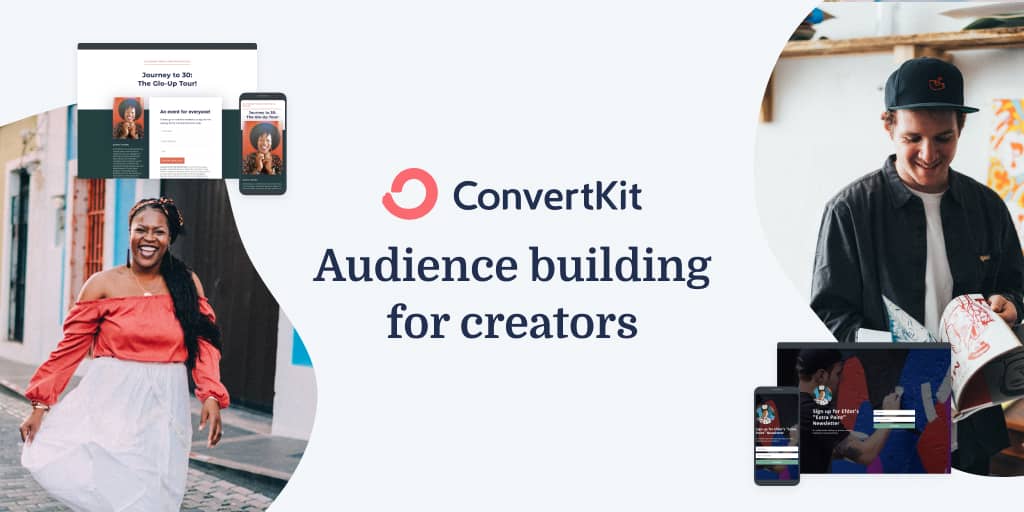 MailChimp
This is another one of the recommended best email marketing platforms out there in the market. You may have read about it because many experts recommend it for an effective email marketing strategy. It offers you a good user experience thanks to its user-friendly interface and the multiple features it includes.
What are its features? It includes list import, integration with Google Analytics and newsletter sending facilities. This tool has the ability to synchronize the different data coming from your social networks or WordPress, which is very useful if you are looking for a convenient application!
There is even an option where you can check the statistics to see how effective your strategy is. It provides you with different default templates free. You can edit them if you want, as well as do A/B testing, organize lists and add contacts from Microsoft Excel.
AWeber
Another good option for eCommerce business owners is AWeber. It will be useful when you want to apply a good email marketing strategy for your side hustle or full-time business. This is because it allows you to promote offers, news, updates that your brand or company has.
You can segment lists, reach potential customers, send newsletters, schedule mailings and check the results of your campaign with this tool. Many organizations and companies that have used it indicate that it is one of the easiest on the market. Evidently, its interface makes the difference.
It additionally stands out because it features a variety of forms and spam or junk mail detection. The platform has many buttons and icons that are of great help. Among them is the auto-reply function and alternatives for you to customize the sending of emails.
GetResponse
You should not leave out this platform when you need the best email marketing software for bloggers. Customize your campaign through this tool and measure its effectiveness. You may wonder, "well how does it help you calculate the success of your strategy? Well, it displays statistics on a monthly or weekly basis which is awesome for reporting and tracking performance.
It shows you, for example, the metrics of email bounces, deliveries and open rates for each email. Send newsletters, previously programmed, to your target audience. Avoid mailings to users who are not interested and who are not convenient for you.
It has a large number of templates, web forms, HTML code editor and A/B testing capabilities. One feature that stands out about this application is that it offers you many images. You can choose some of the multiple image options it gives you to complement your campaign.
You can access the contact list you have on your computer or other platforms. It also includes the auto-reply function to meet the demand you have. It is also compatible with different devices, including phones, computers, tablets or laptops.
Comparison between email marketing platforms: Which one to choose?
These four platforms are useful when it comes to email marketing best practices. My personal favorite is ConvertKit. However, look at the comparison below and pick your favorite based on your goals, budget, and online strategy.
All these platforms have similarities but depending on the size of your business, long term goals some may be better suited than others. ConvertKit is suitable for eCommerce, bloggers and small to large businesses, while MailChimp is ideal for SMEs and eCommerce-based businesses. AWeber and GetResponse can easily be used by freelancers, medium or small businesses.
Analysis, similarities and differences
The four platforms have similarities in terms of segmentation, functionality, personalization options and design. Also in the sending of newsletters, administration and alternative for A/B testing. They are similar in terms of delivery, bounce and open rates. However, they vary in different aspects, so other differences, analysis and comparisons are:
ConvertKit: Excellent open rate, easy to use, large number of templates, English support and regular pricing. In addition, data integration with the corporate blog, better audience segment, graph with metrics.
MailChimp: Positive open rate, easy to use, limited templates in the free version, English support and cheap prices. Also good recipient configuration, statistics verification, Pop-Ups creation.
AWeber: Good open rate, easy to use, more than 700 templates, support in English and Spanish, varied prices. It also teaches its users about email marketing with courses, but has limitations in the use of newsletters.
GetResponse: Effective open rate, high ease of use, over 500 templates, support in Spanish, affordable prices. Also, email personalization, effective campaign management and strategy analysis.
Other available platforms
There are other tools that can be included in the top email marketing platforms. These can work for you if you want to try more options for your company. However, keep in mind that they do not have many differences with the ones we mentioned. Some of them are:
Constant Contact
Ideal for Digital Marketing experts. It is a good option for campaigns aimed at small, medium and large companies. It has options to analyze the emails that are enabled and those that are inactive. It allows you to easily segment and manage.
Campaign Monitor
Looking for a different tool? Evaluate this option. We recommend you to use it in a business that is already positioned. This is because it was developed to reach a large number of customers. You can more easily identify the tastes of consumers through this platform.
Acumbamail
You will be surprised to see this software on this list. However, it is considered one of the most convenient and secure alternatives in your email marketing strategy. You can segment your subscribers according to the product or service you are promoting. Promote and offer them your brand.
Mailrelay
Guarantees you a good amount of monthly emails sent. It gives you the possibility of having a large volume of subscribers. If you want to segment them, it enables a function in which you can do it. It offers statistics, templates, auto-reply and more.
Doppler
With this tool, you can optimize your campaign. The best thing is that it is easy to use, that is, you don't need to be an expert. It has many templates so you can choose the ideal one for your strategy. You can synchronize it with Google Analytics. However, it has limitations in terms of the number of emails allowed.
Rapidmail
It is useful for less elaborate campaigns and in which you want to send emails quickly. Keep in mind that it allows few monthly emails to be sent. However, it is still an attractive application for small businesses and brands that want to make themselves known.
Conclusion
No matter the platform you pick, a good email marketing service should enable you to create highly engaging newsletters with a user-friendly interface (ideally a drag and drop editor for simplicity). Additionally, you should be able to determine who is engaged in your audience, how much they are spending and you should have the ability to track your performance of campaigns. Last but not least, you want to go with a platform that has the best deliverability. Out of all the email marketing platforms I have used, I can vouch for ConvertKit because my emails I send to my list do not end up in the junk folder, which was a problem I had when I used other software over the years.
Latest Posts
{"speed":"500","height":"400","pause":"2000"}
Blogs Top 10 Best Email Marketing Software for 2021 Share on facebook Facebook Share on twitter Twitter Share on linkedin LinkedIn Share on pinterest Pinterest Share on email Email Share on reddit Reddit There are multiple ways to stay in front of your ideal customer and online marketing provides you
Read More »